World Fashion Tour: Home for the Holidays
Posted at Nov. 28, 2012 at 10:55 AM

Al Stillman had it right back in the '50s when he said, "There's no place like home for the holidays." Of all times of the year, the holidays are when we all want to be home with our families. We've seen fashions inspired by locations across the world, from Paris to Australia, and even some fictional locales. But this month, we're focusing on the one place we'd all like to be for the holidays: home, wherever home may be.
Whether you're sitting tight in your own place or traveling back to your hometown, here are some must-haves to make your holidays where your heart is a little extra cozy. These all make great gift ideas and stocking stuffers for all your family members, too!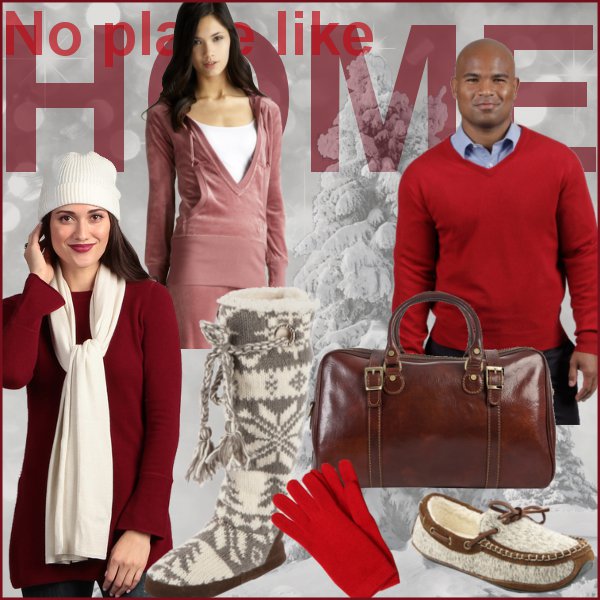 When I think of the holidays, I think of curling up by the fire, watching movies, and opening gifts under a sparkling tree, and I think of doing it all in a new set of pajamas. I absolutely love the blush color of this velour hoodie and matching pants. Not only do they look super comfortable, but they're a lot cuter than my typical sweat pants and T-shirt combo. Of course, cuddly pajamas need equally cuddly slippers, and these tall Scandinavian knit slippers from Mukluks couldn't look more cozy. For men, I love the look of these moccasin slippers. A very classic style gets a cozy twist with a wool-blend knit upper.
Staying warm and comfortable isn't just about hanging out inside. Enjoy the winter wonderland outside all bundled up in a warm walking coat and this cashmere hat and scarf set from Oliver and James, which comes in four different colors. Whether you're ice skating, shopping, or checking out the holiday lights, you'll be nice and toasty.
Of course, you need to travel in style if you're headed home for the holidays. This leather travel bag is perfect for a few days away. It's carry-on size, so you don't have to deal with the hassle of checking luggage at the airport during the busiest travel time of the year. And it's just the right size for all the pajamas and gloves and warm sweaters you'll need, plus a few gifts, too. There's a matching toiletry bag as well that fits easily inside.
Where are you spending your holidays this year? Are you making the trip home or hanging close to your neck of the woods?
Posted by Andrea Sparks