World Fashion Tour: Cairo
Posted at Jun. 8, 2012 at 2:19 PM

Summer is here, and that means hot days and warm nights. Dressing for the heat isn't easy, especially when you can't just sit by a pool sipping cocktails all day. You want to look good, but stay cool and comfortable at the same time. Here's a little how-to on the matter (and some ultra-chic fashion inspiration to boot) from one of the hottest places in the world: the city of Cairo, which sits right smack in the Sahara Desert.
Cairo is home to one of the biggest, oldest, and most lavish cultures ever, and all the incredible, intricate ancient Egyptian artifacts are a great place to look for inspiration when you want to give your wardrobe a touch of Sahara style.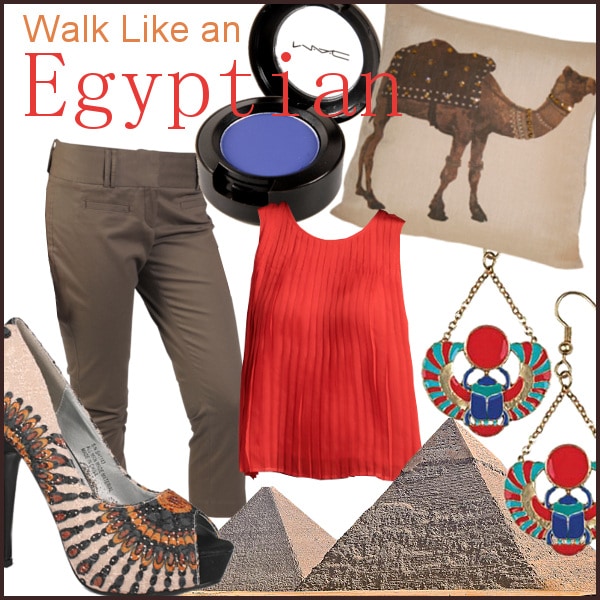 First things first, let's talk about shoes. I'm absolutely in love with these peep-toe pumps with Egyptian motifs, desert colors (they come in blue, too), and just a touch bling good enough for a Pharaoh. Plus, the hidden wedge gives you a little boost without making the heels too high. Pair the pumps with these winged scarab earrings that look like they could have come straight from Cleopatra's jewelry box. Pick up the matching bracelet to really give your style the royal treatment.
Temperatures in the Sahara often top 120 degrees Fahrenheit, and the hottest temperature ever on record was measured there at 136 degrees! One thing's for sure, they know how to dress to keep cool. Light and airy is the key, and this chic top is just that. Not only is it slightly reminiscent of ancient Egyptian garb (gauzy pleats are frequently featured in papyrus paintings), but the allover pleats are a huge trend this season. Pair it with some slender khaki capris, and you're ready to face the summer heat.
What's your summer style? Do you have any tips for staying cool in the summer heat? Don't forget to check out some of the other World Fashion Tour stops we've made, like May's Baja look.
Posted by Andrea Sparks