World Fashion Tour: Australian Outback
Posted at Aug. 22, 2012 at 3:05 PM

The games are over, so we're leaving London behind and heading south of the equator to a place where the weather's warmer and the accents are equally as charming. This month's fashion inspiration comes from the picturesque landscapes of the Australian outback.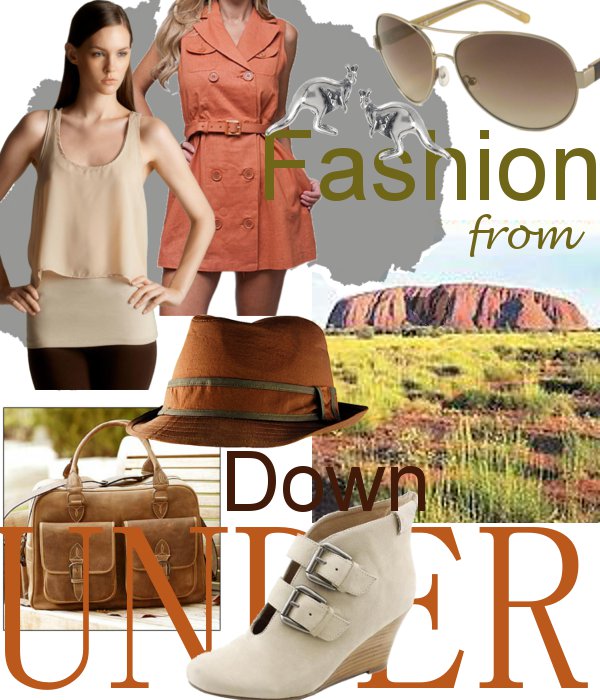 With summer sweeping quickly into fall, I wanted a location that would inspire looks that can be worn throughout the transition of the seasons. The vast deserts and sweeping grasslands of the outback offer just that. It may be hot and dry where the kangaroos live, but the rich orange and green tones, paired with neutrals like sand and taupe, create the perfect color palette for this time of year.
First up is this rusty-orange shirt dress that is pretty much a necessity for an outback safari. It has that easy outdoor-adventure look, but you're still wearing a chic little frock. Dress it up with a pair of cute booties, like these from Emu Australia that come in bleached bone suede, and a pair of kangaroo studs (because how can you draw inspiration from Australia without talking about the adorable marsupials?). If you look close, you can see little joeys in their pouches.
If you're actually headed to the Land Down Under, or anywhere else as hot and dry as the Australian outback, this airy chiffon tank is as light and cool as it is chic. Keep the sun off your face with this lightweight hat that offers a modern take on the classic Australian cattleman's hat. It's very "The Man from Snowy River," if you ask me. If I were heading to the outback, I'd pack my belongings in this handmade leather travel bag. It's rugged and durable and has plenty of room for clothes and souvenirs alike.
Until I can plan my own trip to the Land Down Under, I'll just have to settle for some Aussie-inspired fashion and a weekend watching "Australia" instead.
Have you ever visited Australia? What would you wear for a trip to the outback?
Posted by Andrea Sparks