World Fashion Tour: Artic Adventures
Posted at Dec. 26, 2012 at 3:42 PM

Santa's headed back to the North Pole and so are we with this month's fashion inspiration location: the arctic. From North Pole to South, these looks will help you stay warm in winter weather and embrace the cold and snow with some icy-chic styles inspired by arctic landscapes.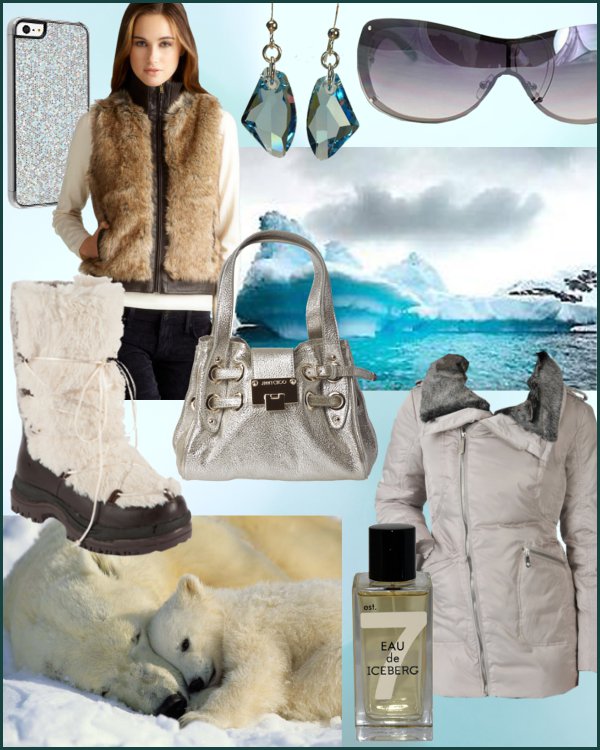 To fight off the cold this winter, take a cue from arctic critters and wrap yourself in luxurious fur. Our picks are faux fur, of course, but just as warm and snuggly. First up are these amazing Nordic snow boots from Muk Luks. They're cozy and cute, and keep your feet warm and dry all winter long, not to mention the fact that their rubber soles help you stay upright on slippery ice and snow. To match, this faux fur vest is super tempting and the perfect layering piece. I'd wear it with a cashmere sweater, skinny jeans, and these super-chic shield wrap sunglasses.
Speaking of keeping warm and dry, this silvery-grey jacket not only has a fur-lined collar you can zip up into a funnel neck on the coldest of days, but it's also down-filled to keep you as warm as possible without weighing you down. My favorite part is the off-center zipper that not only looks awesome, but it actually retains warmth by keeping your core more covered.
Finding inspiration in the Arctic isn't all about staying warm. This palette draws from the wintry landscape, with touches of icy silver and deep blue sea, like these Swarovski crystal earrings that embody both looks. At the top of the list is this metallic silver Jimmy Choo handbag. It glitters as bright as freshly fallen snow and looks icy-cool slung over your arm. Speaking of accessories that turn down the heat, this sparkling iPhone case dazzles in a frosty hue, and the shimmering rainbow effect is reminiscent of the dazzling lights of the Aurora Borealis (or Aurora Australis, if you're in the Southern Hemisphere).
What chilly climes are inspiring your wintry wardrobe? Now is the perfect time to look back at some of our previous destinations that yield some cold-weather wears, like London, Salem, and the Home for the Holidays looks.
What's been your favorite destination we've covered so far? What locales would you like to see in our World Fashion tour?
Posted by Andrea Sparks