Winter Beauty Tips
Posted at Dec. 30, 2013 at 2:36 PM

When it comes to your beauty routine, winter is the time to really buckle down. The dry, cold of winter (and maybe one too many glasses of bubbly), can really do a number on your skin, hair, and nails. We've got some great tips to beat the winter beauty blahs.
Moisturize: The key is moisture; quench your hair and skin's thirst with plenty of moisturizing treatments to combat the dry cold of winter months. A quality lip balm will go a long way in keeping your pucker flake-free all winter long.
Stay cool: While few things feel better than a steaming hot shower in winter, too-hot water will dry out skin and hair that's already struggling to hold onto moisture. Keep the temperature under control and lather up with a lotion or body oil right after you step out of the shower to hold in the moisture.
Exfoliate: Combat flaky skin with a good exfoliating treatment to slough off dead skin cells and keep your complexion bright. And don't forget sunscreen! UV rays still do damage when the temps dip low.
Keep it under wraps: Is wintry weather turning your hair into a tangled mess? Combat the frizz with a leave-in conditioner or smoothing treatment. Especially unruly hair can be tamed with a cotton or cashmere beanie (stay away from wool, as it can dry hair out even further), and some no-damage hair ties. Make sure to keep your hands covered, too; apply some cuticle oil before slipping on a pair of soft gloves to prevent peeling nails and cracked knuckles.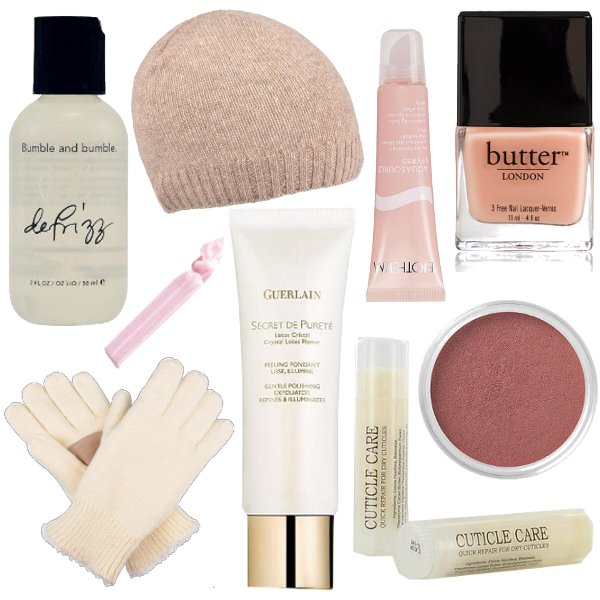 Our Winter Beauty Product Picks:
Guerlain Secret De Purete Gentle Polishing Exfoliator
Biotherm Aquasource Moisturizing Lip Balm
Bumble and Bumble Defrizz Serum
Luxuriant Cuticle Care Treatment
Do you switch up your beauty routine in the winter months? What is your secret weapon to combat harsh winter weather?
Posted by Jen Gustavson