Winner Winner Chicken Dinner
Posted at Feb. 9, 2011 at 12:37 PM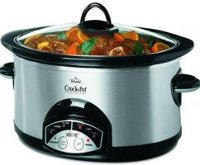 I love a good, hot, home-cooked meal, but that doesn't mean I'm always in the mood to cook dinner. One of my favorite discoveries this season is my slow cooker. It has all the goodness of a hot meal and none of the slaving over a hot stove all afternoon.
While using a crock pot may still require some prep work, it's far enough removed from the actual meal that I've forgotten all about it by the time I'm ready to eat; if you time it right, it's like the meal appeared with no effort at all on your part.
The first time I used it wasn't a complete success. Using a slow cooker means whatever you're making has to cook all day, or so I thought. As it turns out, a meal can often be completed in just a few hours, even faster if you use a high heat instead of a low one. To create a successful slow cooker meal, it's important to use enough liquid, especially if you're cooking with meat; this ensures things will stay moist and delicious rather than getting dry and chewy.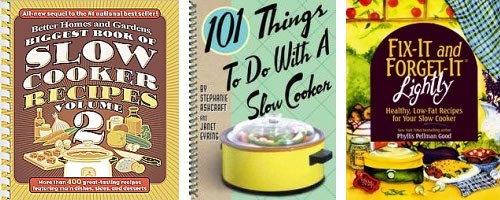 As someone new to the world of crock pots, I found it helpful to consult a cookbook for my first few forays into slow cooking. One of the best tricks I've learned is that you can create dumplings by adding drops of unbaked biscuit dough to your mixture and letting them stew.
When you're ready to get started, check out the recipe below. Then buy a cookbook of your own and experiment to your heart's content. If you have any good tips (or a recipe for Lit'l Smokies), make sure to post them below. I'm still a beginner and need all the help I can get.
Slow Cooker Dumplings from Allrecipes.com
4 chicken breast halves
2 tablespoons of butter
2 cans of condensed cream of chicken soup
1 (finely diced) onion
2 packages of refrigerated biscuit dough
Put diced onion, soup, chicken and butter in the slow cooker; then add enough water to just cover those ingredients. Secure the lid and cook on high for 5 or 6 hours. Thirty minutes before you're ready to eat, tear the biscuit dough into pieces and add it to the chicken mixture. When the dough is no longer raw in the middle, it's time to eat.
Posted by Jessica Gezon