What Are You Wearing New Year's Eve?
Posted at Dec. 27, 2012 at 11:54 AM

This year, New Year's Eve style is all about sequins, but how you wear them will depend on what your plans are. Ringing in the New Year means different things for different people, but you can bring the glamour wherever you go. So, what are you doing New Year's Eve?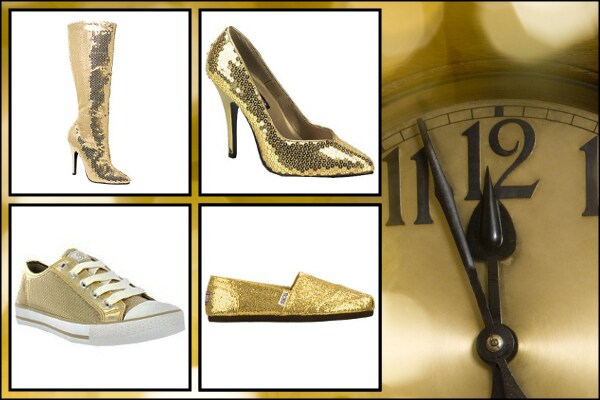 In every major city -- and most all the smaller cities, too -- nightclubs make New Year's Eve one of their best nights of the year. They bring in guest DJs, they have themes, and they have special drink menus, all to make sure you have the time of your life. A wild night at the club deserves shoes that will turn heads, like knee-high gold sequin boots with 4-inch heels. Pair them with a little black dress for just a burst of glamour, or let go of your inhibitions and wear them with an animal print romper and a faux fur bolero. Whichever way you go, you won't be ignored. And if your feet hurt from all the dancing, keep a pair of foldable gold sequin flats in your bag for end of the night.
Many restaurants take late night reservations on New Year's Eve and theaters often have late performances. And you may get an invitation to a swanky party. You'll want a chic look for these events, so slip into a pair of gold sequin pumps. The shape is classic, and you can treat the gold like a neutral. Pair them with a teal, red, or sapphire blue sweater dress and you'll be warm and stylish when you greet 2013.
If you want a place to take the kids, check to see if there is a community event where you live. Salt Lake City has a New Year's Eve celebration every year that is for all ages. There may also be a sports event in your town (there's a hockey game here in Salt Lake); it won't go all the way to midnight, but you can have a blast at the game and then come home for a toast before crashing in bed from all the fun. Many zoos get decked out in lights and keep their doors open late, which is the best time to see the nocturnal animals that are always asleep when you go during the day. You'll need comfortable shoes for any of these events, so tie on a pair of gold sequin sneakers. Even with a pair of jeans, a casual striped shirt, and a wool coat, you'll still have the sparkle you need for a night like this.
Some years, it's nice to just stay home or to escape to a quiet getaway, like a peaceful mountain cabin. But low-key doesn't have to mean low glamour. If you plan on spending this New Year's Eve far away from the crowds, make sure you have a pair of sparkly gold flats you can pad around in. Depending on your guest situation, you could wear them with a black track suit or with a knit maxi dress with a turtleneck. Either way, you'll be cozy and comfortable when the clock strikes 12.
Do you have plans for New Year's Eve?
Posted by Stephanie Petersen