Watch Me Now
Posted at Mar. 31, 2011 at 2:29 PM

If you think that it's still trendy to awkwardly pull your cell phone out of your purse and check the time at a business luncheon, then you are sorely mistaken. Watches are back -- not only as functional and subtle ways to keep track of time but also as fashion accessories. The very trendiest watches right now are found in sleek, neutral black and clean, minimalistic white. Keeping one of each on the table where you drop your keys each night makes transitioning into a watch-wearing butterfly oh so simple.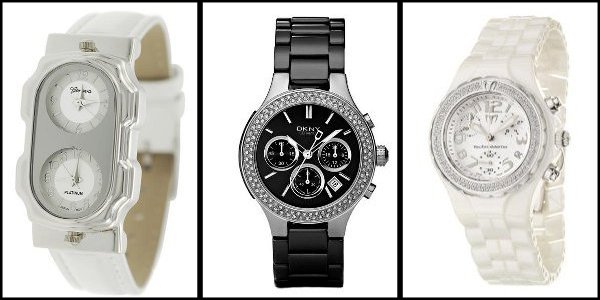 Ceramic watches are absolutely the cream of the crop right now. Watches like the TechnoMarine diamond piece are unbelievably sleek. Shockingly, the beautiful Geneva dual-time watch is our "look-for-less" watch in this timepiece scenario.
A white watch doesn't go with everything and the retro style isn't right for everyone, but black watches are incredibly easy to wear. This DKNY watch is very well priced for a stylish ceramic timepiece.
So now you know. Stylish men and women don't rely on electronics for the time, and they don't waste an opportunity to show off their incredible sense of taste with a sexy watch. I've got my bases covered in the black watch department, but I have my eye on those stunning white pieces.
Will it be black or white watches for you?
Posted by Maegan Crandall