Warm Up Your Home: DIY Door Draft Stopper
Posted at Nov. 5, 2012 at 3:58 PM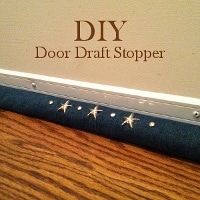 Two weeks ago, I moved out of the 101-year-old house I've lived in for 11 years and into a house that was built in 1938 and completely remodeled in 2008. My old house was so drafty that I would have to wipe dirt off the windowsills, especially after a windy day. This new place is much more updated, but the front door has just a bit of a draft. While a trip to the hardware store for some new weather stripping wouldn't have been too difficult, making a door draft stopper sounded like more fun.
Draft stoppers can be made out of any fabric that has a tight weave, even scraps from another project or recycled clothing (like an old pant leg). I used some lightweight denim I had from an old project. You'll need a rectangle of fabric that is long enough to extend across the door (36 inches is typical) and just wide enough that you can fold it over and make a nice tube to fill, about 4 or 5 inches; don't forget to add a seam allowance to all sides. You could use this roll of 2 1/2 inch by 44 inch pieces of fabric; just use small seam allowances to sew two pieces together to get the width, and then trim it to your door's size (this pack has enough to make 15 draft stoppers -- perfect neighbor gifts or teacher gifts for the holidays). You could also trim and piece together two fat fabric quarters for each door stopper.
Draft stoppers can be filled with pillow stuffing, old socks, scraps of fabric, or wadded up plastic grocery bags. It's nice to give it a bit of weight, though, so I used dry beans to fill mine. You could also use pebbles or sand to give it heft. To avoid sand leaks, fill two snack size zip-closure baggies, add them to each end, and fill in the middle with pillow stuffing. I also used a funnel to pour my beans in.
Draft snakes, draft worms, and even draft dachshunds are all popular variations, but since I have a toddler and I want him to leave the draft stopper in front of the door, I kept it simple and hopefully not too tempting for him to adopt as a toy. I embellished mine with a few silver studs I found in my craft box, but a simple red ribbon tongue and some googly eyes could give your draft snake some personality. You could also embroider it, paint it with fabric paint, illustrate it with fabric markers, or Bedazzle it; but however you decorate it, remember that it's easier to do most decorating on the fabric before you sew it, while the fabric is still flat.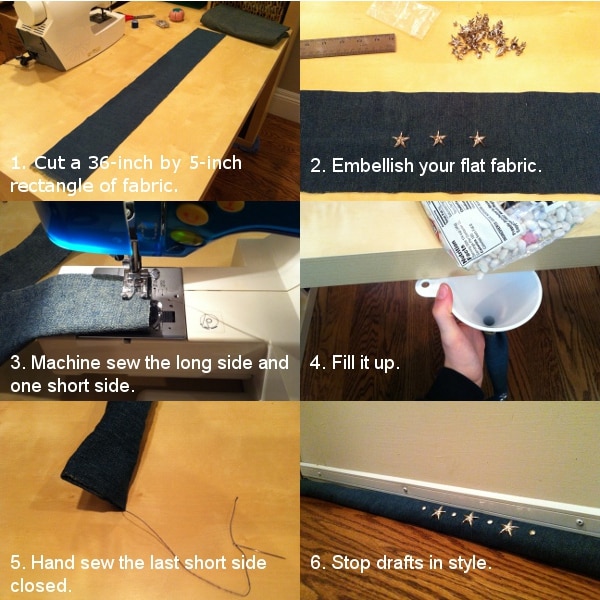 Door Stopper Directions:
1. Cut or piece together fabric to make a 36-inch by 5-inch rectangle.
2. Embellish the fabric (optional).
3. Sew the two long sides together, right sides facing each other. Sew one short side closed.
4. Turn the fabric right side out, using a yardstick to push out your corners, and fill the draft stopper with your filling of choice. Use a funnel for loose, heavy fillers. Use the yardstick to push in fillers like pillow stuffing.
5. Fold in the fabric on the open end one-half an inch, and hand sew it closed (a ladder stitch works perfectly).
6. Place your draft stopper on the floor in front of your drafty door and get cozy.
Depending on how fancy you get, this can be a really simple sewing project, perfect for beginning sewers to hone their skills. Youth groups could make them as a service project and donate the draft stoppers to a local charity.
If you try one, let me know in the comments how you decorated it!
Posted by Stephanie Petersen