Valentine's Day Gifts
Posted at Feb. 8, 2013 at 2:14 PM

February 14th is less than a week away; have you found the perfect gift for your valentine? If not, we here at Overstock.com are here to help because, as we all know, nothing is sexier than savings. We have a ton of traditional gifts like candies, chocolates, and diamonds, and if you are looking for something more … personal, we have you covered there, too. Either way, we have plenty of gift ideas to help you make this Valentine's Day one to remember.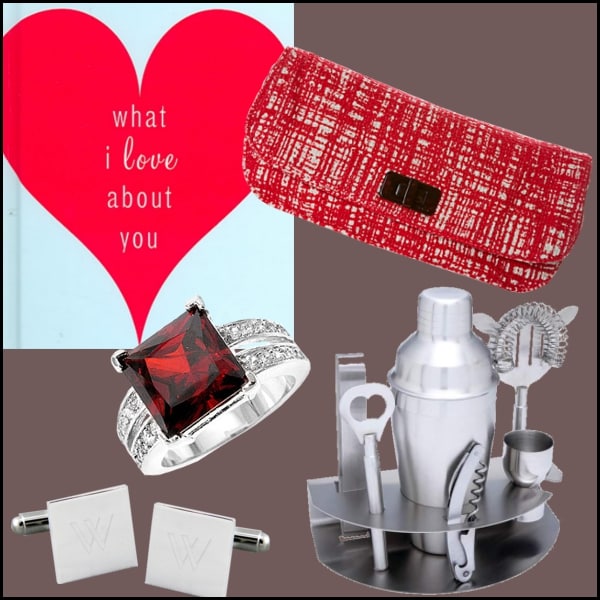 Start your Valentine's Day off the right way by treating your valentine to breakfast in bed. This waffle maker creates heart-shaped waffles that are ideal for the morning of the 14th. And don't forget the coffee: This french press is a great way to start the day, and the red color is perfect for the holiday.
I'm always a fan of new barware. Check out these fun wine glasses, both practical and adorable. Complete the gift with a monthly wine membership and the two of you can look forward to enjoying wine tastings together for months to come. Not a wine fan? Let your valentine enjoy their favorite drink with this set of whiskey stones. They are designed to chill your drink without watering it down, which is the only downside to ice cubes. If your valentine is more into the glittery things in life, try this gorgeous flask. If the two of you are cocktail fans, this stainless steel bar set will definitely be a hit. It's a great way to try out new drink recipes and find a new, or old, favorite.
Maybe your valentine is looking for some stress relief. Treat them with this mix-and-match body butter set or give them a spa day at home with a spa luxuries gift basket. Of course, they will need something to read while they soak in their bubble bath, and this fill-in-the-blank book is exactly what you should give them. Fill it out before you give it to your valentine, and they will be able to read just how much they mean to you while they indulge and relax.
Perhaps your plans for the big day include going out on the town. In that case, you should give your valentine an eye-catching accessory they can show off all night long. These cuff links are classic, handsome, and customizable -- possibly the perfect gift as far as I'm concerned. I also love this ring; it's a gorgeous statement piece and, when paired with an LBD and this clutch, will make your valentine the best-looking on the block.
If you're still looking for ideas, check out our new shopping experience, O | trends, to find the newest looks in accessories. O trends is full of curated boutique items; it is the place to go to find the hottest fashions that any valentine would love to receive. Still need some help? Check out our gift finder and our top gifts for Valentine's Day pages for more suggestions. You're sure to find the perfect way to say "I love you" in no time.
What do you plan on giving for Valentine's Day this year? Do you have a favorite Valentine's gift that you have received?
Posted by Emily Harrison