Valentine's Date Night Fashion
Posted at Feb. 6, 2013 at 5:04 PM

The holiday of love is just over a week away. If you have big date plans for the evening, now is the time to start planning your ensemble. Whether you're spending the evening with a longtime love or a new flame, Valentine's Day is the time to make your impression on your date. Check out these looks we've put together for whatever the evening has in store.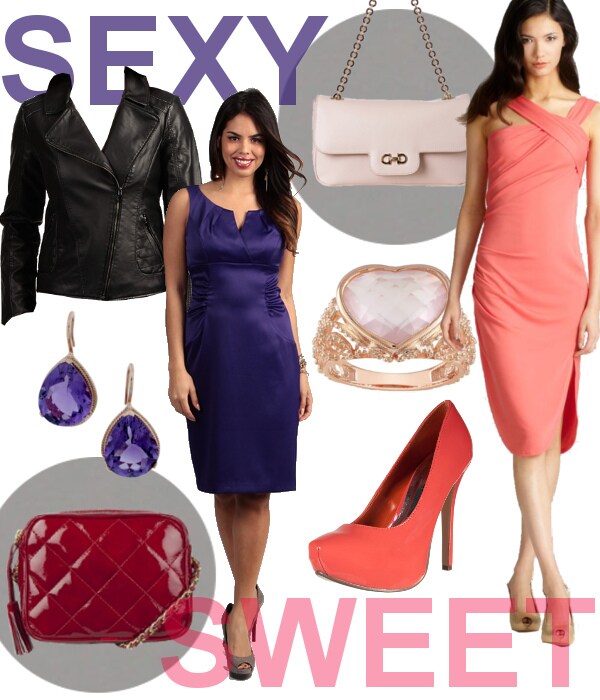 Is your style sexy or sweet? If you're looking to turn up the heat this Valentine's, go for a sexy Valentine vixen. Purple is the color of passion, and this deep plum satin dress is equal parts pretty and potent. Up your va-va-voom factor with matching amethyst earrings and an asymmetrical leather jacket. Of course, you need a touch of red for the romantic holiday. This quilted raspberry bag adds the perfect amount of heat without distracting from your deep purple ensemble. Wear a dark, smoky eye to complement this evening look and you'll be down-right irresistible.
What if your style is more sweet than sultry? Valentine's is the perfect time to start trying out some of spring's hottest trends, and this year's sorbet hues lend themselves perfectly to a sugary-sweet date night look. This mango coral dress is soft and alluring, and the shade will give any complexion a rosy blush. Pair it with matching heels to up the effect. This punchy color calls for more subtle accessories in the same color family, and a touch or two of blush pink takes the monochromatic look from bold and bright to soft and candy-coated. I absolutely love the way this pink Salvatore Ferragamo bag brings out the rosier hues in the dress, and this pink heart-shaped cocktail ring is the cherry on top of this sugary look.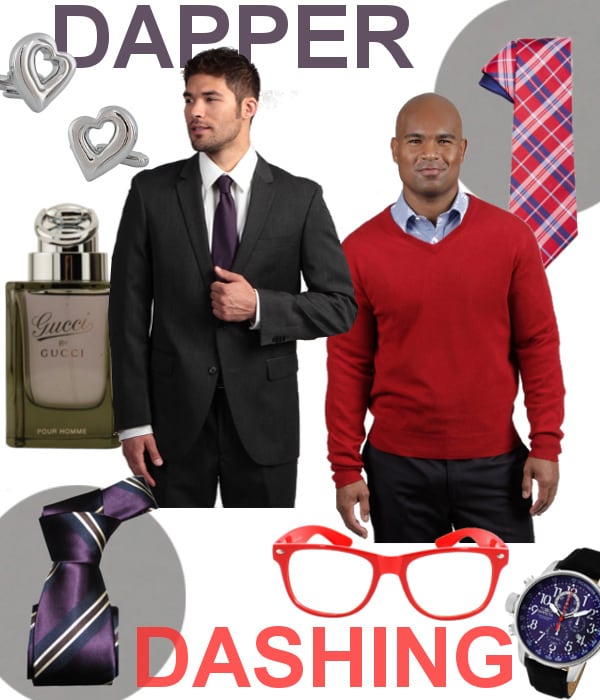 As for you gents, your look should coordinate with your evening plans. If you're taking your valentine to a fancy, reservations-only restaurant, your look should be top notch. A well-fitting suit is your strongest look, and something like this Kenneth Cole charcoal suit looks plenty sharp, but the softer color looks more dapper for date night and less best-man black. Turn up the passion with a plum tie and wear your heart on your sleeve with these heart-shaped cufflinks. They say that the smell is the sense most closely linked to emotional recall, so give your date something to remember with a splash of Gucci cologne.
If your evening is more casual, tone your look down a little, but not too much. You still want to look dashing for your date. A pair of jeans and a red cashmere sweater is perfect for dinner and a movie or drinks and an art gallery. Wear the look more casual with a button-down and glasses, or dress it up without going overboard on the Valentine's theme with this red-and-blue tartan tie and a blue dial wristwatch.
What are your date night plans this February 14th? Or are you planning on going out with friends, or even staying in and watching your favorite movie? What has been your favorite Valentine's date you've ever been on?
Posted by Andrea Sparks