Unsolicited Advice on Video Game Consoles
Posted at Jan. 19, 2011 at 3:55 PM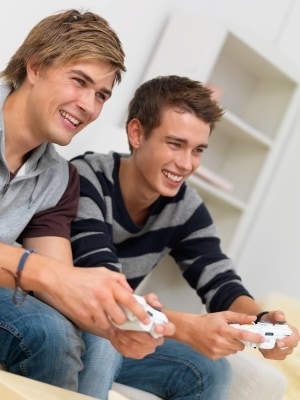 In my view, if you're going to make an investment in a game system, you want to get the most for your money. That means identifying features that you're likely to use. All of these consoles can serve as a great machine for casual gaming, but more experienced gamers will probably choose a console with features that complement the games they play and the other equipment they have. Each game console has more advanced features, some of which overlap with those of other game systems.
PlayStation 3
The advanced features of the PlayStation 3 are geared toward more serious gamers, with a heavy emphasis on multimedia applications. High-definition games for PS3 look amazing on a HDTV, and the Blu-ray player helps make the console quite a comprehensive entertainment machine.
Large hard drives: If you're planning to download a lot games, music, movies and other content, you'll want one of the PlayStation 3 models with a large hard drive. You can also use the PS3 as a networked media server to work wirelessly with your computer and Bluetooth devices.
Blu-ray player: Blu-ray won the high-definition disc format wars, so PlayStation definitely has a leg up with its built-in Blu-ray drive. The PS3 is the only video game console currently capable of playing HD Blu-ray movies. If you were planning on adding Blu-ray to your home theater anyway, the built-in player definitely justifies the higher price tag of the PS3.
PlayStation Move: It took a while, but Sony finally caught up with Nintendo by releasing its own motion-sensing controller, the Move. PS3 doesn't currently have a large number of motion games for the Move, but that's sure to change in the next few years. You also need the PlayStation eye camera to use the Move controller.
PlayStation Network (PSN): PSN may not be as robust as the Xbox Live network for the Xbox 360, but it's free, and you can play games online with friends and download extra game content through your Internet connection.
Xbox 360
The only other HD console on this list, the Xbox 360 also puts out impressive graphics for its games. It supports HD DVD discs, which lost the format war, but you can watch them if you have movies in that old format. The big advantages for the Xbox are the Kinect motion-sensor and the massive Xbox Live online community. Wireless connectivity and large hard drives on some models also enable media serving on Xbox 360. Xbox 360 focuses on gamers who like to play online with friends.
Xbox Live: The Xbox Live network is a subscription-based online gaming network for Xbox 360 games. You can download games, movies, music and extra game content over the network.
Kinect: Using your body as a controller definitely has advantages over the motion-controllers of the Wii and the Move. You do need a bit more room in your living room to play with the Kinect, though (at least a 6-foot x 6-foot area).
Nintendo Wii
Nintendo leapt out far ahead of Sony and Microsoft by targeting family gaming and wowing the world with the first successful motion-gaming console. The Nintendo Wii is definitely aimed squarely at the family market with group games that make the most of the Wii's motion-gaming aspects. Hardcore gamers will probably gravitate to either the Xbox 360 or PS3 instead. Nintendo Wii definitely has the advantage when it comes to kid-friendly game availability, which may excuse the absence of high-end HD game graphics.
Simple controls: There is no shortage of accessories for the Wii, with a bunch of different controllers and accessories to take advantage of the motion sensors. Plus, the Wii remote is probably a relief to players who are intimidated by the dual-joystick controllers of other systems.
Game selection: Wii is definitely out ahead when it comes to motion games, and it definitely does a better job than Xbox 360 or PS3 of offering games to kids and party games for group play.
Hopefully, this little primer on video game consoles will be helpful to any of you who are on the fence as to which game system is right for you. Is anybody planning on taking the plunge anytime soon? If you've played one of these consoles, let us know your hypes and gripes below.
Posted by Paul Sanders