Turn on the Bright Lights: Lighting Event Going on Now
Posted at Dec. 31, 2011 at 9:28 AM

Every year, when I pack up my Christmas tree and take down all the strands of lights, I have two thoughts. "Whew! I made it through another holiday season." Then, "It's really dark in here without all of those lights." As much as I love to clean up and pack things away, I think something new to replace it all with is in order. With 10 percent off select lighting through January 5th*, I have the perfect opportunity to brighten up my home. But how do you choose the perfect light fixtures? Just think about function and style.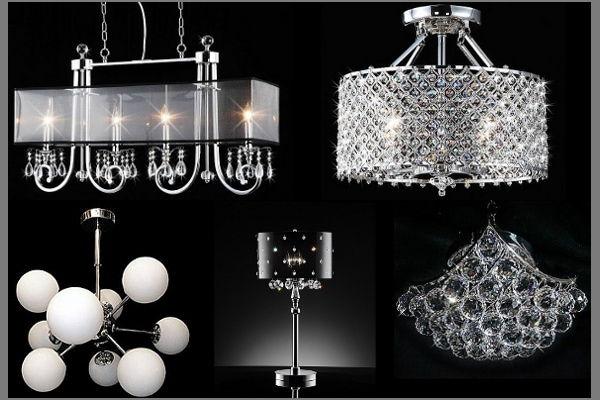 Look for hanging fixtures that mimic the shape of the furniture below to create a complete feeling in a room. A long dining table begs for a long light fixture, and a new trend in lighting is the addition of a shade to a sparkling chandelier. A 4-light black chandelier would work well over an oval or rectangular dining table. It would work over a kitchen island, too.
The light over a dining table can be the focal point of the room, and it also needs to be comfortable to sit under. An atomic-age-inspired Sputnik light fixture would add a chic nod to the past to my dining room. For something more contemporary, the clean lines of the 5-light rhinestone pendant light would be perfect over a round table, and the filter would cast a soft glow on all of the diners, flattering everyone at my next dinner party.
In the spirit of bringing in 2012, I want to add some New Year's Eve sparkle to my home. One of our top-selling light fixtures is a chrome and crystal 4-light chandelier that has enough crystal and shine to make a serious statement about glamour. Because it doesn't hang very low, I would use it in a hallway or over a bed. With a similar profile, the Crystal Ball 8-inch flush-mount chandelier could also fit in either of those places; it would add glamour in a very modern way.
The Stardust 59-inch crystal floor lamp is deeply glamorous as well, and two of them flanking a modern sofa would be like a pair of fashionable sentinels, dripping in crystals. The Stardust comes in a table lamp, too, which would be gorgeous on a mirrored accent table. The name reminds me of the old Las Vegas casino, which just adds to the vintage-glamour feeling I love.
Are there any light fixtures that you think would transform your home into the perfect post-holiday refuge?
Posted by Stephanie Petersen
*10% off Select Lighting offer applies to items in the "Sales & Promotions > Sale > Special Offers > Extra 10% Off" subcategory. This offer applies to U.S. orders only. Offer ends January 6, 2012 @ 1:59 AM EST.