Trends under $50: Advent Calendars
Posted at Nov. 21, 2011 at 2:08 PM

As a kid, making a paper chain to count down to an exciting event was standard practice. If something big was coming up, out came the construction paper, scissors and craft glue. Nothing was bigger than Christmas, so I made long chains of red and green paper rings more than once before I turned 12 years old. These days, a paper chain doesn't quite seem celebratory enough, so I searched the site to see what other Advent calendars I could find.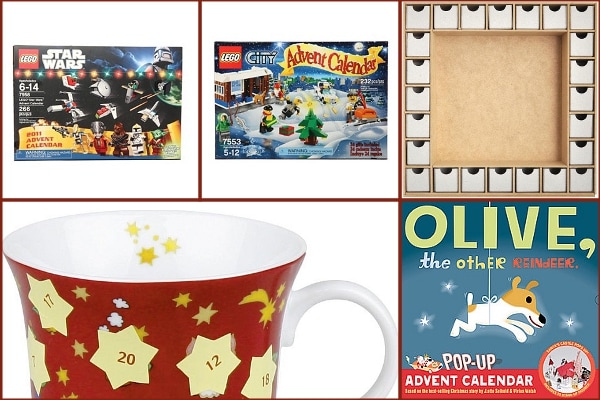 When I was a kid, I would have loved the LEGO Advent calendars: They're a toy and a countdown in one. The Star Wars LEGO Advent calendar has doors that open up to reveal 24 miniature action figures including Darth Vader, Yoda and even a Christmas tree. By Christmas morning, you would have a whole intergalactic battle ready to go. (But maybe they'll be inspired by the season to lay down their light sabers?) Also made from LEGO is the City Advent calendar, which has LEGO toys that create little scenes of a busy, snow-covered town.
One Christmas countdown that I've never seen before is the set of Konitz Advent mugs. They're covered in 25 stars that can be scratched off to reveal new holiday images. When you've counted down to Christmas, you'll have a holiday mug that's perfect for hot chocolate or, for the grow-ups, mulled wine.
The Olive, the Other Reindeer pop-up Advent calendar features one of the most adorable modern Christmas characters. Each day, you pop open another part of a scene around Santa's castle. It is an excellent companion to the charming book about a little dog who thinks she's a reindeer and tries to join Santa's team.
All of these are so fun, but the one that inspires creativity in me is the Kaisercraft MDF Advent calendar. It's a 13-inch square with 24 little chipboard drawers to put goodies into. The 9-inch recessed square in the middle can be decorated like a diorama, and the whole thing can be decorated anyway I want -- and I love non-traditional Christmas colors, like teal and hot pink -- so this is perfect.
It's not too late to get an Advent calendar and start counting down the days until Christmas. We just lowered our rates on expedited shipping. Overnight shipping starts as soon as your order processes, so you can get your Advent calendar in 1 to 3 business days.
Does your family like to do Advent calendars? Any paper ring chains in your past?
Posted by Stephanie Petersen