Tour de France
Posted at Jul. 11, 2012 at 4:57 PM

It's been 13 years since Lance Armstrong first wowed the world with his story of cancer survival and his comeback victory in the world's largest and most prestigious bike race -- the Tour de France. With seven consecutive Tour victories, he spurned new interest in the sport and inspired a new generation of competitive cyclists.
The streak of American dominance may be over (for now) and Armstrong may be out of the race (and fighting doping charges -- again), but there's still plenty of allure in this year's Tour de France. Last week, 13 cyclists withdrew from the race following a massive crash and the ensuing pileup during Stage 6. Frenchman Thibaut Pinot, the race's youngest competitor at age 22, broke away from the crowd on the final hill to win Stage 8. And on Monday, Bradley Wiggins won the Stage 9 time trial in dominant fashion to hold onto the yellow jersey -- for now. If his luck continues, he'll be the first-ever British Tour de France champion.
Armstrong or not, I've always been a big fan of the Tour, as I tend to favor any sport with a running clock. I also appreciate any excuse for a party. So, this weekend, I plan to host a Tour de France get-together to commemorate the annual contest that tests the speed, strength, and stamina of the best cyclists in the world.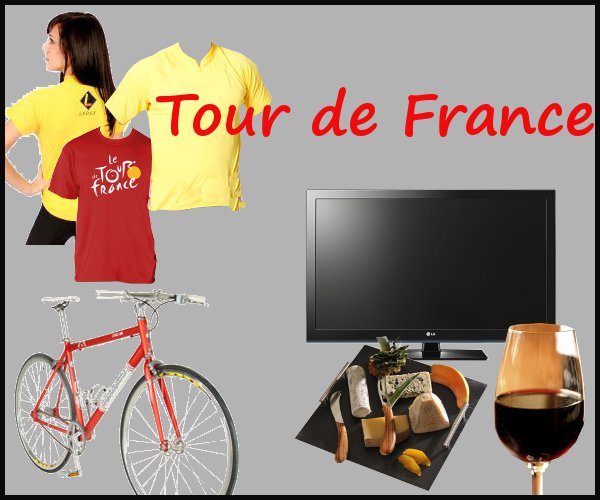 We'll start with a bike ride on a local trail, at a much more leisurely pace than the cycling fiends of the Tour, of course. I plan to enjoy the breeze on my single-speed cruiser, but others may prefer to emulate the champions on something a bit more authentic, like this vintage Stage One road bike. Either way, a yellow bike jersey for him or her would be an appropriate choice of attire.
After the nice hamstring workout, I plan to retreat from the heat, change into an official T-shirt, and watch the race in high-definition on this LG LCD TV while enjoying some delicious cheese, elegantly displayed on this serving set, and a glass of wine -- a fitting tribute to the host country, if you ask me. Do you prefer to always have a bottle of vino on hand? You can enjoy a new selection from around the world every month if you're a member of this monthly wine club.
Do you follow the Tour de France each year? Who is your all-time favorite cyclist? How much of the Tour do you plan to watch at home?
Posted by Jen Gustavson