Top-Rated Dresses for Spring
Posted at Apr. 19, 2013 at 2:00 PM

The weather is warming up, summer is just around the corner … dress season is upon us. It's time to pick up a new frock or two to rock from spring into summer. But we all know that shopping for dresses online can be a bit of a guessing game. Luckily, we've gathered some of our highest-rated dresses on our site to make finding the perfect dress that much easier.
Not only do our customers love these pretty frocks (check out the reviews to see what they're saying about them), but they've also given us a little insight into some of the trends real people are rocking this spring! So take a look at some of the hottest dresses from our site and our take on how to wear them this season.
Orange with Touches of Gold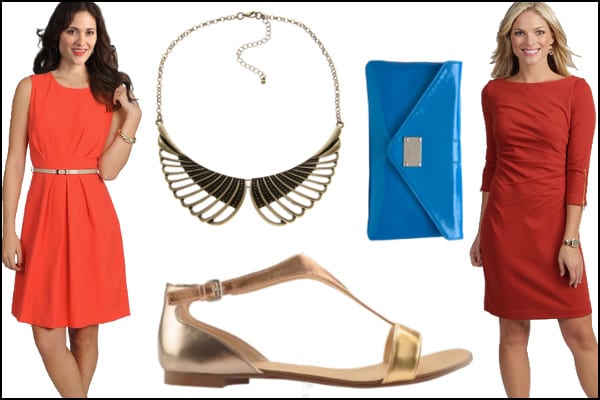 First up is my favorite of the crop, this belted tank dress. I love the bright tangerine hue (it comes in three other colors, too). The slim gold belt at the waist is the perfect touch to give the dress a stylized look. A similar frock, and equally popular pick, is this rust-colored starburst dress. Notice the tiny gold zippers on the sleeve. The best way to wear these punchy dresses is to bring out the little touches of gold in each and accessorize with even more gold! A unique necklace and understated sandals are the perfect picks, and why not throw in just a touch of a contrasting blue, like this Nine West clutch?
Black and White Mod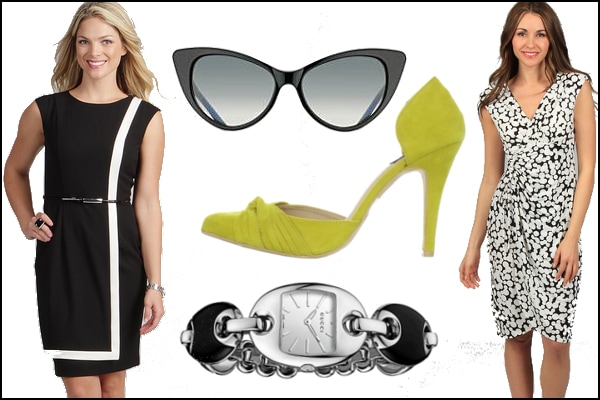 Black and white is always chic, so it's no wonder this duo of dresses has garnered such high reviews! From the asymmetrical design of this Calvin Klein dress to the clusters of polka dots on this gathered sheath dress, these two frocks are putting a twist on the classic black-and-white look with fresh new styles and patterns. As far as accessories go, it's best to let these dresses speak for themselves and accessorize with trendy black cat-eye sunglasses, an understated black-and-silver watch, and just a touch of color to make the look pop, like these neon suede pumps.
Summery Jewel Tones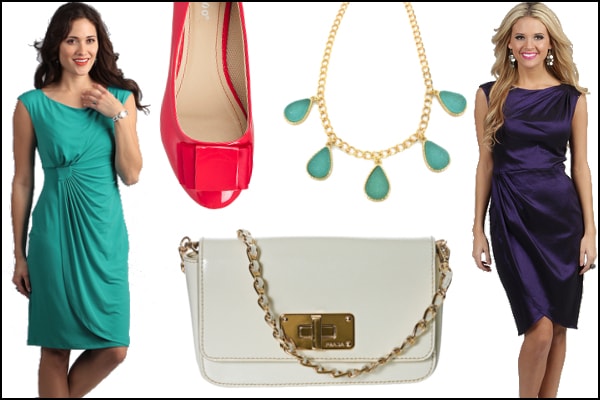 Emerald may be the color of the year, but jewel tones in every shade are getting a lot of love. In the past, we've seen this trend for fall and winter, but jewel tones are getting remixed for summer and spring this year. These two side-gathered dresses (a favorite style of our customers across the board) are the perfect way to wear this trend, and mixing jewel tones is the look to go for. This emerald dress looks great with a pair of ruby flats and a white hot designer handbag, while this amethyst-hued satin sheath is brightened up with an emerald-green druzy drop necklace.
When you're shopping on our site, you can sort by review ratings to see more of our top-rated dresses (and any other product, for that matter). Read the reviews to find the dresses customers love most. Have you ever bought something from us that became a favorite in your wardrobe?
Posted by Andrea Sparks