Top 10 Baby Products You'll Actually Use
Posted at Sep. 3, 2011 at 1:22 PM

There's nothing wrong with loading up the nursery with everything that makes you ooh-and ah. But if you're looking to get just the things you will actually use right away, try this list of the ten things I couldn't have lived without for the first few months of my son's life.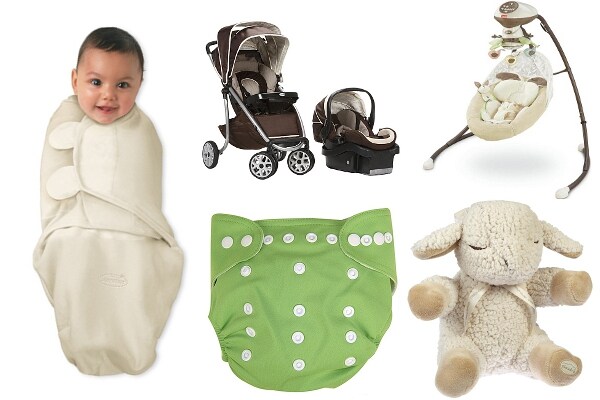 1. Sound machine: Newborns sleep about 16 hours a day, and the best advice is that you should sleep when they do. Help extend both of your naps with a sound machine, like the Cloud B Sleep Sheep, a toy and a soother in one.
2. Swaddle blanket: Your newborn has spent nine months in a tight place. Keep that cozy feeling by wrapping him into a swaddle blanket. The Summer Infant SwaddleMe has Velcro closures, making it easy to use, even when you are half asleep.
3. Bassinet: If you're not into the idea of co-sleeping, roll your baby up to your bedside with a bassinet. The Safety 1st Nod-a-Way Bassinet even has vibration and sound, which can only help Baby catch some more Z's.
4. Swing: Eventually, you need to set your baby down and take a shower or eat a meal. I resisted getting a swing at first -- who needs that plus a bassinet? -- but when I finally tried the Fisher Price My Little Snugabunny, I found a new level of freedom. A five-point safety harness, four different sounds, three-way swinging, circling birds and more made this a place my son ended up spending a lot of time. I like the Sugabunny especially because it has a plug, instead of relying on batteries.
5. Changing table: Changing your baby on your bed is asking for a laundry problem. And trust me: You won't want to do any diaper changes on the floor until you've fully recovered from the birth. Save your bedding and your body with a changing table. Try one that converts into a twin headboard or into a dresser to maximize your investment.
6. Newborn diapers: Cloth diapers have come a long way since the generations who worried about sticking their babies with pins. Snap closures and disposable liners have made it easy. I like to have disposables, too, and I had the best luck avoiding blow-outs with Pampers Swaddlers.
7. Receiving blankets: Some people say you can never have too many blankets. I say, you can never have too many receiving blankets, which are thin enough to be incredibly versatile. Use them as carrier covers when Baby falls asleep, as nursing covers, as emergency burp cloths, as impromptu sun shades and eventually, to play peek-a-boo with.
8. Burp cloths: It can be a little alarming at first, but all babies have reflux to some degree. Keep burp cloths in every room where you take your baby, so you can be prepared for the inevitable spit-up.
9. Travel system: Eventually, you'll be ready to leave the house -- or else you'll start suffering from Baby Cabin Fever. A travel system, like this one from Safety 1st, makes it easy to take Baby out to see the world. You need a car seat anyway, so why not choose one you can snap onto a stroller? Just stash the base into the trunk of your car, and you'll be ready for adventure.
10. Diaper bag: When you go out, you're going to need more gear than you ever imagined during LBB, Life before Baby. Stay stylish with a candy apple red diaper bag that looks hot and keeps the diapers, wipes, sunscreen, pacifiers, backup outfit, blanket and burp cloth (whew!) handy.
Those are the things that got me through the first six weeks or so. Is there anything you have on your wish list? Any gifts you have given that you know got a lot of use?