Time for Spring Cleaning
Posted at Apr. 9, 2013 at 1:27 PM

What is it about the longer days and warm weather that makes everyone think about cleaning house? No matter what the reason, there is no better feeling than dusting off the last signs of winter and welcoming spring with a clean, organized home. If you're not sure how to get started, don't worry; here at Overstock.com, we've got everything you need to get your home warm-weather ready.
I've got the cleaning part down to a science. I love a sparkling sink free from dirty dishes and a freshly vacuumed rug (though it may be about time to upgrade to this Dyson clean machine). For me, the real struggle comes in the form of clutter. After a busy week scrambling to get ready for work and school, and all of the ins and outs in between, my home always looks like it was hit by a tornado.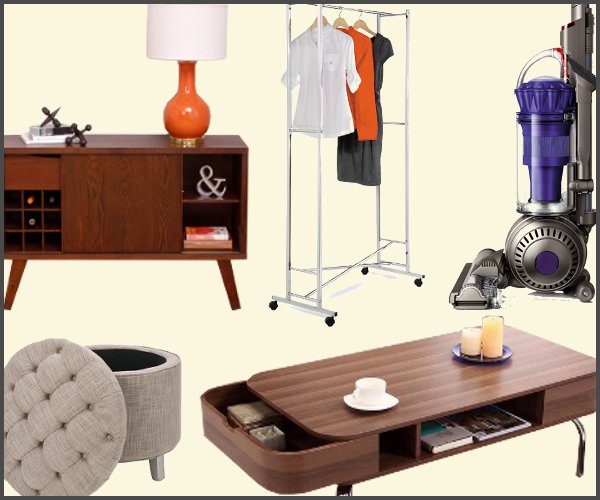 That's why, this year, I'm going to focus on corralling my clutter. And since I live in such a small space, it's all about clever and unexpected organization. Take this chic and modern coffee table, for example, which doubles as a stylish living room focal point and a slick and easy way to organize all the little things that make an otherwise streamlined space look cluttered and messy. I can picture myself quickly stowing away all of my son's tiny action figures (which inexplicably find their way to every corner of the house) in one of this table's compartments before company arrives. It's also a convenient place to store remotes, chargers, or anything that you want to keep out of sight. Even better, if you're a Club O member, you can earn extra rewards when you purchase it for your home; it's an investment for your home AND your pocketbook.
I'd love a mid-century-inspired buffet cabinet, like this one with a beautiful brown tobacco finish. Its beauty is in its versatility: open the sliding doors to reveal treasures like wine bottles or carefully placed pieces of decor, or file things away for a clean, streamlined look. If traditional decor is more your style, this stylish tufted ottoman effortlessly doubles as a stylish accent piece and a storage solution.
Short on closet space? Why bulk up your space with another dresser when you could use a sleek, low-profile garment rack? It's an easy and inexpensive solution, and a great way to showcase some of your most beautiful pieces of clothing; view it as instant, and practical, decor.
How do you keep your home clean and organized? Do you look forward to, or dread, spring cleaning?
Posted by Jen Gustavson