Three Decades of Jewelry
Posted at May. 26, 2011 at 10:38 AM

I'm a retro junkie. And, finally, the world of fashion is supportive of my unhealthy obsession with the past. Sweet finds from vintage stores and reproduction accessories are popping up in every fashion magazine. Plenty of fashion blogs want you to wear vintage clothing and accessories every day, but how practical are polyester dresses with bell sleeves, really? When living in classic rock concert T-shirts simply isn't realistic, I use jewelry to express my vintage-lust. Some trends are best left in the past, but others offer sex appeal, femininity and a hard edge that many modern outfits lack. Here are a few hand-picked pieces of jewelry from three of the most influential decades in recent fashion history.
The 60s:
The 60s gave us two distinct styles: feminine mod and natural hippie. I am a huge fan of both looks. When feminine mod is desired, look to fashion icons like Edie Sedgwick. Bold, swinging earrings are a must, as are delicate bead necklaces and geometric cocktail rings. The natural hippie look usually features a braided leather headband. In the interest of full disclosure, I am no stranger to the braided headband -- but leather bracelets are a good alternative. Peace sign jewelry is fine but a bit obvious. Try extra-long, colorful necklaces instead.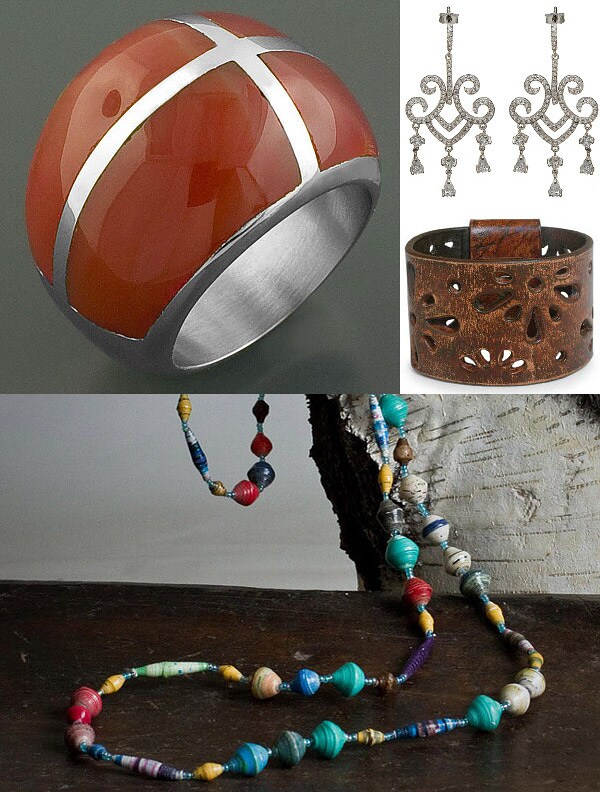 Chandelier earrings, dome ring, gold necklace, leather bracelet, beaded necklace
The 70s:
What can we learn from the 70s? First, girls can dress like boys. Bands like The Runaways taught us at least that much. Try your hand at masculine 70s rock style with a black leather bracelet. We also learned that it is best to be well-traveled. Consider the exotic styles of 70s Cher and look for gilded, turquoise pieces with gypsy-esque coins.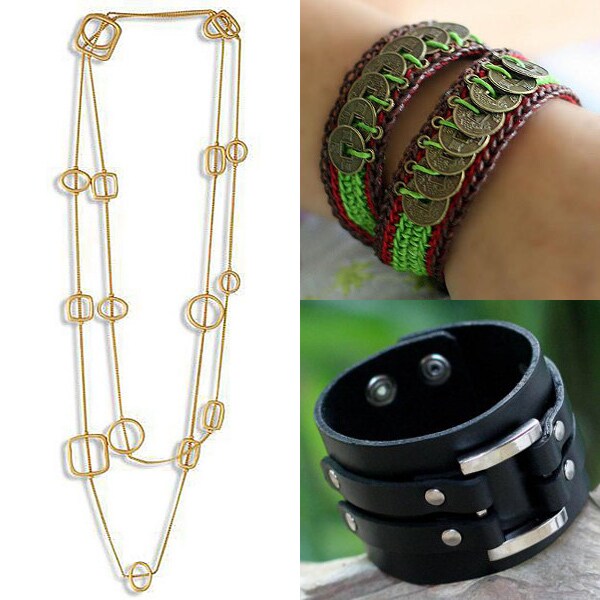 Leather bracelet, coin bracelets, gold jewelry set
The 80s:
Though the neon plastic accessories from the 1980s have nearly worn out their welcome, we still have much to glean from the shiny, synthetic era. Layering is the key point to take away from 80s fashions. Madonna did it well with stacks of rhinestone bracelets and long pearl necklaces. Layering is perfect for modern fashions because it allows to you create a completely different look each time and it leaves few pieces hiding in your jewelry box. Overdone is often just right.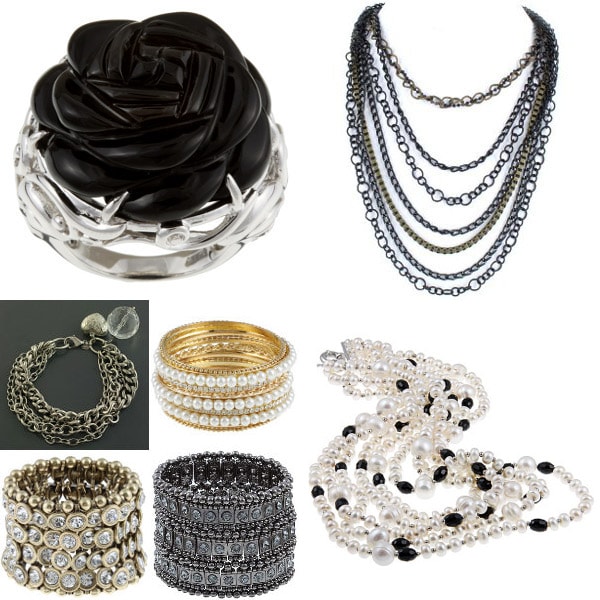 Black rose ring, multi-strand chain necklace, pearl necklace, chain bracelet, pearl bracelet, gold rhinestone bracelet, black bracelet
Alright, it's time to come clean. Which decade of fashion is your favorite?
Posted by Maegan Crandall