The U. S. Open for Beginners
Posted at Jun. 16, 2011 at 2:57 PM

A lazy Sunday spent watching the final round of a golf tournament can be very Zen, like watching a saltwater aquarium; only instead of coral, you have scenic vistas, and instead of fish, you have men in slacks and polo shirts (occasionally as brightly colored). And while I've only played golf a handful of times and my golf bag is nearly as pristine as the day I filled it with a set of brand-new ladies golf clubs, I have spent many weekends watching the top golf players in the world quietly battle it out to win that week's tournament. Call it Preppy Meditation.
If the only professional golfer you know by name is Tiger Woods (who will not be participating in the U.S. Open this year) but you still want to get decked out in some sporty clothes and act like you know what's going on, you can use this cheat sheet.
What: The U. S. Open Golf Tournament is one of the PGA tour's majors, the four most prestigious tournaments of the year.
Where: The Congressional Golf Course in Bethesda, Maryland, is hosting the U.S. Open on their Blue Course this year, for the third time. This course is known for being very difficult. Last day totals at other tournaments are often around 10 under par, but golfers at Congressional will be lucky to make par.
Who: The defending champion is Graeme McDowell, who has been playing very well this year. Luke Donald is currently the number one PGA player in the world, even without winning a major; he hasn't played well on this course in the past. Lee Westwood is currently ranked number two, and he has said that he loves playing at Congressional.
When: Tournaments start on Thursday and finish on Sunday. The points are totaled over all four days. Each day, golfers at the bottom are cut, so only the best are playing on the last day. If you can't commit to a full weekend of golf, just tune in on Sunday afternoon.
Why: A difficult course, no clear favorite to win, a $7.5 million purse and a prestigious win at stake: These are all factors that are sure to lead to some excitement on Sunday afternoon.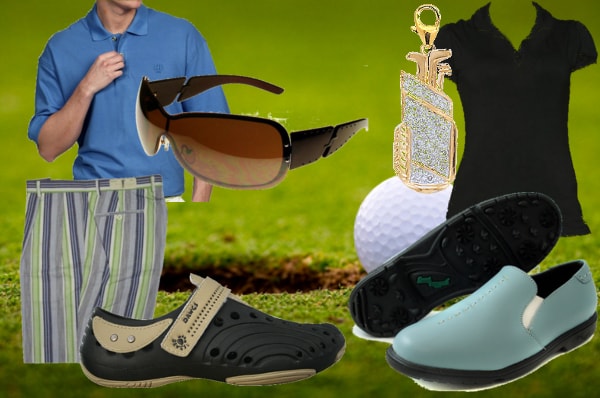 Dress the part: men's polo shirt, men's striped golf shorts, men's golf shoes, golf sunglasses, diamond golf charm, women's polo shirt, women's golf shoes
Will you watch be watching the U.S. Open this weekend? Are you looking for the next golf superstar? Does Luke Donald deserve to be ranked number one even if he doesn't win this weekend? Are you confused about why there are no windmills to hit the balls through on the course?
Posted by Stephanie Petersen