The Mating Habits of Gaming Mice
Posted at Mar. 21, 2011 at 4:22 PM

Serious gamers are constantly being bombarded with flashy accessories that don't really provide any extra functionality or improvement to game-play. Game console manufacturers are particularly guilty of this, but the problem of flashy extras extends to PC gamers as well, specifically with gaming keyboards and mice. The key to finding a gaming mouse or keyboard that actually adds truly usable options is to see past the features and specs to see what the mouse or keyboard is actually doing for you. Today, we'll mainly focus on separating flash from substance when it comes to gaming mice.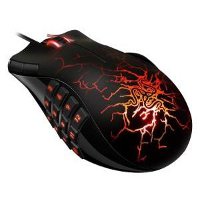 The "Naga" line of gaming mice from Razer does a good job of blending a compelling ergonomic design with a heavy number of programmable buttons, like this Naga Molten laser mouse. While appearance usually always comes second to functionality, certain visual features do add to your gaming experience. And let's face it: Every gamer is drawn to gaming gear with intense-looking graphics and glowing features.
With the Razer mouse, the lighting helps you locate the right thumb buttons, especially if the lights are turned down. For wireless mice, flashing LEDs can let you know if your battery is low or tell you which dpi settings or button profiles you have enabled. Just remember that the appeal of the mouse's appearance will wear off, but the frustration you feel over lack of function will be renewed every time you play.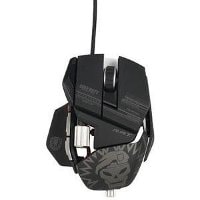 Those long gaming sessions can leave your arm feeling like an atrophied crab claw, so a few ergonomic features in a gaming mouse are worth investing in. A large problem is that most mice are too small to support your entire hand, so a mouse with a resting ledge for your thumb and pinky -- like this GameShark Stealth mouse -- can go a long way to taking the strain off your wrist. The side ledge gives ample landing room for your thumb, also putting it within reach of several mouse side-buttons and a second scroll wheel. You can also adjust the position of the palm bulge, which also allows you to make sure your fingers are in ideal position for most of the mouse's buttons.
Most high-end gaming mice -- including the GameShark -- come standard with additional weights, which can be added to the mouse for heft, and more advanced models even feature adjustable body plates so you can warp the mouse's form factor to match the shape of your hand.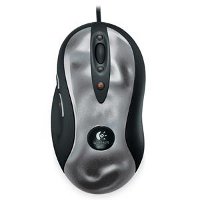 Ergonomics aside, your primary focus should probably be on the mouse's buttons, sensitivity and programmability. It's not uncommon to find gaming mice with a 3000 dpi resolution laser, which should provide more than enough sensitivity. The GameShark pictured above goes up to 5600 dpi. Sensitivity is a mixed bag, though, since it can complicate controls even as it makes them more accurate. The weights will help with this, but a mouse with adjustable resolution options is even better, especially if you can change them on the fly without exiting a game. A high refresh rate, or "polling" rate, can also affect lag between your hand movements and the response of your cursor on the screen. Many mice will even allow precise sensitivity tuning via the mouse's software. This Logitech MX518 mouse, for instance, has adjustable dpi settings of 1800, 800 and 400. That's more than enough adjustability for games. And while the sensitivity isn't as high as the other two gaming mice, you still get multiple button presets and a lower price tag.
Lots of buttons on a mouse are of little use unless the mouse also allows for substantial programmability. Watch for mice with buttons that are easy to reach and programmable from the mouse software. The ability to save multiple button profiles lets you switch from game to game without readjusting your button assignments, and a switch on the mouse itself for changing profiles is really useful. All three of the mice featured here have extra buttons and multiple pre-set button options, though the Naga probably has the most button options. The software on the GameShark mouse offers macro programming that can automate many commands and assign them to certain buttons.
There are finer points we could go over for gaming mice, but beyond these, the differences are pretty negligible, and which mouse is best depends a lot on your sensitivity and preferences. If you've run across a gaming mouse you love, tell us about it below and tell us which games you've been playing with it.
Posted by Paul Sanders