The Lowdown on High-Contrast
Posted at Feb. 27, 2013 at 2:17 PM

Of all the spring 2013 trends I've been reading about, high-contrast style appeals to me the most. I just love that the classic combination of black and white can work so many ways. It can feel edgy and classic, like the cover of Blondie's Parallel Lines. Or it can feel luxurious and fresh, like the striped awnings at a high-end beach resort. Either way, it's timeless as well as in style at this point in time. Here's how you can add the high-contrast trend to your spring.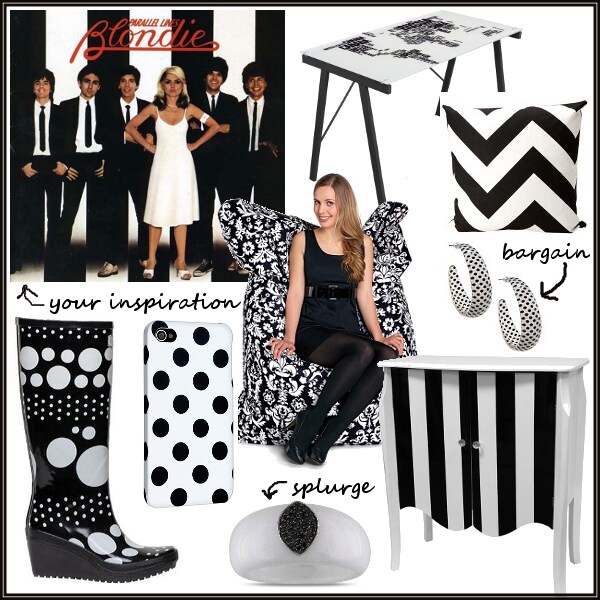 Spring showers are just around the corner, and some high-contrast layering will shield you from the storms in style. A trench coat is always perfect for spring, and black-and-white polka dots make it even better. Looking for something lightweight? Black-and-white color blocking updates a preppie Members Only jacket, and white stripes on a black cardigan are a sweet way to add a light layer.
Your accessories are the perfect place to test out a trend. Try topping off an outfit with a black-and-white striped infinity scarf for just a dash of high-contrast. And you can protect yourself from puddles with a pair of black rain boots with white dots. You can try a little bit of color blocking on your wrist with a black-and-white Nixon watch. Black-and-white dots on a pair of hoop earrings are an easy, affordable way to wear a bit of this trend, but for even less commitment, try a polka dot cell phone case. If you're ready to splurge on something high-contrast, try this white onyx and black diamond ring, a small but stunning way to test the trend.
The high-contrast trend works in home decor, too, especially when you complement the black and white with a pop of bright color. One of my favorite furniture pieces on site right now is a black-and-white world map desk, which combines typography and cartography in a very modern way. Pull up a desk chair in green, orange, or pink and you've made a style statement. Do you have a neutral sofa? Add a black-and-white chevron throw pillow along with a pair of solid orange pillows for an instant update. Or try recreating the look of that luxury beach resort with a set of black-and-white striped silk taffeta curtains or a black-and-white striped cabinet.
I'm currently shopping for a new bean bag chair, and I'm kind of in love with the Sitting Bull brand bean bags. They make them in a bunch of sizes, including a few that are 75 inches by 51 inches. I just don't know how to choose between the "Marie Antoinette" black-and-white floral and the black-and-white stripes. Either way, I'll be right on trend.
What do you think of the high-contrast trend? Will you be trying some black and white this spring?
Posted by Stephanie Petersen