The Look of Spring
Posted at Mar. 21, 2013 at 5:00 PM

Yesterday at 7:02 a.m. EDT, spring officially arrived. The spring, or vernal, equinox occurs when the tilt of the Earth is such that the sun's rays hit the equator at a 90-degree angle. But perhaps more important, the spring equinox signals the beginning of nature's renewal and warmer, longer days. Flowers begin to bloom, birds sing as they return to their non-winter homes, and there is a fresh, new feel in the air. It is definitely my favorite time of year, and the way I see it, what better way to ring in the equinox than with some springtime touches to your home and wardrobe?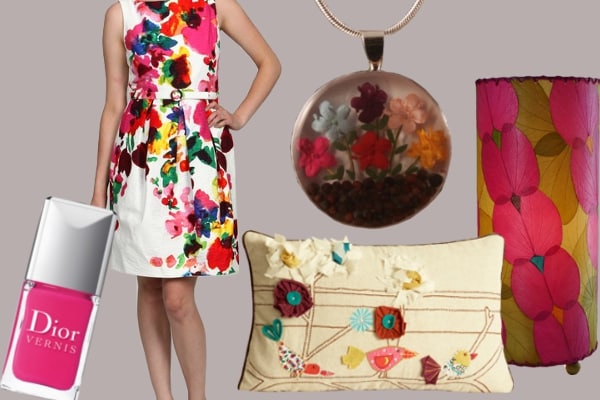 In addition to "spring cleaning," I like to use little bright pops of color to wake up my indoor decor. The bright colors of this 'Springtime Floral' art piece are a great way to keep the springtime feel in your home year-round. If you're looking for smaller details, this butterfly-inspired lamp would look great on a side table in any room. Or maybe you're like me, and you prefer your bright colors with an extra touch of comfort; well, this throw pillow is our answer. The fun floral and bird design is like springtime on your couch.
The beginning of spring always gets me wanting to add a few new flourishes to my wardrobe. I can't wait to wear this dress around town as the evenings start to warm up. Wouldn't it be perfect for a night of art gallery strolling? If you just want a pop of springtime color, this pink nail polish is pretty much ideal. It is bright and fun, just like spring itself. Or perhaps wintry weather still has its grip on your area (I'm currently looking at grey, rainy skies). If so, add little touches of spring to your cold-weather clothes. This flower pendant or these flats are a great way to add a touch of springtime to your sweater ensemble.
Do you have favorite springtime looks you like to break out this time of year?
Posted by Emily Harrison