The Craft is Strong with This One
Posted at Apr. 29, 2011 at 11:45 AM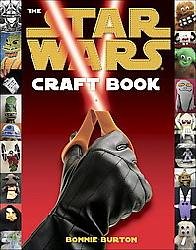 Any serious Star Wars fan already owns the movies, watches them whenever possible and knows that you must "Do or do not; there is no try."
Dedicated Star Wars fans, or those lucky enough to have married one, will be pleased as punch to discover this Star Wars Craft Book, designed to take your movie love to a whole new level.
Now you can surrender to the crafty side and combine your love of Star Wars with your love of DIY projects. Use this Star Wars Craft Book to create a gift for the fanatic in your life (the book includes the pattern for an R2D2 beanie, an absolute necessity in Hoth-like weather) or to entertain aspiring fans on a rainy day (who can resist Chewbacca sock puppets?).
Whatever you decide to make, you know the force will be with you when you crack open this book and get to work.
Posted by Jessica Gezon