The Buzz on National Honey Bee Day
Posted at Aug. 16, 2013 at 2:52 PM

We owe a lot to honey bees. Bees are responsible for the pollination of about 30 percent of the world's crops, they create the beeswax that we use for candles, and they create the honey that we all love to drizzle on, well, pretty much everything. And let's face it: Honey bees are absolutely adorable.
Tomorrow, August 17, is National Honey Bee Day. The holiday was created in 2009 by a small group of beekeepers to raise awareness about the bee industry. It is the day to celebrate all the hardworking bees -- and their keepers -- and everything they do for the world we live in.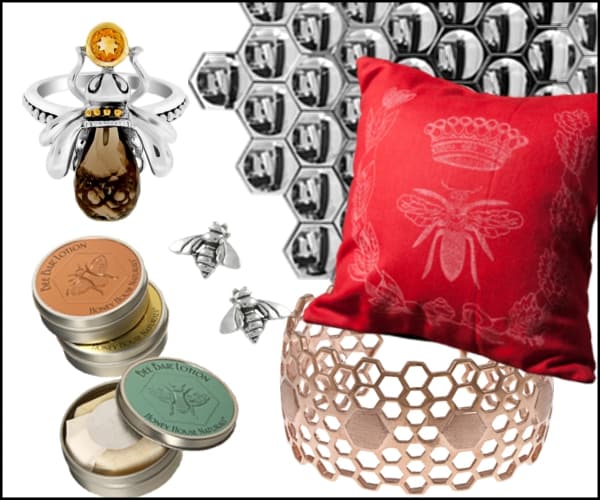 Perhaps the best way to celebrate Honey Bee Day is by using some of the products that the bees themselves create. Stop at your local grocer for a jar of raw honey or maybe some chocolate-covered honeycomb (trust me, it's delicious). Or you can stay in and pamper yourself with these Honey House Bee bars; beeswax is combined with shea butter and other oils to keep your skin moisturized and healthy. Thanks, bees!
Bee jewelry accents are, as far as I'm concerned, always a great addition to any ensemble, but they are pretty much necessary on a day that is devoted to the celebration of bees. Try this honeycomb bracelet or these stud earrings if you're looking to make a small statement. If you really want to show off your love for the bees, pair this Meredith Leigh bee ring or this honeycomb cocktail ring with your favorite little black dress and head out for a night on the town. (I recommend trying out some honey martinis.)
You can also keep reminders of Honey Bee Day in your house all year long with some well-placed decor pieces. This red bee pillow is perfect for any sofa or bed, and you can place this honeycomb mirror in your front room. When it comes to the outside of your home, plant a flower garden to keep the bees busy; then use this carafe and cup and saucer set while you lounge outside drinking lemonade and enjoying the fruits of your, and the bees, labor.
What are you planning on doing for National Honey Bee Day? Have you ever thought about keeping bees yourself?
Posted by Emily Harrison