Teacher Appreciation Day
Posted at May. 8, 2012 at 1:00 PM

Since 1985, the first week of May has been Teacher Appreciation Week, Teacher Appreciation Day being celebrated on the Tuesday of that week. This year, Teacher Appreciation Day falls on today, May 8th.
Since we were little tykes, teachers have been the ones who taught us how to read, write, add, subtract, tell time, tie our shoes, and pretty much everything else we need to exist in the world of grownups. Today is the perfect day to show your appreciation by giving a gift to your teachers, past and present, to honor the work they've done and the contributions they've made to our lives.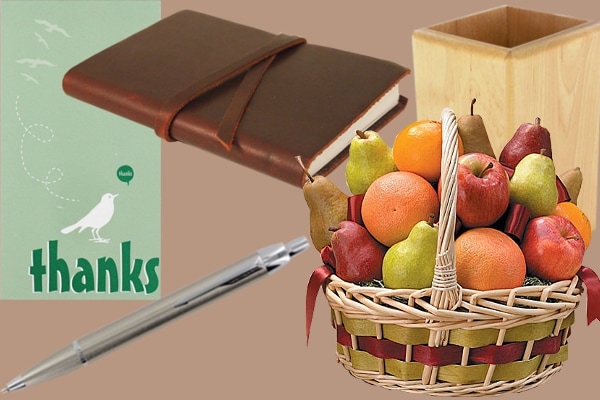 Apples are definitely the go-to gift for teachers. While apples are thoughtful and delicious, this Post-it apple dispenser is also a great choice. It keeps with the apple theme, and it's a great desk accessory.
Another great desk accessory, and something that nearly all teachers need, is a pencil holder. This oak pencil holder is made of solid wood and would look great at the front of any classroom. Of course, we can't give a pencil holder without something to put in it. This Thank you pen has an adorable bird design and comes in a matching a pen box. It's the perfect thank you gift for any teacher. I also love this chrome ballpoint pen. It has a sleek, professional style that anyone would be proud to write with.
You can also help your teacher keep track of lesson plans, or their own thoughts, by giving them this leather journal. It has been handmade in the USA, and has a rustic look with aged and patina leather and hand-torn edges on the 192 pages. If your teacher is a writer, she'll love it.
Maybe make a bigger splash; take a note from Ralphie's book and surprise your teacher with this oversized fruit basket. It is full of delicious oranges, pears, and of course, apples.
If you just can't decide on the perfect gift for the one who taught you, give an Overstock.com e-gift card. They're easy to get, and you can email them to anyone or print them at home. And the recipient gets to pick out exactly what they want. Everyone wins!
Who were your favorite teachers? What effect did they have on your life?
Posted by Emily Harrison