Tax Day Activities
Posted at Apr. 15, 2013 at 12:44 PM

As far as I'm concerned, April 15th has gotten a bad rap. There is something about a federal deadline that really puts a damper on the day as a whole. Most people dread the date, as it signals paperwork, organizing and reorganizing, and maybe writing out a check. This year, I've decided to turn April 15th into a day of fun regardless of how that, uh, tax thing turned out. Luckily, Overstock.com has prices that allow us to splurge on items while we save on money.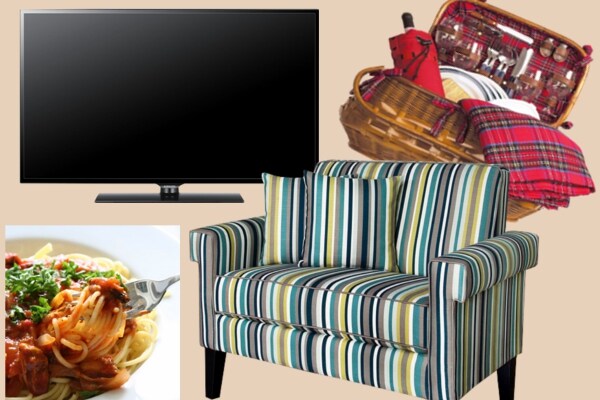 A great reward for completing another year of taxes is this new Samsung 50-inch HDTV. If you already have an LED television you love, why not try out one of the new 3D televisions on the market? They would be great for a movie night with friends. All you need is a few new DVDs and some hot buttered popcorn, and you have a great night ahead of you.
Since the weather is warming up, I can't stop thinking about getting outside and feeling the sun on my face. In that vein, why not take a Tax Day Picnic? I would love to take this picnic basket out to the park and share some cucumber sandwiches with friends in the new spring weather.
Or, maybe you just want to spend a day relaxing after all that hard work spent filing your taxes. (I'm not judging.) Why not kick up your feet on a brand new sofa? I've got my eye on this loveseat from angelo:HOME. Toss in a wool throw and a good book, and I'm in heaven.
Lastly, check around your local area for any Tax Day deals. Some businesses give special bargains to help you celebrate your refund (or at least to give you something to look forward to today). If you don't feel like going out, try a Dinner of the Month club. Every month you have a gourmet meal delivered to your door, no reservations needed.
What about you? Is April 15th a day that you normally look forward to?
Posted by Emily Harrison