TV Lovers: Today is Your Day
Posted at Aug. 28, 2012 at 9:02 PM

New releases come out every Tuesday, but it's a day like today that gets a TV lover giddy -- including a few people around the office here -- with excitement. Some of last year's most popular shows are available on DVD and Blu-ray today, so clear your schedule and stock up on snacks. You're going to want to watch these again and again.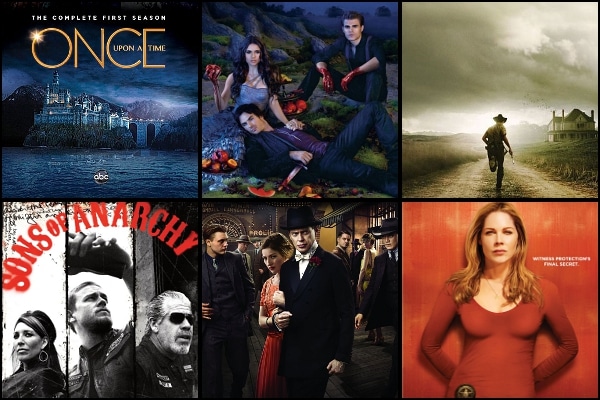 Once Upon a Time
Season One of Once Upon a Time introduced us to Storybrooke, Maine, a quiet town that no one -- not even its residents -- would suspect is actually Fairy Tale Land, trapped under a spell cast by the Evil Queen (Lana Parrilla). The characters are familiar, but the tales? Of those, Emily said, "I love how the writers add a modern twist to the fairy tales that we all know. It's refreshing to see these stories in a new and different way." It's from the same executive producers as Lost, so if you love TV shows that blow your mind, then this is one you won't want to miss.
Vampire Diaries
Stefan (Paul Wesley) and Damon (Ian Somerhalder) are brothers and vampires living in the modern day. Elena (Nina Dobrev) is a human, and she looks exactly like a woman both vampires were in love with 150 years ago. She wants to protect them and help them, but these vampires aren't the glitter-covered kind. Season Three of Vampire Diaries proved they are willing to hunt, kill, and suck some blood, even if it severely complicates their love triangle. If that isn't enough to get you to watch, Andrea is sure the hot cast will convince you.
Two and a Half Men
After Charlie Sheen's very public split from the show, Season Nine of Two and a Half Men started with his character dying, and Ashton Kutcher's character, Walter Schmidt, taking his place. America loved it, and viewership for the CBS show increased by 13 percent. Sheen even told TMZ that he thought the transition was funny. As they head into their tenth year, people are still laughing and coming back for more.
The Walking Dead
They can't compete with the number of shows about vampires, but zombies are finally making it onto primetime. The Walking Dead takes a slightly different path than the comic book it's based on, but the stories of survival in a world terrorized by zombies are familiar to those who love the genre. More than just a horror show, though, The Walking Dead is about the people and how they manage life in their dystopia. The Walking Dead: Season Two is available on DVD, and collectors can pick up the terrifyingly packaged Blu-ray limited edition (WARNING: that link is not for the faint of heart).
Sons of Anarchy
Like many cable TV dramas, it's the characters that make FX's Sons of Anarchy memorable. Jackson "Jax" Teller (Charlie Hunnam) is 30 years old, a new dad, and the vice president of his outlaw motorcycle gang. "He's a really good guy but one who will do anything to protect his club and family. He's the kind of guy you'd never want to cross but who would make a great best friend as well," Chuck told me. Season Four of Sons of Anarchy is available today.
Boardwalk Empire
Steve Buscemi has long played my favorite lovable losers in movies (Donny in "The Big Lebowski" and Seymour in "Ghost World" to name just a couple). But in Boardwalk Empire, he is Enoch "Nucky" Thompson, the man in charge. It's Atlantic City in the 1920s, and it has all the bootlegging, gangsters, corruption, and glamor you would expect, served up in the style that HBO is known for. Season Two of Boardwalk Empire has been nominated for 12 Emmys, including Outstanding Drama Series.
In Plain Sight
Season Five of In Plain Sight is the final chapter in the story of Mary Shannon (Mary McCormack), a U.S. Marshal working in the witness protection program. This is a crime drama, sure, but with Mary and her dysfunctional family at its center, it becomes more of a study of a woman and how she handles the situations life hands her. She's as much a mother to her own single mom as she is to the people she places into the Federal Witness Relocation program.
Are you a fan of any of these shows? What do you love about them? Is there another show you're more excited about?
Posted by Stephanie Petersen