Summer Picnic
Posted at Aug. 8, 2013 at 11:35 AM

Whether it's in your backyard, in your neighborhood park, or at a local beach, one of the best ways to celebrate summer is with a picnic. From potlucks with all your friends to a romantic date with wine while the sun sets, picnics are all about getting outdoors and enjoying the sunshine, the fresh air, and delicious food.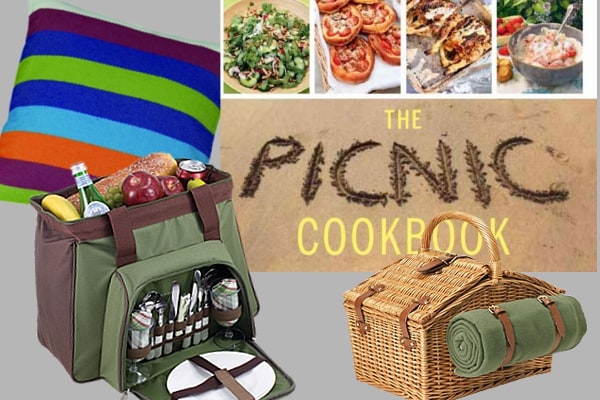 Cucumber sandwiches, hamburgers, fruit kabobs: the menu ideas for a picnic are infinite. If you are having a hard time deciding what to make or are looking for something a little different to serve, try this cookbook by Annie Bell. It has plenty of delicious recipes that will keep you wanting to pack up your picnic basket over and over again.
This insulated picnic cooler is ideal for smaller picnics. It provides full service for two (including wine glasses perfect for sharing a romantic toast) and has an insulated center pouch to keep your food and drinks cool on the hot summer days. The polyester construction also makes it the perfect way to tote chilled drinks and snacks to sports games, on road trips, and wherever else life takes you.
Comfort is always important when you are enjoying a meal out amidst nature, so a picnic blanket is a must. This blanket features an on-trend bright stripe design, and you can purchase matching cushions to really up the luxury factor. Both the blanket and the pillow are designed for outdoor use, so you know you can look forward to years of use and fun in the sun.
If you are looking for a more elegantly traditional look, try this English-style picnic basket, which provides service for two and has a wine-bottle duffel, corkscrew, cutting board, and cheese knife. It also includes its own picnic blanket. I would recommend pairing it with this fruit and cheese basket to create the perfect gourmet meal in the outdoors.
Do you like to picnic? What are your favorite picnicking dishes?
Posted by Emily Harrison