Star Trek Into Darkness
Posted at May. 17, 2013 at 11:17 AM

Few series can claim to have had an impact on popular culture like Gene Rodenberry's Star Trek. Six television series, 12 movies, and a few new languages later, Star Trek has become an important part of our everyday lives and spawned its very own subculture. Based on the premise of optimism, bravery, and the good in human nature, the Star Trek story follows the adventures of the Starship Enterprise and its crew as they "boldly go where no man has gone before." Yesterday, Star Trek Into Darkness, the sequel to the 2009 film Star Trek, was officially released, and we here at Overstock.com cannot be more excited.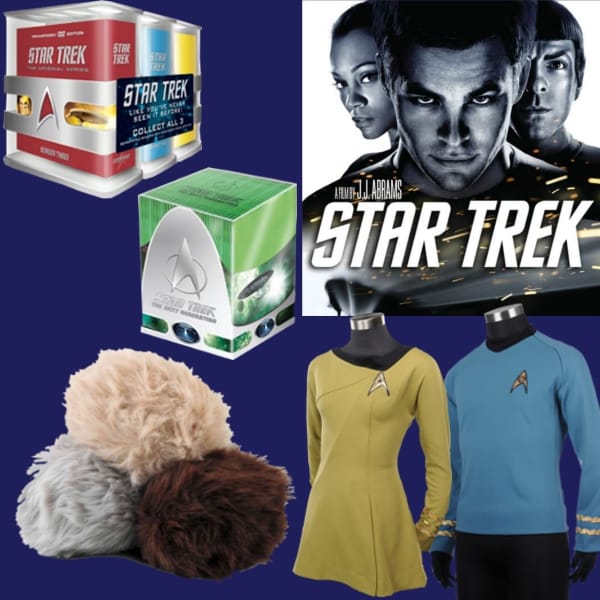 What's the best way to celebrate a new addition to the world of Star Trek? Why not relive your favorite moments from the original series with this Stuck on Star Trek book? (It even comes complete with "cling-on" stickers.) Or try out these costumes based on the uniforms from the original series; I prefer the Women's Captain Costume or the Men's Spock Costume. They're great choices for parties or get-togethers. And they're perfect for wearing to the screening of Into Darkness -- if you're into that kind of thing. Want a more subtle look? Venture into the "final frontier" with this Enterprise tee. Of course, we can't forget those trouble-making tribbles. Get one for the die-hard Trekkie in your life, or keep one of the cuddly creatures for yourself.
Not familiar with the Star Trek universe? There is no better time to start than right now. Check out the Original Series and the Next Generation Series. Then branch out into Deep Space Nine, Enterprise, and Voyager. And don't forget about the movies! There is the Original Series Movie Collection and the Next Generation Movie Collection. And while we're at it, there's even an animated series, too.
What are your favorite Star Trek moments? Have you seen Into Darkness yet?
Posted by Emily Harrison