Staff Birthday Picks
Posted at Oct. 12, 2012 at 12:23 PM

By now, you may have noticed that October is Overstock.com's birthday! We've definitely been in celebration mode. As members of the editorial team, however, we're taking the birthday celebrations to the next level.
After all, October 12 marks the birthday of two members of our team (me included!). We were not only born on the same day, but in the same year, within hours of each other (Andrea is a bit older ;) ). But this isn't just any birthday; we've both reached the much anticipated, and often dreaded, day when we say goodbye to our 20s. Of course, we're both taking it in stride. Don't they say 30 is the new 20?
Of course, we couldn't pass on the chance to pick out some gifts we'd love to receive or buy for ourselves. Check out our birthday wish lists below. Maybe you'll find something you'd like for yourself.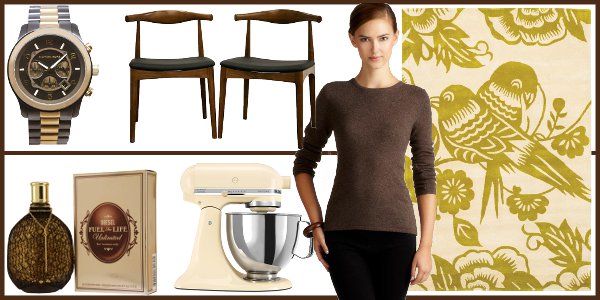 Jen's Picks (clockwise):
Michael Kors Two-Tone Watch: I've never owned a watch. I've always relied on my car clock or cell phone to keep me on schedule. This watch from Michael Kors is both functional and stylish; the two-tone design will go with anything in my wardrobe and may be the perfect way to help me feel like a real adult.
Sonore Wood Mid-Century Dining Chairs: Thankfully, my days in the dorms and living on cheap inflatable furniture are long gone. Still, I've yet to fully round out my home furnishings. I've always been a fan of mid-century style and these sculptured chairs are versatile and elegant enough to evolve with any future furniture purchases.
Walnut Cashmere Sweater: I've been coveting a beautiful, luxuriously soft cashmere sweater for years. Now may be the time to treat myself to the cozy, elegant style of this classic brown sweater from Evelyn Cashmere.
Thomaspaul Love Birds Rug: To me, this rug is perfection. I'm mildly obsessed with birds, and this rug would look amazing beneath my new mid-century modern chairs or my forest green and teakwood couch. Even better, it's hand-tufted of New Zealand wool, which means it will last long enough to grace my floors for years to come.
KitchenAid Almond Cream 5-quart Stand Mixer: Even in my old age, I haven't learned to cook well. I'm definitely a microwave burrito kind of girl. Baking, however, is another story. There's something so satisfying about creating the perfect loaf of bread, Bundt cake, or pan of brownies. This mixer is one of the few cooking appliances I can see myself owning. It would also look great on my kitchen counter!
Diesel 'Fuel for Life' Perfume: I've worn this perfume for years. To me, it's the perfect mix of notes -- not too floral, too fruity, or too spicy. It's also an easy gift suggestion!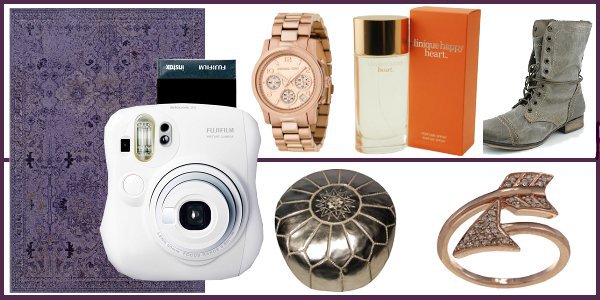 Andrea's Picks (clockwise):
Purple Overdyed Area Rug: Purple is my thing this year! I don't normally love rugs, but this one has caught my eye several times while browsing the site. I guess I like the faded look of it. It looks like something you'd find in an old mansion, but in a more modern color.
Fujifilm Instax Mini Instant Film Camera: I'm totally won over by nostalgic little gadgets. How fun would this instant camera be at a party?
Michael Kors Rose Goldtone Chronograph Watch: One of my roommates has a gold watch like this, and all I can say is that I've contemplated "borrowing" it a time or two.
Clinique 'Happy Heart' Women's Perfume: This has been my favorite perfume for years, and there are only a few drops left in the bottle I have at home.
Steve Madden Troopa Grey Boots: Every fall, I want a new pair of boots, and this year it's these. The faded grey will go with just about everything in my wardrobe, and I could see myself wearing them long into the summer, too.
14k Gold 1/6ct TDW Diamond Arrow Ring: I've been coveting this ever since I featured it as Hawkeye inspiration in my Avengers Lookbook, but it's very Katniss, too.
Silver Leather Pouf Ottoman (Morocco): I've been coveting this one for a long time. It would look great in just about any room, and it's so shiny!
Posted by Jen Gustavson