Spring Roll: A Guide to Sports on Wheels
Posted at Mar. 7, 2013 at 4:30 PM

Spring is here! If it's still cold where you are, don't worry; it's just around the corner! Can we all let out a collective sigh of relief? Maybe it was just me, but it was really beginning to feel as though winter would never end. I've already boycotted my coat and plan to spend the next few weeks soaking up as much sunshine as possible to make up for any winter-induced Vitamin D deficiency.
Even better, with daylight savings time this Sunday, there will be more time to snag some sunshine -- why not take advantage by trying a new spring sport? While your spring and summer calendar may already be full of hikes, trips to the lake, and other outdoor excursions, we suggest you keep it simple, grab a set of wheels, and head out the front door for some low-key fun.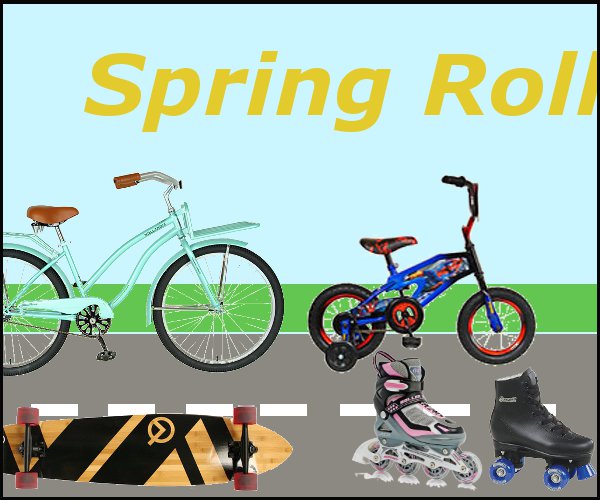 A bike ride to the park sounds like a perfect way to roll into spring. Last summer, I bought this sweet Spider-Man bike for my son; with a few more times out, we may be able to take off the training wheels. It might be tough to keep up with him on my clunker of a bike, though, so I think I'll replace it with this mint-green cruiser. With its single speed, it won't double as a commuter bike, but it'll be perfect for any dusky springtime jaunts.
As a kid, I spent many nights cruising around the neighborhood on a pair of bubble-gum pink roller skates. Skating never goes out of style, so outfit the whole family with pairs of classic skates or super-hip inline skates circa 1990 and take a few laps around the park.
I've never tried skateboarding, but I'm a firm believer that you're never too old to try a new sport. We've got a wide range of skateboards and longboards in every size, and I've got plenty of friends who'd be willing to take me out for a crash course. Of course, protective gear is always a must.
What have you been looking forward to this winter? Which are your favorite springtime sports?
Posted by Jen Gustavson