Spring Break: It's Time to Start Planning
Posted at Feb. 24, 2012 at 10:01 AM

About this time every year I get an itch to travel. Perhaps it's the still-grey winter weather that hangs on far too late for my liking. Perhaps the promise of on-the-horizon warmer weather makes me want to get outside and go somewhere. All I know is that I have been dreaming of warmer climes for the past while, planning and re-planning out the perfect spring break.
Spring break usually brings to mind images of partying college students taking a small coastal town by storm, but spring break can be much … quieter than that. Picture this: sitting on the beach of your dreams, listening to the surf, basking in the warm sun, reading your favorite new book, perhaps with an ice cold beverage sitting next to you in the sand. Sounds divine, right?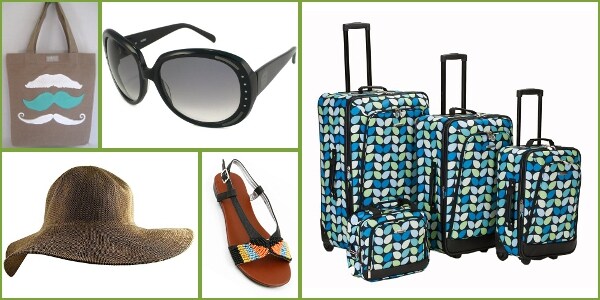 Depending on where you are going and for how long, you may only need to pack a weekend bag or you may need to bring along an entire set of suitcases. This luggage set from Rockland is absolutely perfect; it includes enough pieces that you'll always have enough packing room, no matter how long your trip is. The super stylish print looks great, and you won't have to worry about confusing your luggage with someone else's at the baggage claim. And you're going to be spending some time on the beach, right? You'll want to make sure you have a beach bag so you can carry your book, your water bottle (or another beverage of your choice), and your sunblock. This moustache tote is super cute and will look great next to you in the sand.
And now, what to wear? Since you're going to be spending so much time soaking in the sun, make sure you protect your skin with a wide-brimmed hat. This hat has a fantastic classic style, and it will look great with a pair of oversized sunglasses. When it comes to beach footwear, personally I prefer a pair of sandals I can kick off easily -- all the sooner to dig my toes into the warm sand. These sandals have a fun beach style, and they are perfect for wearing both on the beach and off. Of course, no vacation is complete without a new piece of clothing to show off. For your beach getaway, try this Jantzen bikini. The nautical theme is a huge trend right now, and it will fit in perfectly water-side.
Now that you're ready for your spring break trips, where are you going to go?
Posted by Emily Harrison