Similar Items in Fitness & Exercise Equipment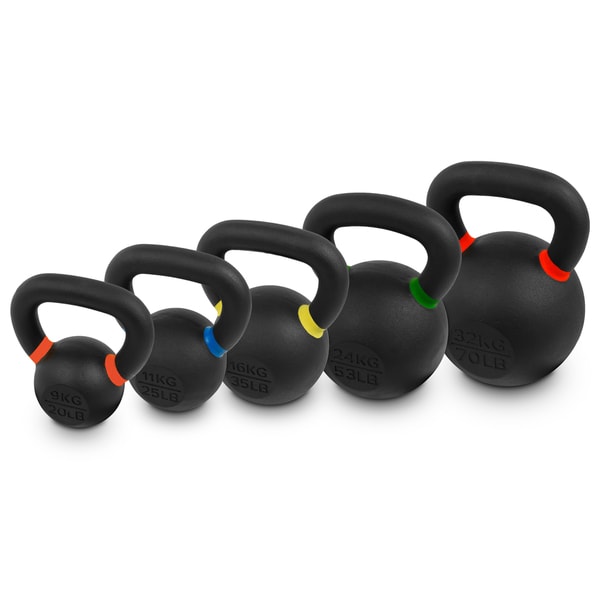 Valor Fitness PKB Premium Kettebell with Powder Coat Finish – Ideal for Cross Training and Strength and Conditioning
Out of Stock: This item is currently unavailable.
Description
Details:
Whether you are a coach looking to challenge your athletes' strength and cardio abilities, or an individual trying to improve multiple aspects of your training regimen, the Valor Fitness PKB Premium Kettle Bells are the solution for you. Constructed of heavy-duty cast iron with a matte black powder coat finish, these uniquely shaped weights are both the competition and commercial kettlebell you have been looking for. Kettlebells are a great tool to hit your fitness goals, whether it be building strength or serious mass, or simply to improve your functional fitness and conditioning. The use of kettlebells in your training can substitute for dumbbells or barbells, and they can provide training for numerous muscle groups at a time with movements such as kettlebell swings or Turkish get-ups. By using these PKB Kettle Bell Weights, you can also use them for deadlifts, squats (in the front rack position), snatches, and carries. Implementing kettlebells in your programming can be a beneficial way to improve your overall fitness and health while providing a challenging workout.
Features/Benefits:
HEAVY-DUTY- Kettlebells constructed of cast iron with powder coat finish for strength and durability. No weld. Grip enhanced by matte black powder coat and will also hold chalk well for better grip.
VERSATILE- Use kettlebells for a total body workout with kettlebell swings, deadlifts, squats, snatches, Turkish get-ups, and many other exercises to build strength and improve functional fitness.
EASY IDENTIFICATION- kettlebells feature a green color-coded band on the handle with the weight listed in pounds (lbs) and kilogram (kg) markings to easily identify during exercise.
FLAT BOTTOM- The flat bottom design allows the kettlebells to safely and easily stored on a shelf or weight rack.
ADDITIONAL- Kettlebells not meant to be dropped. Meant for garage, box, and light-commercial gym use. Ideal for cross training, strength and conditioning, and many other challenging workout programs.
Country of Origin: China
Specifications
Warranty
3 year Limited Manufacturer