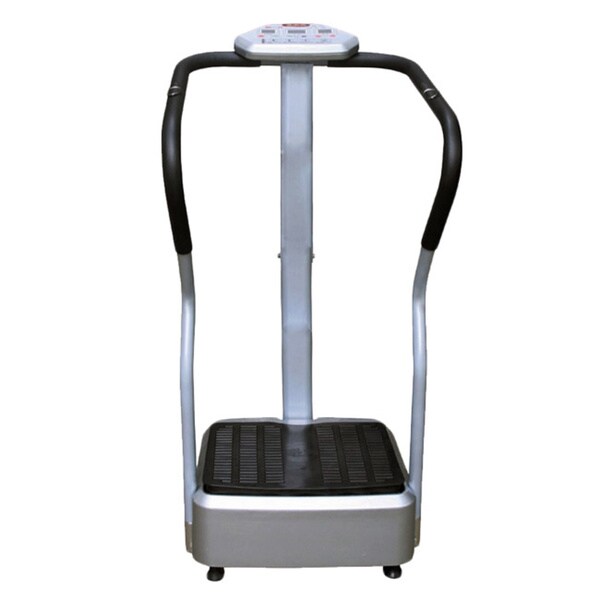 If used like in the beginning it would be awesome. Now it make a great clothes hanger.
...
Details
ITEM#: 11296141
Get a whole body workout in just minutes with this vibration plate fitness machine from Sunny Health and Fitness. Simply stand on the comfortable vibrating plate, and let the machine work your muscles from head to toe. With 20 speeds, it's easy to select a comfortable vibration level for exercise that works with your abilities.

Use this vibration plate machine at a low speed between workouts for stimulating blood flow and relaxing sore muscles. This compact machine fits easily in family rooms and other living areas for regular use in front of the TV or while chatting with the family. Check out the LCD display to get information about your workout or complete a body fat scan for detailed information about your body composition.


Vibration plate fitness machine provides a full body workout in just minutes through whole body vibration, the hottest and latest fitness technology
Three built-in workout programs and body fat scan allow for customized workout programs
Vibrations improve muscle tone and strength, increase bone density and joint stability, stimulate circulation, reduce pain, sooth sore muscles and more
Maximum power of 200 watts
20 speed levels for customization
Maximum weight capacity of 250 pounds
Extra large console with 3-LED display for readout: time, speed and body fat percentage
Overload current protection, anti-jamming and anti-static for safety
This machine is designed for home use only. Any commercial use of this product will void the warranty.
Specs
Features

Equipment
Other Equipment
Assembly
Assembled
Portability
Portable
| | |
| --- | --- |
| Dimensions | 24.5 in. D x 48.5 in. H x 25 in. W |
| Model Number | Y. 08 |
| Country of Origin | China |
Sturdy machine. I've not used it regularly enough to see results. It is irritating to my dog,who's sensitive to noise, that it beeps every minute your in it.

Read More

No assembly. Super easy to use. Follow the instructions and you can do many different exercise besides just standing on it. Builds strength as well as balance. I like it a lot.

Read More

The power button stopped working almost immediately. The BMI monitors on the handles don't even do anything and popped out. The instructions are written in broken English.

Read More

it does the job! increases circulation like crazy. Make sure you dont over do it, if you do, you will feeels like certain areas "fell asleep"

Read More

Sunny Vibration Machine

I have enjoyed my Sunny Vibration Machine and would definately buy another one in the future. It get my lymphatic system moving.

Read More

Incredible machine originally developed by Russian

This is one incredible and fantastic piece of exercise equipment! For the price, it is a super buy! It provides a rocking motion, which may seem simple at first, however, after just a few minutes standing on that machine, or sitting on the platform, you will discover it is much more than simple. The rocking motion improves balance, coordination, movement of various body motions. As you stand on the platform, you can rotate and bend your knees, and create "dance" motions which further enhance toning of the muscles. You can also hold and lift hand-weights, and the added rocking motion greatly increases the strengthening of muscles, which you will sense in your calves, your thighs, and buttocks. And this is all on LOW settings, too! I would not recommend setting higher than about 3 or 4 level, not until you become much more adept at using the machine. I would AVOID using higher setting over 5 or 6, at least initially, and not even use the higher settings. There is virtually NO NOISE, and the machine I purchased is very sturdy, very quiet, and feels like a high-quality machine. I have it sitting outside on my covered patio, however, the machine is probably best suited in-doors, as it is a quality piece of equipment. It is quite heavy, and does not "move about", and is very stable. I read that this machine was originally developed by Russians. It is NOT a toy, though you will experience a lot of enjoyment using it, and if you run two cycles, with ea cycle at ten minutes, you will likely be sweating profusely even at low settings of only 4 or 5! The "simple" rocking motion creates FAST TONING of muscles. My machine has level up to 20, far too powerful for me to endure at this time. Most people should start at level one only, and work-up to level two and so forth. You will feel the 'burn', a good sensation that your muscles have had a good work out. If you hold and lift hand-weights of 5#'s each, biceps and triceps as well as calves and thighs will have an incredible work-out! Your muscles will quickly become very toned. I use 15# hand-held weights, and simply lifting those weights above the head is a strongly felt motion/exercise. You can also sit on the platform, though I would recommend using a small pillow. Also, probably best to wear sturdy tennis shoes etc while standing on the platform -- you will notice your feet also get a work-out. As you become more accustomed to the rocking motion, you will quickly advance to being able to move about without holding onto the bars, and will notice greatly improved strength and balance and sense of increased co-ordination -- this is hard to describe. It's a very well-built machine. I plan to use mine 'forever'. Mine was manufactured in Korea .....the quality is superb. Do NOT let children attempt to play on it, it probably requires supervision. For some people: May wish to wear knee 'stabilizers' initially, unless using only at lowest settings. There is no doubt, after using the machine, there is increased oxygenation of blood, and organs; and likely increases the flushing of the 630+ lymph glands throughout the body, too, which improves the entire immune system. You will feel the work-out effects very quickly, and profoundly. And it is so "SIMPLE" and easy to use. :) It's FUN, too!

Read More

Great Machine For Price

After reading many articles on Vibration fitness training I turned to Overstock to see what they had to offer. I read the reviews on the Crazy Fit Vibration Plate Fitness Machine and decided to purchase it. It arrived quickly and was not hard to put together. It is quiet even on level 20. WIth knees slightly bent you will feel the burn. I did feel like I was on a ship after using it for the first few times, but that feeling has now subsided. In the first week of using it I have lost 3 lbs. and I can actually see my muscles toning. I would recommend to anyone interested in this product to see how other people use it, you can get quite creative on poses to get to different muscle groups... It is not meant to just stand there. Search on youtube for vibration fitness training to get some ideas. This machine is not just shaking you, it is causing your muscles to contract at a rate similar to a workout, but without the strain. All in all I must say it is amazing, and I feel great. Have your friends and family try it and watch them laugh as they experience this strange new sensation.

Read More

Junk

Based on reviews I bought this machine. I have been looking at the more expensive Vibration Machines and have tested them, so know the quality. I decided to buy this machine to save money because the reviews said "it works just as good" as the more costly machines. This couldn't be more further from the truth. This machine will tip (and I am only 110 lbs), it has a very harsh vibration which gave me a headache for over 2 hrs, and the programmable board will not program as said. So, this machine is getting returned and I do not care how much it costs me in shipping. At least it will be out of my house and maybe get a few bucks back. With this machine you definitely get what you pay for!

Read More

The Jury is still out on this purchase

I purchased the Crazy fit vibration machine on the strength of the other reviews here on overstock. The product came quickly and was easy to put together (15 minutes). It works very well mechanically. I have noticed that it is giving me a neck ache. It seems to vibrate my head and neck a bit too much. I think I'm getting a little workout on my legs, but I wouldn't praise the results at this point. It is very easy to use......but I think it's too rough on certain parts of my body. After using it for 2 weeks every day, I haven't noticed any positive physical changes. I am not sold on the technology....yet. I'm glad it works so well for others, and I'll keep doing it as long as it doesn't tweak my neck too much, just to see if I get any benefit.

Read More

Fitness

This is a great workout tool! So easy to put together and so enjoyable to use! I have MS and this is the equipment that helps!!!!

Read More

WBV Machine

We have the Sunny Crazy Fit Massage machine (WBV vibration) in our office for our clients to use for recovery from Incontinence, Peripheral Neuropathy and other circulation issues. It has been so successful, that we continue to order it for our clients. Our last, being a 90 year old woman who absolutely hated her first two times on the machine. After seeing results after only one week, she asked us to order her a machine. Her balance is much improved; as is her leg strength. And, stronger legs, mean less falls. We have helped 6 of our clients purchase this machine now because it is priced right. They would not have paid more, unfortunately. James S., Neuropathist/Director Chico Holistic Healthcare

Read More

Love It!!!!!

I have had my machine for about 16 months. In that time I have only missed 1 day on the machine. I have noticed a difference in my body and love that it is only 10 minutes per day! I would highly recommend this to anyone!

Read More

Good so far

I am not sure if the machine is free of defects since it makes a rattling noise when I stand on it distributing my weight evenly, but if I put more weight on my left leg, then the noise subsides and the machine runs quietly. Of course I can't do this for more than a minute or two, so I basically do my routine with lots of rattling noise. Other than that I think the machine is very sturdy, good quality. As for the results, well I've had it for 20 days now, I've used it twice a day for intervals of 10 minutes and sometimes 20 minutes each time and while I can't see very visible results as of yet, I can notice some toning in the legs, thighs and perhaps gluts, don't know it's hard to say. I have a little bit of cellulite in my gluts, what most people would say it's nothing... but it's there, and I still don't see much of a difference. I am 35 y/o, 5' 6'' and weigh 125lbs, have a fairly toned complexion, but the signs of aging are showing up specially in thighs, gluts and belly. I'd like to know if other people that have been using the Crazy Fit for longer than me, what kind of results they are getting. I did take a picture of myself the day I started and I'm planning on taking a new one after day 30, and so on. It's also very helpful when writing a review so state your age, height and weight so people can relate to your results more realistically. Thank you Overstock!

Read More

Relaxing

I bought this machine for all the reasons it was advertised, balance, circulation and weight loss. I haven't lost any weight; I've had the machine close to 1 month. I've not noticed that my balance has improved. The machine does a great job at reviving my circulation after 10 minutes on the machine parts of my body are tingling and alive with blood flow they normally would not get. I have gotten off the machine sweating a couple of time when I added leg lifts and squats. DO NOT CLOSE BEND YOUR KNEES AND LIEN BACK SLIGHTLY. THIS IS VERY RELAXING. I ACTUALLY FEEL ASLEEP AND CRASHED BACKWARDS WITH THE MACHINE COMING DOWN ON TOP OF ME. DO NOT USE THE MACHINE WHEN YOU'RE TIRED!

Read More

Stopped my mothers restless leg problems

I have an older version and use it regularly for my arthritis in my knees. It really helps especially when I set it to the higher speed settings where it really gets the blood moving in my feet and knees. My mom came to visit and I noticed that she kept twitching her legs when she would sit on the couch. I asked her about it and she said that she had been taking meds for it, had been to the chiropractor and have been getting massages to try to reduce the "Restless Leg Syndrome" but it was not helping. My mother is 74 so it took a bit to convinced her to step on to the plate and just run through 10 minutes with it. The longer she stayed on it, them more she would comment on how good it felt. She made a few adjustments on the speed and found the setting that seemed to suit her best and at the end of the 10 minutes she reset it for another session. She did not have any more twitching that day and slept all night. The next day, she had me buy this one. It took 5 days to get it and my uncle put it together shortly after receiving it. She jumped right on it and was so happy because she had been having the Restless leg problems again. My mother is a super active person and has never been one to go to a gym. This is her first exercise machine and she will fight you over it. She absolutely loves it. Of course I do too! Mine is also a crazy fit - a previous version that was bought in 2010. If you have Neuropathy, Arthritis and the likes, you have to have one of these machines.

Read More
Q:

"Is this machine for circulation? "

A:

yes it's good for circulation

Q:

"Is this machine good for balance problems"

A:

This machine is recommended for blood flow and relaxing sore muscles.

Q:

"Is this product new or used?"

A:

Hello BonnieleeK, this item is brand new. Thank you for shopping with Overstock!

Q:

"Is there a book or video online that I can learn what exercises are good to do on this machine? I'm looking for more detailed information on exercises that is listed in the manual that came with the machine. Thank you Kathi"

A:

Hello 4mygrls, we do apologize, we do not currently offer a video for this item. Please feel free to contact us again with any further questions. Thank you for shopping with us!

Q:

"iN THE REVIEW THAT i READ STATES THAT THIS MACHINE HELPS YOU LOSE WEIGHT. I HAVE GAINED WEIGHT SINCE I PURCHASED IT AND HAVE USED IT FOR 20 MINUTES ALMOST EVERY DAY. MY BACK HURTS WORSE"

A:

Hello CINDY, this item is designed to provide a full body workout. Results can vary with individuals. Please let us know if you have additional questions. Thanks for shopping with us.

A:

Hi Cindy - weight gain OR it is that you built up muscle WHICH weighs more than fat...??? ALSO - just because you are using this doesn't mean eat a lot more OR things that are not good for you - You can get on this and use it for 10 minutes 10 minutes is = to a 1 hour workout BUT if you burn off 300 calories AND you're eating 2000 YOU WILL gain weight - you are consuming MORE calories than you're burning off ALSO it depends on the setting if your using it on 9 - 14 THAT is more for massage, stree, relax DOES MORE too BUT burning or a real work out...??? I use mine in 20 - 25 THAT is really working me and I more on the machine too - I also eat right - and am SLIM to begin with I have always been slim AND always worked out - I do it to stay strong & fit, keep muscle tone, strength, I also STRETCH everyday - and I don't only use this for 10 minutes - I incorporate other means of workout

Read more

Read less

Q:

"Why did you choose this product?"

A:

Used once and was beneficial for my health.

A:

I used at a friends home and it helped my legs to liven up, I walked all day without tiring!!!!!

Read more

Read less

Q:

"is this item come with any warranty?"

A:

Hello ND, yes, this machine comes with a warranty. Thank you for shopping with us!
Shopping Tips & Inspiration
Shipping & Returns
Contact Information
Shipping Information:
Our standard shipping method is ground shipping. We also offer expedited shipping for most items. Your final shipping cost and estimated delivery timeframe will be available at checkout.
Standard shipping details
Expedited shipping details
Standard Return Policy:
Items must be returned in new or unused condition and contain all original materials included with the shipment. For the return policy on a Marketplace item, please refer to the Seller's individual policy, located on the product page by clicking on the Seller name. More Details
FINAL SALE EXCLUSION: Items marked as FINAL SALE are not returnable unless the problem you experience is the result of our error.
For your protection, all orders are screened for security purposes. If your order is selected for review, our Loss Prevention Team may contact you by phone or email. There may be a two business day delay to process your order.
** Most Oversize orders are delivered within 1-4 weeks. Some orders may take 6 weeks to be delivered.