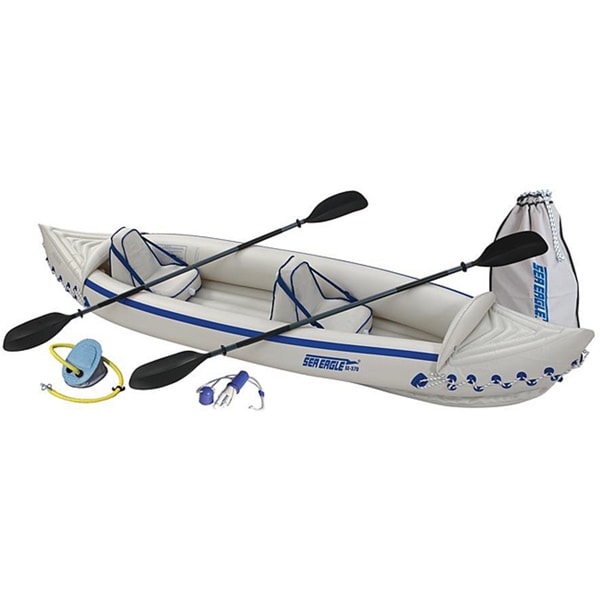 This thing is huge and will support up to 650 pounds. The skegs always bend a bit when folding it up for storage but eventually return to form. Its very heavy and a bit time consuming to inflate the FIRST time due to needing to add the valve caps. All subsequent inflation's are pretty easy. It is heavy but the included storage bags with straps make it a bit easier to handle.
...
This user earned $2.00 in rewards for writing this review.Learn More
Details
ITEM#: 12693679
The SE370 Pro inflatable kayak offers you a boatload of fun and safety. Made of 38 mil PolyKrylor PVC with an L-beam construction floor and high frequency welded seam, this sturdy yet lightweight kayak is ready for years of enjoyment. The watercraft comes with two paddles and can be inflated and assembled in just eight minutes.

Features

Made of 38 mil PolyKrylor (K80 PVC)
Self bailing drain valve
Lashed down inflatable spray skirts
I-beam construction floor
Two skegs on the bottom for better tracking and speed
Bow and stern grab line
3 chambers (port, starboard and floor)
High frequency-welded seam
Inflatable I-beam construction
3 deluxe one-way air valves
8-minute inflation/assembly time
9-inch tube diameter
3-persons (650-lb.) capacity
Weighs 32 lbs.



Proportions

Interior: 10 feet 8 inches long x 1 foot 1 inch wide
Exterior: 12 feet 6 inches long x 2 feet 10 inches wide
Deflated: 31 inches long x 19 inches wide x 8 inches thick
Includes
SE370 Hull
2 AB30 paddles
2 inflatable DKS Seats
Storage bag
Foot pump
Repair kit
Specs
Features
Type
Kayak
Color
White
Set Includes
1 Piece
| | |
| --- | --- |
| Dimensions | 12 feet 6 inches long x 2 feet 10 inches wide |
| Warranty | 3 year Limited Manufacturer |
| Model Number | SE370K_P |
| Country of Origin | China |

Most Recent

This thing is huge and will support up to 650 pounds. The skegs always bend a bit when folding it up for storage but eventually return to form. Its very heavy and a bit time consuming to inflate the FIRST time due to needing to add the valve caps. All subsequent inflation's are pretty easy. It is heavy but the included storage bags with straps make it a bit easier to handle.

Read More

More durable than I thought for an inflatable. We have been very rough on this this summer and has not sprung any leaks. Easy to inflate and transport

Read More

Nice kayak for the occasional user. My husband and I enjoy this kayak,. We use it on a quiet lake so I have no idea how it would hold up to anything rough. It's perfect for out needs and fits in a bag for Winter storage.

Read More

Easy to carry and assemble

This boat as advertised is very easy to carry and assemble. I was able to set it up in about 30 minutes, slightly higher since I was doing it for the first time. It's advertised to be good for three people, however, I had to slightly bend my knees to get in, when I went with my wife. However, you get used to that. Although it feels really comfortable in water, it's difficult to keep it in straight line if you are trying to go fast. All in all it's a good buy if you own a small car like me. *By submitting a review, each employee received a sweepstakes entry*

Read More

Got the Kayak quickly and inflated it in the house to get my bearings. Easy set up. We went to the river today and I forgot my power pump, but was pleasantly surprised to find the foot pump easy to use and just as fast as the corded pump. This is a heavy duty inflatable and there were no worries on the gravel and sand. Two adults (5'4" and 5'11) and 12 year old all fit comfortably. Easy to maneuver. I would definitely recommend this kayak- especially for lakes and easy flowing rivers. The SE370 is worth it just for the heavy duty seats! A few things to consider- It is heavy when rolled up and in the bag with paddle, seats and foot pump. You won't want to carry it far. If paddle clips are important to you- this one doesn't have any. No foot pegs, but it was easy to brace my feet against the chambers.

Read More
Most Helpful

I bought the SE330 Pro and took it to Colorado on vacation. I put it on several lakes and one river with mild rapids. I loved the boat, but found it a bit cramped for leg room with two people. A friend on vacation with me, loved it, bought it from me on the spot. I immediately ordered the SE370 Pro and it beat me home. The boats are identical except for the length. I wasn't sure how much more room it would give me, but it's an amazing difference. I'm 5'9" and with the same size passenger, my knees were in my way of paddling. Not in the SE370! I have room to stretch out or pack supplies. I recommend the SE370 for a small amount more, unless you plan to go solo most of the time. Then the SE330 would be perfect. Quality on the boat is great. It looks good. It tracks straight on open water. It's quick to turn and fast on the water. It handled the rapids in good shape and stayed up when others were flipping over. The paddles are good quality and adjust to different feathering angles. The seats are durable and comfortable. I highly recommend the Pro package for the taller backs! The foot pump works better than I expected. The SE330 requires about 60 pumps per chamber. There are 3 chambers total. Overall it takes about 15 minutes to unload and get on the water. The carry bag is very heavy duty and the boat can be carried by a woman over the shoulder pretty easy. Both of these boats have been on back order from Sea Eagle all summer and suppose to be available the end of July 2010. Overstock.com was the only one who had any. Check back often. They didn't have the SE370 at first. They have the best price and FABULOUS service.

Read More

Great Value, Works as advertised

I must admit that I have wanted a Sea Eagle inflatable since I was a kid (30 yrs ago). The boats arrived about 5 days after I placed the order in good condition. Do not use a knife to open the shipping boxes or you run the risk of cutting the boat. I ordered (1) Pro Package and (1) Deluxe Package because my teenage son is using one boat and we just use one Pro seat in each boat for solo trips. The deluxe seats are horrible for back support in the middle of the boat, but work well at the rear because the spray skirt helps with back support. The hardest part of assembly is getting the valve cap keepers on the valve openings. They require some stretching to get them on and some of them won't stay on well. This doesn't affect the seal of the valve caps but it does keep them from getting lost or misplaced. Pumping the three main chambers requires about 100 pumps for each with the included foot pump and two to three for each spray skirt. The seats require about three pumps for the two seperate chambers.I see an electric air pump in my future! I pumped both boats up and pressure tested them for two days and all of the valves held pressure. I did read on another website that it is a good idea to go back and give each valve another twist to prevent any slow leaks while operating the boat. The 370 models have thicker material than the 330's (38mil vs 33mil, so in theory they should be more puncture resistant. The paddles are of a four piece collapsible design. They look to be of reasonable quality and since I will be paddling solo most of the time I have a spare paddle in case something does break (each boat comes with two paddles). The boat also ships with an inflation gauge to ensure proper air pressure and a patch kit. The maiden voyage of these boats was made on a local lake in a protected cove with winds about 5 MPH. As with any canoe or kayak, getting into it for the first time causes a little anxiety. The initial stability of these boats is not as good as some rented kayaks I have used but the secondary stability is very good. I was expecting bad yaw characteristics which is usually a trademark of inflatable boats but I was pleasantly suprised. The key is to start out with slow and light paddle strokes until up to speed and then the boat can be paddled with more power. When paddling solo the boat performs best if the paddler is seated around the middle. The pro seats are comfortable but they do slide around a little toward the back when entering the boat and getting seated. I will probably get some small caribiners and run some rope to the seats from the spray skirts to keep them from moving back. The wind did affect the boat some and corrective paddle strokes were needed to stay on the intended heading, but that is the case with most other inflatables. I was concerned about the sun heating up the boat and over pressurizing the chambers but the material is a light gray color and the boat stayed relatively cool on this 95 degree day. This is what I would call a fun boat. It doesn't have foot rests or thigh braces which help transfer power to your paddle, so you aren't going to win any races in it. It will require more energy to move it around. For what it is, it gets the job done. The boats are rated for Class 3 whitewater but I can't see using them for anything but lakes and slow moving and relatively deep rivers. You may be able to use them for deep Class 1 through 3 rivers but most of the whitewater rivers in North Carolina are two feet or less in depth and have a lot of craggy rocks. Dedicated inflatable whitewater boats have a thick rubber coating or heavy fabric outerlayer to prevent cuts and abrasions. The Sea Eagle Sport kayaks are just very thick PVC material which is durable but not enough for my comfort in these conditions. Who wants to have a flat 10 miles upstream in the middle of nowhere? If you are that adventurous, make sure you have your patch kit and foot pump with you. I wasn't in the financial position to get two hard shell kayaks, paddles, and a roof top carrier. I would have spent $1000.00 minimum to get entry level boats. In my case it was buy the Sea Eagles with paddles and air pumps for less than $500.00 or sit on the shore and watch others have fun. Being able to pack away a 12 foot long boat with all of the accessories in a duffle bag is very convenient but it is not without some disadvantages. You have to make sure the boat is completely dry before you put it away to prevent mold and mildew. This means either leaving the boat inflated until dry or wiping it down with a towel at the end of the day. The spray skirts are attached with ropes so the boat is going to have to air dry for some amount of time before packing it away to allow the ropes to dry out. Drying the boat is a minor annoyance but just be aware that you aren't going to be able to just pull it out of the water, deflate it, and stuff it in a bag. I had to practice a couple of times folding up the boat so it fits in the bag. I found the best way is to roll it up like a sleeping bag instead of folding it in sections. With the boat and accessories in the bag the whole package is very heavy. The bag only has one shoulder strap so all of the weight is on one side of your body during transport. Two straps would make it a lot easier. I can't see anyone carrying these bags more than 50 yards before taking a break or switching shoulders. It is much easier to carry the inflated boat and paddle if possible. Overall Sea Eagle makes a good product that peforms well if you recognize its limitations. These boats are are leap up from inflatable pool toys and should hold up well under normal circumstances. The material is probably three times thicker than the cheap boats. I can't think of a better or less expensive way to get out on the water and just have a little fun.

Read More

We ordered the SE 370 PRO because we wanted more room in the kayak and upgraded seats. It arrived in just a few days, as ordered, and it was bigger than expected! We took it out the following day for an 8.5 mile river trip. It took less than 10 minutes to set up with very little expenditure of energy. It was amazingly comfortable - I could have stayed in it all day! It felt very sturdy as well - which was something I was concerned about being that it is inflatable. We hit sharp branches in the river many times and got stuck on several tree stumps without any issues. It breaks down quickly and requires little storage space. I would highly recommend that you spend the extra few dollars for the 370 PRO over the lesser models as the extra length in the 370 allowed space for a soft side cooler and lots of leg room. The PRO package basically gives more comfortable seats which were also definitely worth it. .

Read More

Bought this for my husband who had been making noise about getting a kayak. With the rigid kayaks being so expensive, and not knowing if he would continue to use it, I started researching and came across Sea Eagle kayaks. The reviews across the internet are extremely high for everything they make so I decided this would be a good starter kayak. This thing is pretty darn awesome! Husband and son took it out day after we received it and had a blast. Took a little bit of practice to get it right. It does wobble and will capsize, just like any kayak, if you're not careful. My husband can take this down to the water by himself without having to add a rack to the car. It's easy to inflate and deflate. Everything packs away in the carry bag which, though quite large, seems not to be an issue for him to lug around. All in all, couldn't be happier.

Read More

we are really happy with this kayak. By going with the "PRO" package, you get the upgraded seats and the seat is one of the most important features in a kayak. When I've rented a kayak, the seats were poor and stressed my back. These seats support my back and are really comfortable. It inflates and deflates quickly and is light enough for me to carrywithout a problem. We've taken it out twice already and juist love it. It is out combined Mothers?Fathers Day gift to each other this year.

Read More
Q:

"How durable is the material for the Kyak?"

A:

It's good quality, have taken out my kayak several times now, no complaints. It also comes with a glue and patch in case you get holes in it.

Q:

"Are the seats removable "

Q:

"Is this safe for fishing?"

A:

This item is recommended for fishing as well.

A:

Well inflatable kayaks such as this one are very stable and should be helpful. But remember these are not fishing boats, so it can be a bit inconvenient at times.

Read more Read less

Q:

"i want ten nos. of two seater kayaks for a 15 day expedition in the river brahmaputra of assam, india. can you suggest any good inflatable kayaks and also price."

A:

Hello naushad, I was able to narrow down some search results for you. Here is what I was able to find http://www.overstock.com/search?keywords=kayaks&taxonomy=sub19072&refinetype=Kayak&searchtype=guidedNav&additionalKeywords=inflatable

Q:

"Why did you choose this product?"

A:

All of the positive reviews

A:

This boat is very portable and has favorable reviews.

Read more Read less

Q:

"Hi, If the kayak is only one foot wide, will a person my size (36 inch waist) be able to fit in it?"

A:

My husband sounds like he's roughly your size and he didn't have any trouble at all fitting in. Also, I'm short but pretty wide and I didn't have any problem either. Both of us were very comfortable in the kayak together, he in one seat and me in the other behind him.

Q:

"Where are storage areas and how big of a cooler can be brought on while transporting 2 people?"

A:

Hello larryblank, there is no stow-away storage area. I would recommend only bringing a cooler that you would be willing to sacrifice leg room for. The interior space, when inflated, is one foot wide, so it could fit a small cooler. Thank you for shopping with us!

A:

I took it to the river today. we had a medium size ice chest and I placed it as far back as i could, then I put my seat right in front of it. Two of us paddled most of the day. It worked great. BTW- my dry bag fit in the back under the apron in the back too.

Read more Read less
Shipping & Returns
Contact Information
Shipping:
Usually leaves our warehouse in 1 business day. *
Shipping Information:
Our standard shipping method is ground shipping. We also offer expedited shipping for most items. Your final shipping cost and estimated delivery timeframe will be available at checkout.
Standard shipping details
Expedited shipping details
Standard Return Policy:
Items must be returned in new or unused condition and contain all original materials included with the shipment. More Details
FINAL SALE EXCLUSION: Items marked as FINAL SALE are not returnable unless the problem you experience is the result of our error.
For your protection, all orders are screened for security purposes. If your order is selected for review, our Loss Prevention Team may contact you by phone or email. There may be a two business day delay to process your order.
** Most Oversize orders are delivered within 1-4 weeks. Some orders may take 6 weeks to be delivered.