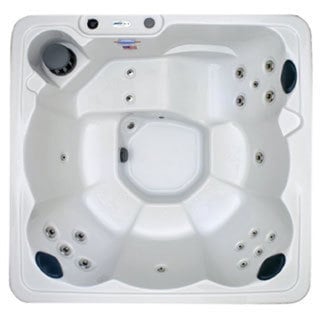 Sufficiently number of jets. Love that it connects to regular outlet. Very heavy. Had to hire guys to move it to the deck. Excellent price.
...
Hudson Bay Spas 6-person 19-jet Spa with Stainless Jets and 110V GFCI Cord Included
by Hudson Bay Spas
Details
ITEM#: 11388031
Gather the gang for a quick dip in your spacious six-person hot tub. This rejuvenating spa-inspired tub features separate neck, shoulder, calf, and foot jets plus a comfort cushion head rest, all designed for deep, restorative relaxation at home.


Seats: 6
Jets: 19 (Stainless)
Electrical: Dedicated 110V/20Amp
10ft Long GFCI Cord (Included)
Plugs Into a Standard 110V Outlet
Empty weight: 600 pounds
Filled weight: 3110 pounds
Gallons: 300
Dimensions: 76 x 76 x 34 inches
Digital Balboa Controls
Energy Rite Pump
Low Energy Consumption, High Performance
White Shell with Mocha Cabinets
Durable, Slip Resistant Lucite Acrylic
Multi-Layer Fiberglass Reinforcement
Quality Heat-Retaining Synthetic Cabinetry
Back, Shoulder, Calf, and Foot Jets
Standard High Density Spray Foam Insulation
Deluxe Lockable Safety Cover (Included)
Ozone Ready
7-color Underwater LED Light
Built-in Waterfall
Plumbed with Anti-Fungicide Tubing
Warranty
2 year parts warranty
90 day labor warranty
5 year surface and shell warranty
10 year structural
Please note:Orders of 151 pounds or more will be shipped via Freight carrier and our Oversized Item Delivery/Return policy will apply. Please click here for more information.
Note: This product will be shipped using Curbside delivery only. The product will be unloaded at the nearest curb in front of your residence. Signature required upon delivery.
Specs
Features
Type
Electric Spa, Standard
Number of Jet
11-20 Jets
Assembly
Assembled
Color
White
Hot Tub Capacity
6 person
| | |
| --- | --- |
| Dimensions | 73 in. L x 73 in. W x 32.5 in. H |
| Warranty | 1 year Limited Manufacturer |
| Model Number | Seaspray |
| Country of Origin | United States |



Most Recent

Sufficiently number of jets. Love that it connects to regular outlet. Very heavy. Had to hire guys to move it to the deck. Excellent price.

Read More

Only reason gave 4 stars had alot issues with delivery companies

Read More

Put it on my enclosed Patio

The delivery on this item went really good, of course it took a little bit of jockeying but the delivery guy just got the job done and we did not mind assisting place the item since I wanted in a particular place on the front porch. The price was amazing and I did not have to go through a lot of electrical since I already had the 110V on the front patio. Sometimes I do not even turn on the heat I just use it to do my water aerobics plenty of room and great for relaxation with the jets. So glad I ordered this, good job Overstock, again and again

Read More

A few negatives but a good spa for the price!

Finally got the hot tub. Ordered July 3rd, delivered August 28th. Overstock had no clue as to why the delay. Called the manufacturer, Leisure Products, at *** and was told that the delay was due to their cover supplier. Overstock needs to do better on their tracking. I got a shipped email with a tracking button that had no tracking info. Kudos to the freight company, ABF. The driver helped me load it on to my pickup and then on to my deck. The tub's freight weight with the cover and pallet was 645 lbs. It ships on its side banded to a long custom size pallet that just fit on my pickup with the tailgate down. It is wrapped in heavy plastic with only thin cardboard and some foam for protection. We slid the tub on rugs on its shipping side to its spot on my deck, and then myself and 3 neighbors tilted it down onto a 6' 2 x 4 and lifted it up by the slight edge on the bottom of the side panel just enough to slide the 2 x 4 out. The manual and the power cord are behind the panel under the control panel. READ the manual first. A PITA taking the panel off and putting it back on. With a cordless drill, I notched out a 7/16" hole in the bottom beam and the panel for the power cord. A few tips: Do not use power tools to remove and install the screws from the side panel. I used a ratchet screwdriver. Fill the tub up through the filter hole before you re-install the side panel to check for leaks. Do not plug the power cord in until the tub is full. Make sure the 2 slice valves are in the default locked up position before plugging it in. This tub weighs ~600 lbs. empty. You will need at least 4-5 helpers. Filled, ~300 gallons, it weighs ~3100 lbs., not including people weight, so if you place it on a deck you need adequate support. I added 2- 8' 4 x 6s across the joists a few inches in from the hot tub's edge with 6-4 x 6 posts, 2 extra 4 x 6 posts on my center beams, and a 4 x 6 post on the outer joist next to the house. Check the suction drain cover. Mine had ~20 clogged holes. A small center screw holds it on. A PITA to remove when the tub is full but I am assuming this is a safety feature. When you first plug it in it goes through a self-check test. After the test, you should see Pr (priming mode) on the control panel, which should last ~6 minutes before the pump starts to run. I purchased my hot tub chemicals at Leslie's Pool Supplies They are nationwide, check lesliespool.com's store locator. I went with a bromine bundle, test strips, and a floater dispenser instead of a starter kit. More expensive but will last a lot longer. They will do a free 9 point water test on your hot tub water in the store and tell you what chemicals you need. I bought my Confer Plastics espresso color steps from an eBay vendor for $56. shipped. Great quality, made in USA. Pros: Ok hot tub for the price. Got it for $2250. with free shipping, no tax, during their July 4th sale. Seats 4 people comfortably, 6 small people maybe. It is advertised as 110V Plug and Play but you need a dedicated outlet and a 20 amp breaker for that outlet. More than adequate jet flows on high pump speed setting. Nice cover and color, perfect fit, not too heavy, 1 person can remove it; also comes with locking buckles that screw to the side panels. It comes with a pre-installed filter. Good comprehensive manual. It took ~8 hours to heat the water from 74F to 101F, not bad for only 110V. 7 color changing underwater LED light can be set to show only 1 color. Cons: A few nitpicks. The tub was undamaged but the side panels have scuffmarks, not from us, and I had to repaint the black base that had multiple nicks in it down to the bare wood. The manufacturer needs to improve their QC. The inside of tub was very dirty. Cardboard packing on the bottom panel was soaked presumably from a pre-test. It is 110V and does not come with an auxiliary heater so it takes a while to heat to set temp. There should be a better way to access the manual and power cord then taking a side panel off. It is advertised as having a 10' power cord but only ~7' of that is useful (see pics). My outlet is 5' from the tub and ~2' high and it just reaches. The GFI plug is large. I had to dremel out the opening in my outlet to get it to fit.

Read More

Can't beat the price on this spa,had few months now not a problem whatsoever!!Use 4-5 days a week!!!

Read More
Most Helpful

We bought this hot tub because it looked like a great deal. Once it arrived, it was better than we had expected! It heats up rather quickly (Going from 81 degrees to 101 degrees in a few hours!) and is easy to use. It's pretty lightweight (for a spa) and only needs 2-3 people to move it into place. A few things to keep in mind: 1) It does not come with a chemical starter kit, so you'll need to pick one up from a pool supply store while you're waiting for it to be delivered. 2) The directions are inside the foil lining, zip-tied to one of the cables the runs right up the middle wooden brace. (You'll know what I'm talking about when you take the cover off.) Kind of a pain to get to, but they are there. 3) The "Slice Valve" they speak of in the directions is a ROYAL pain to get to, but fear not... It's open... 4) The drain valve is located on the side, and has a hose attachment. When you attach a hose, pull OUT to open the valve and begin draining. The directions can be a little vague, so I'm taking the guess-work out for you. I'm completely satisfied with this hot tub, I'm VERY glad we found it, and I reccomend it to anyone looking for a good quality, yet inexpensive spa!

Read More

I was worried if the picture did the product justice, but it is better than I expected. This spa retails for more than the Overstock price. Being a O Member paid off for this purchase, so if you aren't an O Member yet...you should definitely join before making a big purchase like this one.vPlugs into existing GFI120V outlet. No worrying about having to pay for 240V outlet to be installed.One heads up...it is heavy and you will want some "muscles" to place it where you want it. Another lesson we learned, Don't roll on corners they will crack. So, after doing my research and receiving this spa I believe I purchased a GREAT DEAL!!!

Read More

We're very happy with our hot tub. Have used it for about a month now and have no complaints. It would be good to note though, that the power cord and instruction manual are inside the hot tub cabinet. So a drill is needed to remove the outside of the tub cabinet to get to these items.

Read More

Great Hot Tub, but directions almost non existant

The hot tub arrived exactly as advertised. It appears to be excellent qualaity; and while we haven't been able to get in yet (water too cool), we anticipate enjoying it soon. Controls are easy to use, jets strong. The only problem we had was the directions for installation and filling. The instructions are on the inside, under the outter panel. You need to remove the panel (which you have to do to get to the cord anyway) lift the insulation fabric, and locate the bag with directions inside. The manual includes directions for several models and there is no clear "first, do this; then this;' and finally this". They seemed to jump around and there is not a diagram of what each knob, etc. does. The parts list in the back shows items for ALL models, not just the one you purchase. Air locks when filling were mentioned, but we had to read directions several times to figure out what to do about them.All that said, we are very satisifed. I would recommend the product, and will add that the website for the manufacturer was very helpful in sorting out some of the questions we had.

Read More

Good deal for first-time spa buyers. But there are details you need to know about this spa. Delivery was great, much better than I expected; it was brought right to where I wanted it. When you get ready to set it up, be sure you remove all stickers right away-they will leave residue behind on the cabinet and the spa surface. When you open the panel to get the instructions you will need to pull the foil lining away from the staples it's attached by. The instructions are on a CD in a plastic bag zip-tied to one of the pipes and will need to be printed out. Don't waste your time looking for a bleeder valve-it doesn't exist. You will have no problems if you fil the tub exactly the way they recommend, though the filter well. The topside "diverter" valves aren't there either. There is an air flow valve and the dial to control the waterfall flow. ON the control panel the "SET" button for setting the temp isn't there, you just press the temp button unti you see the temp you want and then let go. When you turn on the heater the whole pump comes on. And seeing an ozonator already installed was a nice surprise. Putting the panel back on is the most difficult part of the entire experience. It has to be lifted into place by two people bc there aer a lot of things going on at once: it is tongue in groove and the grooves are miscroscopic, it is too wide and has to be bowed in the middle while you are lifting it into place, and there are slats on each side that must slide under the panels at either end. But I found it very enjoyable. Hope you found this helpful.

Read More
Q:

"What side is the cord to the tub on North South East or West.."

A:

The cord is on the same side under the controls, so it really depends on how you set it example if you set the controls facing east then the cord is east, or north north, south south, west west, hope this helps, remember when you tAke that panel of to get to the cord, heck you connection and make sure there Re glued together,b mine were not and when I filled it up and turned the pump on those Three Hundred gallons of water came rushing out all over my patio, and into the kitchen. Blessings

A:

It's under the display pannel

Read more Read less

Q:

"How does hot tub jets turning ON and OFF controlled? Is there a timer switch which comes with it, which will turn off the jets, but will still maintain the temperature?"

A:

The pump must be working to hear the spa. It is a flow thru heater. As the water passes through the heater it heats up the water.

Q:

"does this come with a filter?"

A:

i don't know i still haven't received it... so upset

Read more Read less

Q:

"Can any of the spas be installed below-ground beside pool?"

Q:

"hi . what does mean Ozone Ready? does it mean it has an ozonetor installed or that it can be installed by myself if needed ? thanks"

Q:

"What are dimensions- I see two different sets of dimension?? shipping or finished product, corner to corner of actual hot tub out of packaging? thanks."

A:

The size is 76 x 76 x 34, outside dimensions. It comes on it's side on a pallet. 76x76x34 are the measurements you need if you have to move it through an opening.. Just remember if you have to move it through a doorway or someplace that has height restrictions, it will be on a 4 inch tall pallet. So keep in mind you might have to remove it from the pallet. Hudson Bay is very helpful and will assist you after the sale if you have any questions about the tub ( my experience) Hope this helped.

Q:

"Where can I buy a filter for this hot tub? I can't seem to find them on line."

A:

Go to Hudson Bay spa.com tel#*You will provide the measurement of the filter length wise. Mine measured 13 inches. They offer the filters in a pack of 3 at a cost of around $*. Model # HB19

A:

You can also try Spa Depot., online.

Read more Read less

Q:

"What size filter does it take?"

A:

This takes 13"x5" Drop-in filter.

Q:

"What color is the exterior? I would like to get the matching steps for this spa."

A:

The shell is Mocha color.

Q:

"Can this spa be placed on a crushed gravel pad, or will that void the warranty?"

A:

Spa should not go a gravel pad. It will void the warranty if that is done.

Q:

"Does this have an ozonator?"

A:

Spa does not have an ozonater.

A:

Dear Overstock, this product says Ozone ready, isn't this the same?

Read more Read less

Q:

"Hello - About delivery, does delivery include to where I want it set in my backyard or it is curb delivery? Thanks in advance!"

A:

For additional shipping information, please contact Customer Care under https://help.overstock.com/app/contact_page.

Q:

"hi. what size pump is installed on this unit? single or 2 pumps.thanks."

A:

This is a single pump system and it's a 2hp pump.

Q:

"Is this easy to install by yourself?"

Q:

"Can I specify where in my yard this will be delivered or is it just left in the driveway? ..... and question 2 .... Can this be countersunk into the ground, as long as it is on a flat base?"

A:

Here is more information regarding our shipping: https://help.overstock.com/app/answers/detail/a_id/8 For additional questions please contact us at 1-800-The-BIG-O (1-800-843-2446). The spa can be installed in the ground but you will limit access to all your working parts contained behind the cabinets.

Q:

"What is the interior depth when sitting ? We are about 6 foot tall and didn't want the water level to come around waist level . Thank you"

A:

The interior depth is 34 inches.

Q:

"Does it also come with the cover easy lifter? Or is the cover fairly easy to get on and off?"

A:

A deluxe lockable safety cover is Included. We recommend reading customer reviews for first hand accounts of the item.

Q:

"Can you pick the specific delivery date to be sure and be home when it comes?"

A:

The carrier will set up a date with you for your over sized delivery. For more information, please follow the below link. https://help.overstock.com/app/answers/detail/a_id/8

Q:

"does this come wth stairs and if not, where canI purchase ones that will match? thank you!"

Q:

"Does this unit come with a cover?"

A:

This does not include a cover.

A:

according to the description, this tub does include a cover

A:

Yes, our came with a cover.

Read more Read less
Shipping & Returns
Contact Information
Shipping:
3-5 Business Days *
1-4 week delivery after the item ships:**
Delivered by freight carrier. See Oversized Item Delivery Policy.
Oversized-Item Return Policy:
Upon delivery, if you notice any damage or defects, you must note them on the shipping receipt and refuse delivery. Notify Overstock.com immediately in the unlikely event of damage. More Details
NOTE:
This item cannot be shipped to Alaska or Hawaii. More details
Oversized Item Delivery Policy:
This item will be shipped via freight carrier to your home, excluding rural routes, remote areas not in close proximity to areas commonly serviced by freight carriers, islands, APO/FPO addresses, P.O. Boxes, Alaska and Hawaii. Please provide your daytime and evening phone numbers during check out so our carrier can contact you to schedule delivery. Refer to our Oversized Item Delivery Policy for additional information.
More details
For your protection, all orders are screened for security purposes. If your order is selected for review, our Loss Prevention Team may contact you by phone or email. There may be a two business day delay to process your order.
** Most Oversize orders are delivered within 1-4 weeks. Some orders may take 6 weeks to be delivered.