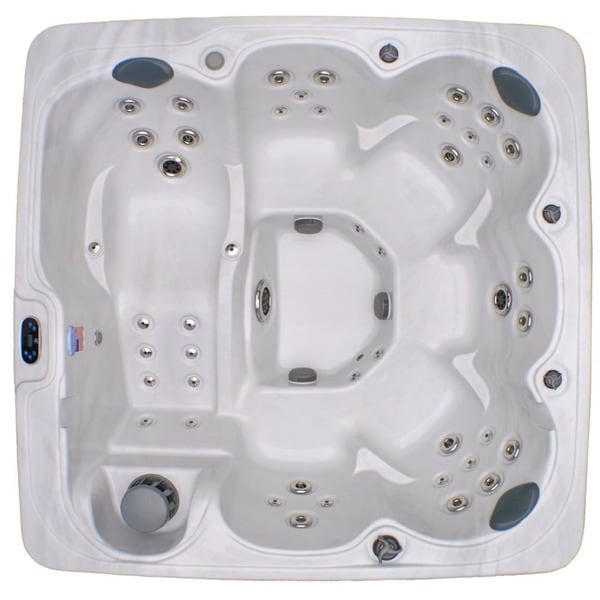 The hot tub has exceeded my expectations!! It is used everyday and performs very well. Great product, I would definitely recommend this hot tub to anyone looking to purchase.
...
This user earned $2.00 Club O Rewards for writing this review.Learn More
Home and Garden 6-person 71-jet Spa with Stainless Jets and Ozone Included
by Home and Garden
Details
ITEM#: 11387894
Settle into this deluxe, hot-tub spa with five of your friends for a soothing soak. This six-person hot tub from Home and Garden Spas features 71 jets of luxurious massage power, so its sure to make your deck a hub of leisure and relaxation.


Seats: 6
Jets: 71
Includes: (1) 14-Jet Massage Insert, (2) 7-Jet Inserts (Stainless)
Electrical: Dedicated 220V/50Amp
Hardwired Connection Required
Empty weight: 800 pounds
Filled weight: 3725 pounds
Gallons: 350
Dimensions: 82 x 82 x 35 inches
Digital Balboa Controls
2 Energy Rite Pumps
Low Energy Consumption, High Performance
Sterling White Shell with Mocha Cabinets
Durable, Slip Resistant Lucite Acrylic
Multi-Layer Fiberglass Reinforcement
Quality, Heat-Retaining, Synthetic Cabinetry
Back, Shoulder, Calf, and Foot Jets
Standard High Density Spray Foam Insulation
Deluxe Lockable Safety Cover Included
Factory Installed Ozone System
7-color Underwater LED Light
Built-In Waterfall
Plumbed with Anti-Fungicide Tubing
Warranty
2 year parts warranty
90 day labor warranty
5 year surface and shell warranty
10 year structural
Please note:Orders of 151 pounds or more will be shipped via Freight carrier and our Oversized Item Delivery/Return policy will apply. Please click here for more information.
Note: This product will be shipped using Curbside delivery only. The product will be unloaded at the nearest curb in front of your residence. Signature required upon delivery.
Specs
Features
Type
Standard
Number of Jet
71-80 Jets
Assembly
Assembled
Color
White
Hot Tub Capacity
6 person
| | |
| --- | --- |
| Dimensions | 78 in. L x 84 in. W x 36 in. D |
| Warranty | 5 year Limited Manufacturer |
| Model Number | Eclipse |
| Country of Origin | United States |



Most Recent

The hot tub has exceeded my expectations!! It is used everyday and performs very well. Great product, I would definitely recommend this hot tub to anyone looking to purchase.

Read More

Overall Satisfied After 2 Months

We reviewed a number of brands and kept coming back to this one. This is our 4th hot tub in our lifetime and know a thing or two about them. First off this company does not have the best reputation online, this was a concern of mine but it seems like they have gotten much better over the last few years and have many excellent reviews especially on the home depot website and overstock. We are not ones to spend a TON of $$$$ on tubs and we were still running a nearly 10 year old tub that was still working when we sold our home a few months ago that we purchased at Costco, only thing I did with that one was change out the heater coil last fall. Thus, I placed the order and waited nearly 6 weeks for the delivery, thankfully the delivery truck driver was able to assist me with getting it to the backyard where I had prepared a gravel base for the tub. Upon filling it, I instantly noted a rather large amount of water was leaking under the tub and determined the suction line PVC pipe a the base of the tub was never cemented in place ugh, not a good way to start!!!! Thus began a rather painful ordeal of contacting customer service who were very helpful on the phone and also dealing with overstock customer service who were very good. We were painfully trying to get someone to come and fix the tub, we debated on having it returned as we wondered what else may be wrong with it but decided to try and get it fixed first. I unfortunately was not contacted by the firm recommended by Home/Garden for the service until after the tub was fixed by a different local company, thankfully overstock covered this cost. Since then the tub has worked great, keeping my fingers crossed nothing else happens. We are very impressed with the selection of the jets and the overall finish on the interior. The cover is a basic one but should be fine for us as we live in the warmer SE climate. I most likely would have given this a 5-star review except for the major leak issue but was very happy with HG customer service as well as Overstock, keeping my fingers crossed nothing else happens and will update my review if it does. The price is very hard to beat for a tub such as this.

Read More

I order from Overstock all the time, but have had nothing but problems since day One with this spa! I got the wrong color spa/ Delivery stated that it included being moved to our desired location in the back yard, but was going to be left in our driveway, my husband had to pay the delivery men cash to move it to our backyard/ heater has blown out 2x in 2 years / metal balls (bearings) are falling out of jets so many jets no longer spin. Overall terrible experience. We've been sent the heater free of charge both times, but obviously had to pay to have it installed. Very disappointing for such a large purchase!

Read More

Awesome Tub, excellent Construction, excellent Delivery, excellent transaction, excellent cover

Read More

Love this spa! Waited too long to buy it.

This spa is amazing. Comes with a really nice cover to protect it when not in use and keep small kids out. Delivery was a bit of a problem. Overstock provided an incorrect tracking number and never did correct it on my online account. The trucking company called to ask if I had a forklift to offload the spa. ??? I said no and called Overstock who straightened the issue out. On the day of delivery, the driver called when he said he would and delivered when he said he would. The driver even helped A LOT in getting the spa into place. He went above and beyond. Site preparation was more expensive than anticipated. Running the electrical was right at $700 in my case. This could be different based on your circumstances. The spa reached 102 degrees in a matter of a few hours (from 77 degrees from the garden hose). Absolutely love it! Cannot believe we waited this long to buy it. Would highly recommend this spa.

Read More
Most Helpful

This tub is much better than this advertisement will lead you to believe. I was hesitant to buy it because there is a lack of information on Overstock. Here is an actual link to the specific tub. It is a Laguna Bay X6 http://www.lagunabayspas.com/tub.php?id=16 The tub name is "81 Jet" This does not mean that there are 81 individual jets. The foot blaster contains 14 "jets" and there are 3 or 4 seven hole "jets" around the bottom. This is still plenty of jets. Probably 45-50 separate jets. The large switch on the top diverts water either to the foot blaster (awesome by the way) or to the lounger. The middle range is a blend of both. The foot blaster is not shown in the picture on Overstock. The picture and description show a 4 button control panel. Mine came with a much nicer control unit. There is a waterfall directly above the filter. It is controlled by the knob nearest it. Waterfall is adjustable from off to full force. I like it on, but gently. There is a filter included. Shipping was very fast. The website says that it will leave the warehouse in 1 to 10 days, and that shipping will take between 1 and 6 weeks. That gives a delivery window of 8 days to 52 days from the day that you order it! Mine arrived in about two weeks. Only one delivery brought it; but between the two of us we got it exactly where I want it. Everything I read called for 30" space to each wall. I wanted it lined up with a bay window that we have so I cut the space a little short on one side, at a ~25" gap. The side panels come off completely, and I'm relatively thin; 25" is enough for me. Installing the electricity to the tub was harder than I thought it should be. It's a simple design, red, black, white, ground; but difficult in actual execution. I ended up taking apart the "weatherpack" connection so that I could get the wires to the right location. The spa calls for 6/3 wire, which is pretty thick. It seems that the screw connectors are slightly too small. I removed 2 strands of wire from the stripped area (.5" each) I've used the hot tub almost daily since it arrived. Make sure that any clothing worn in the hot tub is washed a second time, WITHOUT soap. I had to change the water after about a week because of the huge amount of soap bubbles in it. Draining the hot tub is not explained in the instructions. There is a hose connection on the bottom of the tub with a cap on it. Removing the cap doesn't start the flow of water. The connection must be pulled out in order to start the flow of water. Remove the cap, connect a water hose, THEN pull the connection out about 2 inches. I found this out only after I drained it using a sump pump. The sump pump did an amazing job and I will continue draining it this way. The whole tub was pumped out in about 6 minutes. After refilling the tub, it took over 12 hours to heat the water from 53F to 101F, at ~60F outside temperature. This is 50% longer than the 8 hours the instruction say to allow. I wish the lighting was a little brighter. The second pump was a little loud. There are instructions on the link above on the Laguna Bay Spa website on how to bleed the pump. That helped quiet it down a little. I'm using a SpaFrog with Bromine and Minerals. It seems to do a good job keeping the tub nice. My electric bill has increased $28 from last month. I assume future months will be less. This month I heated 350 gallons of water from mid 50F, two times. In the future I'll drain the tub only once every three of four months. I hope this helps people considering this purchase.

Read More

Tub is beautiful. It's hard to tell from the picutre, but the tub is actually a dark blue color. The name of the brand is incorrect in the discription. The actual brand is RAINDANCE SPAS and the model is Laguna, not Eclipse as listed. Warranty info listed is also incorrect - actual warranty: 10 yrs shell structure, 2 yrs pumps and 3 yrs shell surface. This spa is an excellent value for the money and should provide many years of enjoyment.

Read More

Delivery issues but good spa and great price.

Now that it's up and running I'm using it all the time and love it. The tub came 2 days after the biggest snow storm in Connecticuts history. The tub left the factor having been factory water tested as they all are. Some water was still in the pipes. The tub was delivered and I had to have 6 guys help to get it placed. My electrician spent much longer to get it wired then originally thought. Once wired and running the tub leaked horribly at the bottom. Took panel off to find several cracked pipes underneath. Water had frozen in pipes and cracked them. Took a week to get it all fixed. Because of outside temp. I had to keep a heater on continually underneath the inside of the tub as to not freeze more pipes while water was in it. Fixing it was just basic PVC parts from home depot and a local hot tub place. The company reimbursed me for my buddy to fix it. There is no local repair guy or center. Once fixed it ran great. The guy that wrote in that there isn't any insulation and the tub is a cheap brand is actually just not knowledgable about hot tubs. Basically all hot tubs are made by 2 manufacturers. With over 130 different names. The insulation is pretty basic and the lack of insulation around the pipes doesn't matter at all, they all have that basic design. The water stays heated so there is no reason for them to have insulation and if they did you would have to rip it apart to fix it if it needed fixing so you wouldnt want it to be covered. The all come this way. The tub shell has a sprayed on insulation that is standard on all tubs. The motors , heaters, etc. are all pretty standard. This tub is made descently. Granted some are better but honestly there isn't a lot to these machines so they are all pretty much a standard design and will last a long time if taken care of. For the money this is a very good value. Do not hesitate to buy just realize that you have to make sure that no water is frozen in the pipes when you get it. If so , its a nuesance to fix but not the end of the world. Parts are cheap, covered , and a fairly handy guy can fix this without too much hassle. I do suggest getting the X6 over the X5 as the X6 has 2 pumps vs. the X5's 1 pump. If only one or 2 people will use it most of the time then the x5 is okay and will save you some money. If you can swing it opt for the better X6 tub. Enjoy.

Read More

I purchased this hot tub one year ago. I waited to write a review until I had an opportunity to use my hot tub and really see how is was going to perform for me. When the hot tub was delivered the delivery guys were extremely helpful in placing my hot tub exactly where I requested. They did not leave it in the drive-way. They unpacked it and the guys even turned the hot tub around to face a specific direction on the concrete pad I had poured. After hiring an electrician to install, I filled with water and heated. I placed my hand in the water to test the temperature and received an electrical shock. I called Laguana direct ( the manufacturer) and they immediately sent out a part to place the defective one. When I told Overstock Customer Service about the problem they reimbursed me for my electrician to come back to my home and install the new part. I have also had issues with the top side controls shorting out when water gets into the inside of the control box. Again, I called Laguana and they have sent replacement parts twice to rectify the issue. I have been able to install the replacement parts myself. As far as the hot tub itself I have been completely satisfied! It has gotten a lot of use over the past year and has helped sooth my arthritis when I have flare-ups. I am giving this an excelent rating even though I have has some issues with parts because of the great customer service and immediate response by Overstock and the manufacturer. I have been told since the last defective issue with my hot tub that they now have fixed the "shock" issue on other hot tubs and have a "good" batch of top side controls that will not short out. So glad in bought my hot tub from Overstock! I also earned cash back from my O membership!

Read More

All the other reviews were right on this one. Great tub, very nice, actually looks better than the ones I saw at a local dealer, for half the price. Not sure how they can sell this tub so cheap, but its the best value of anything I have ever bought from Overstock. Highly recomend!

Read More
Q:

"Can this spa be set up as a saline (saltwater) spa?"

Q:

"what are the specs on the pumps and heater?"

A:

This has two 6hp pumps and a 4.0KW heater

Q:

"Does this come with a cover?"

A:

Yes the hot tub comes with a cover.

A:

Yes, it has a basic cover....for me in SE FL this works fine, you may want to order a thicker one for other areas especially during the colder months.

Read more Read less

Q:

"Which direction is the hot tub shipped on its side or sitting flat?"

A:

It comes shipped on its side.

A:

It was shipped on it's side.

Read more Read less

Q:

"it says 5 to 10 weeks for delivery, is there any way to get a more accurate delivery date?"

Q:

"Where are parts made and is there foam in and around pipes so they are not just hanging inside the tub like in class A tubs?"

Q:

"The details indicates size as: Dimensions: 82 x 82 x 35 inches but specs show this: 78 in. L x 84 in. W x 36 in. D What is the unit size (overall NOT inside only)? Need to know for patio purposes."

A:

Dimensions are 82x82x35. We apologize for the confusion we might have created.

Q:

"Does delivery include to where I want it set in my backyard or it is limited to curb delivery? Thanks in advance!"

A:

It is curbside delivery only.

Q:

"Does this spa come with a cover?"

A:

The spa includes a cover.

Q:

"DO U HAVE VETERANS DISCOUNT"

A:

Unfortunately, we do not have veteran's discounts, however, we are happy to offer free Club O benefits.

Q:

"What is the return policy? What if it comes damaged? Or is all st up & doesn't work ."

A:

I attached the link below to our return policy. https://help.overstock.com/app/answers/detail/a_id/2

Q:

"Will taller people (5'8 to 6'2") be comfortable sitting in this spa?"

A:

Hello Mrsjbrat, in one review I did read it said being tall, we're happy, it's deeper than most we looked at. So I think you will be fine. The heights you are talking about are average nowadays.

Q:

"Why did you choose this product?"

A:

Have been looking for a new hot tub for a while. This one seems to be a great value, can't wait to get it!

A:

Price and reviews...but I would not do it again. I just submitted my review. Hopefully it will be approved and posted soon. We really regret our purchase. Very cheaply made product that is problem proned.

A:

Overstock had the best price during their Weekly Deal and the Home and Garden Spas had great reviews!

Read more Read less

Q:

"What color is the inside? Picture shows white but reviews say blue. Also the outside is redwood/brown?"

A:

Hello Leah, the inside of the spa is sterling white. The spa used to be a dark blue, but has changed. The cabinet colors have no changed. It will be mahogany. Thank you for shopping with us!

A:

Our cabinet was a flimsy redwood colored material. The tub was blue in 2014.

Read more Read less

Q:

"How much water does it hold?"

A:

Hello crabichek, approximately 350 gallons. Thank you for shopping with us!

Q:

"what kind of warranty is on the control panel?"

A:

Hello rockinoverstock, this item features a 5 year Limited Manufacturer warranty. Thank you for shopping with us.

A:

This tub is made by LPI. Sold under several names with different warranties.

Read more Read less

Q:

"Are the pumps single or double speed and independenly operated by two controls"

A:

Hello Doud, thank you for your inquiry. Unfortunately, the information you have requested is currently unavailable. You will receive an email notification once an answer is posted. Have a great day.

Q:

"WHAT IS THE DRY WEIGHT?"

A:

Hello cindyb1231, this weighs approximately 750 pounds. Thanks for shopping with us!

Q:

"I would also like to know what the actual color of the cabinet is. The description days redwood but the picture is gray. I would like to order stairs and need to match them."

A:

Hello dfm18, the cabinetry is a synthetic redwood with a metallic carbon finish. The matching steps are available under item number 12714285. Thank you for shopping with us!

Q:

"Hi... the pic shows a gray exterior. Can you please confirm that it has a synthetic redwood exterior as stated in the description? Thank you!"

A:

Hello Alex, this has mahogany cabinets which are a red/brown combination. Have a good day!
Shipping & Returns
Contact Information
Shipping:
This product normally leaves our warehouse within 4 - 6 Weeks. *
1-4 week delivery after the item ships:**
Delivered by freight carrier. See Oversized Item Delivery Policy.
Oversized-Item Return Policy:
Upon delivery, if you notice any damage or defects, you must note them on the shipping receipt and refuse delivery. Notify Overstock.com immediately in the unlikely event of damage. More Details
NOTE:
This item cannot be shipped to Alaska or Hawaii. More details
Oversized Item Delivery Policy:
This item will be shipped via freight carrier to your home, excluding rural routes, remote areas not in close proximity to areas commonly serviced by freight carriers, islands, APO/FPO addresses, P.O. Boxes, Alaska and Hawaii. Please provide your daytime and evening phone numbers during check out so our carrier can contact you to schedule delivery. Refer to our Oversized Item Delivery Policy for additional information.
More details
For your protection, all orders are screened for security purposes. If your order is selected for review, our Loss Prevention Team may contact you by phone or email. There may be a two business day delay to process your order.
** Most Oversize orders are delivered within 1-4 weeks. Some orders may take 6 weeks to be delivered.