Share a Photo of Your Dad for a Chance to Win
Posted at Jun. 7, 2012 at 2:32 PM

What's your favorite memory of your dad? Share it with us on Facebook! Through June 14, 2012, fans of our Facebook page can upload a photo of their dad to our page for a chance to win a $1,000 Overstock.com gift card. (See entry page for official rules.) Make sure you tell us why that photo holds memories for you. We want to hear all about the fathers who made our customers the great people they are today. We'll share the photos on our Facebook page as well as on Overstock.com.

Have you liked us on Facebook yet? You've got to do that to be able to enter. With the chance to win $1,000 to spend on Overstock.com, this is the perfect time. With a prize like that, you'll be able to make a few new memories. How about "the time I bought a new sofa," "the time I redecorated the living room," or even just "that time I could spend $1,000 on Overstock.com without thinking twice!"
Since I work here, I can't enter the contest, so I thought I'd share a photo of me and my dad from 1987 here. This is from a luau-themed Daddy/Daughter night at my church.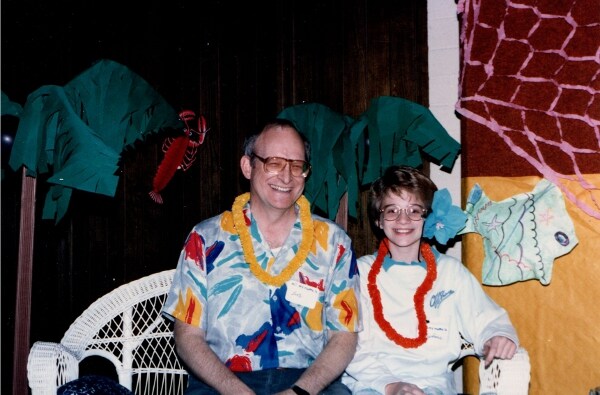 I was the fifth kid out of six, and between the six of us, we kept him busy with loads of swim meets, soccer games, community theatre plays, basketball games, baseball games, football games, piano recitals, and choir performances, to name just a few. But when one of these events would come around, he was always ready to have a good time.
We went on regular Daddy/Daughter campouts with our church group, too. Those were my favorite because it meant we would make a junk food run at the PW (the local grocery store in San Jose), and then listen to John Denver on the drive up to the Santa Cruz Mountains. The actual camping part I could take or leave, but I loved the good times we had on the drive, eating Twix bars and singing along to "Take Me Home, Country Roads."
Now that you've heard my memories, I hope you're inspired to share yours. And I know your photo can't be any more embarrassing and goofy than mine.
Head over to our Facebook page and share!
Posted by Stephanie Petersen