School's Out for Summer!
Posted at Jun. 5, 2013 at 12:08 PM

School's out! If you're like me, it's been a hectic year, jam-packed with homework, field trips, brown bag lunches, and last-minute art projects.
So now what?
For kids, summer marks a three-month respite from early morning wake-up calls and all things academic. For many parents, however, work doesn't stop when summer starts and it can be a challenge to keep kids entertained and busy all summer long. Here, we've compiled some ideas to help make this summer productive, fun, and memorable. Let the juggling act begin!
But first, one last bit about school. Studies show that students who don't engage in educational activities over the summer lose between one and three months of learning every year on average. While your child cares ZERO about this, it's worth consideration when making your summer plans.
Summer learning doesn't have to be formal; head to the local library and let your children pick out a few books on their favorite subjects. Look into summer camp programs at your local art or history museum, or head to the zoo or local aquarium. This learning laptop, full of games, music, and other activities, will likely be in heavy rotation at our house this summer. Or, you can keep it simple and send your kids out to collect ants for a bedroom ant farm; it's always easier to sneak in learning when it's disguised by fun! Even something as simple as maintaining the bedtime story routine will go a long way in helping your child stay sharp during the summer.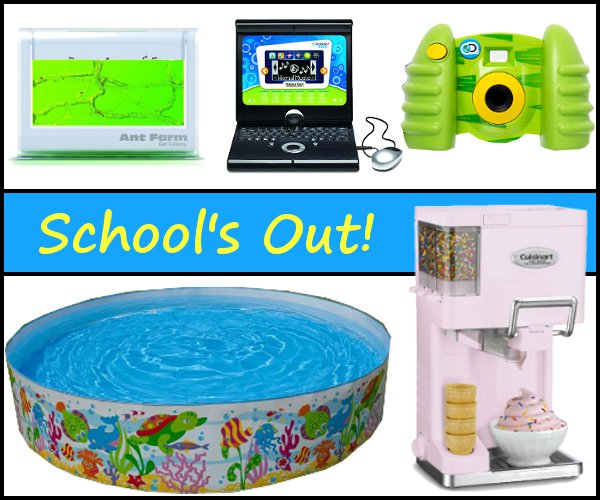 But also, let's get real: It wouldn't be summer without a healthy dose of mischief and good old-fashioned fun. I know I'm looking forward to the first water fight of the season (though probably not as much as my 5-year-old). Why not equip the whole family with some water guns and let the soaking begin! Add a kiddie pool, a spinning sprinkler, and a water slide and you've got a complete backyard water park.
Of course, summer is all about memories. Make sure you catch every snapshot of summer you can by equipping each of your kids with a durable, waterproof, and kid-friendly camera -- you might be amazed by what they capture. And of course, every summer day is better with a bowl of ice cream. Make the perfect batch each time with this cute countertop ice cream maker.
Do you have big family plans for the summer? How do you juggle everything when school is out for the summer?
Posted by Jen Gustavson