Say Goodbye to Summer
Posted at Aug. 30, 2012 at 12:09 PM

The fall equinox is less than a month away, which means we have precious few weekends left of the summer. This time of year is always bittersweet for me. I love autumn -- watching the leaves change color; breathing the crisp, clean air; and, of course, eyeing the fall fashion with its boots and layers and scarves -- but I hate saying goodbye to the warm nights and the long, lazy days of summer. So, in memoriam of the summer season, there are a few things that I plan on doing before summer officially ends.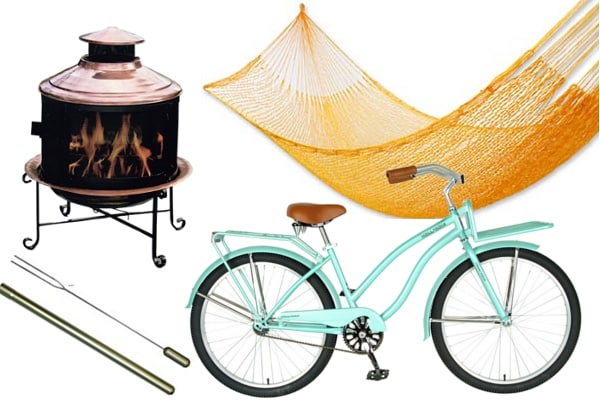 The days are getting shorter, which means that every day there will be less and less time to go for an after-work bike ride. But since the temperature is cooling down, you can look forward to fun, leisurely rides rather than the long sweaty treks we took in summer. I may get this amazing bicycle from Hollandia just for the occasion. It just seems like the perfect bike to take on some late-season rides around town --maybe something like riding to the local farmers market to pick up some fresh produce or perhaps just around the neighborhood park.
We are lucky here in Utah: The mountains are literally minutes from our doorsteps. One of my favorite things to do in summer is to go up into one of the canyons and have a cookout with some great friends and good food (my personal favorite being hotdogs and s'mores). Perhaps for this last cookout, I'll keep it in my backyard; all I will need is a fire pit, some roasting sticks, some tasty food favorites, and a few friends to make it a memorable night. And since we are nearing Halloween season, the night wouldn't be complete without a ghost story or two.
Though drive-in theaters aren't as prevalent as they were a few decades ago, they haven't lost any of their charm as far as I'm concerned. If you don't have a drive-in in your town, make one of your own in your backyard. All you need is a white wall (or a white sheet) and a movie projector. Pick your favorite summertime blockbuster, pop some popcorn, make some treats, pour you and your friends a few drinks, and have the time of your life.
Of course, the pastime I will really miss over the next few months is sitting in my hammock on a warm afternoon, reading my favorite book. Luckily, the temperature is allowing us a few more weeks to read outside. I plan to finish my summer reading list before the season is officially gone. Can you imagine a better way to say goodbye to summer than relaxing in your hammock with a throw blanket and pillow, reading the latest and greatest book?
I'll be honest; none of these adventures would be complete without this ice cream maker. Just pour in the ingredients, shake, and voila! You have homemade ice cream. It's the perfect way to say goodbye to summer and probably what I'm looking most forward to.
Do you have any favorite summertime activities you are planning to squeeze in before autumn arrives?
Posted by Emily Harrison