Road Trip 2012
Posted at Jul. 19, 2012 at 5:06 PM

Summertime is road trip time. There's just something about all that blue sky and sunshine that makes people take to the open road, seeking adventure and new experiences. Whether you're making the cross-country trip of a lifetime this summer or, like me, just visiting family and friends, the trip can be exciting with the right combination of planning and flexibility.
Actually, the preparations are often a fun part of the whole experience, as they build anticipation for the trip itself. Every good road trip requires a few necessary, if not necessarily exciting, basics. Durable luggage that can withstand some abuse, such as this two-piece duffel set, is a must. And every car needs an extensive road safety kit. Of course, you'll want to pack your favorite snacks and make a playlist of great summer tunes. If your road trip is also a camping trip, be sure to read Andrea's 2012 Camping Guide to learn about the best new gear.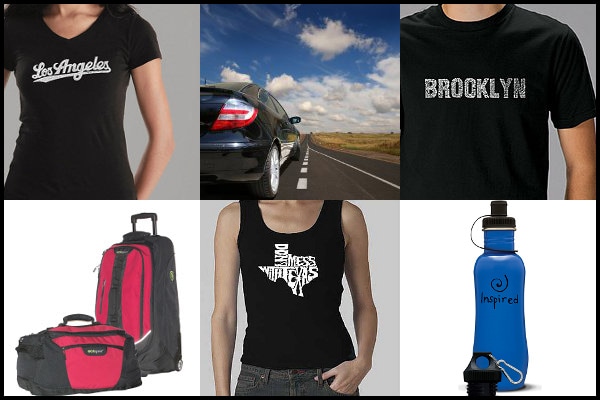 One of the pleasures of a road trip is stopping in small towns along the way and visiting the local treasures -- charming diners, eccentric museums, and gift shops -- each new place has to offer. With this in mind, I took a virtual road trip through our own Main Street Revolution to find some fun items that might enhance my next car-based vacation.
Main Street Revolution is Overstock.com's store dedicated to America's small businesses. Here, I found these Honey House lip butters from the Puget Sound area of Washington. They'll soothe dry, cracked lips exposed to sun, wind, and auto air conditioning. Let's head south and pick up this messenger bag from Two Tree Designs in California. With its artsy owl print, it is more casual than an everyday handbag yet more stylish than most backpacks, making it the perfect accessory to the standard road trip outfit of flip-flops, shorts, and a T-shirt. Also from the Golden State, black tees and tanks from Los Angeles Pop Art proudly showoff America's favorite destinations, from LA to NYC.
From the East Coast, Main Street offers "inspired" steel water bottles to help quench your thirst and remind you that travel is an adventure. This all-natural herbal salve, from Karess Krafters of North Carolina, calms dry, itchy skin and easily fits inside a travel bag. Finally, a box of Oma Gigi's crescent cookies from America's heartland would be a tasty accompaniment to coffee-on-the-go. (If you're visiting friends, ship a box to them ahead of time, so everyone can enjoy the treat.)
Want to add to this list? Tell us what must-have items make any road trip better.
Posted by Shawna Edwards