Resolved: A Year of Better Lunches
Posted at Jan. 17, 2013 at 2:23 PM

Have you stopped snacking on Christmas candy? We haven't at my office, thanks to some dedicated chocolate hoarders. Yet the 2012 holidays seem like a distant memory already, and we are all busy keeping our New Year's resolutions. Actually, after the hustle and bustle of December, it's nice to have some quiet time to get our calmer, healthier lives back on track.
After weeks of enjoying holiday treats and sweets, many of us have resolved to eat healthier meals in the new year. That doesn't mean we have to give up the enjoyable part. All that is needed is a little planning to have tasty, homemade, and nutritious meals again. Let's start with lunch.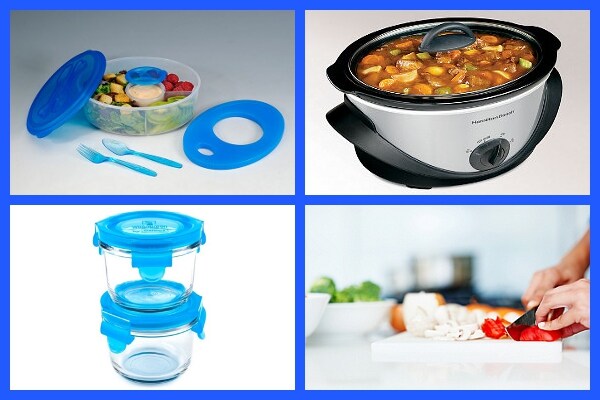 Lunch is probably the hardest meal to plan for most of us. We have limited time to prepare and eat a meal at work, and it's often easier to just grab a fast-food option -- not the healthiest or most economical choice. The best tip for getting a good lunch tomorrow is to make it tonight, so you can avoid making your mornings anymore hectic. The next best tip is to plan a week's worth of lunches at a time.
When you plan ahead, you can make sure your midday meals give you extra energy for an afternoon of activity (or at least keep you from falling asleep in front of your monitor). This task is easier if you also plan your dinners in advance; just incorporate the leftovers into the next day's lunch. Dieticians recommend balancing lunches with three different food groups: a low-fat protein, a high-fiber carb, and a fruit or vegetable.
Of course, anyone with children knows that presentation is important, too. If it looks yucky, kids won't eat it, and adults might also put it aside in favor of the vending machine. So make meals more appetizing with fresh, colorful ingredients. Pair a microwaved entree with berries or orange slices. Some red pepper slices or a tomato salad brightens last night's reheated leftovers. Look to cookbooks for inspiration. Vegetarian and international cuisines offer lots of healthy recipes.
Another lesson learned from the kids? Good packaging helps. Who doesn't remember their elementary school lunch box? (My favorite was red plaid.) Get an updated lunch tote with special features to keep food fresh and cold. This convenient salad-to-go kit keeps your salad or sandwich ingredients separated, so your lunch won't be a soggy mess. Small glass containers, like these baby food jars, are great for holding dips, sauces, and snacks. And a sleek thermos is still the best option for keeping soups and beverages hot if you don't have easy access to a microwave.
What is your favorite brown bag lunch? Do you have any tips for making lunchtime a relaxing respite from work and play? We love to swap ideas at the dining table.
Posted by Shawna Edwards