Resolution: Get Organized
Posted at Jan. 25, 2013 at 1:08 PM

Currently, the floor of my closet is covered in a pile of shoes. I've been meaning to sit down and go through them, put the pairs together, make some sense of the mess, but it just hasn't happened. Yet.
See, 2013 is a new year with new goals and getting organized is one of mine. If you are in the same boat as I am, you know that it can be daunting -- having to go through all your items and not only finding, but assigning, an official a place for them. Luckily, with a little help from your friends here at Overstock.com, getting your house organized in 2013 will be a lot easier than you think.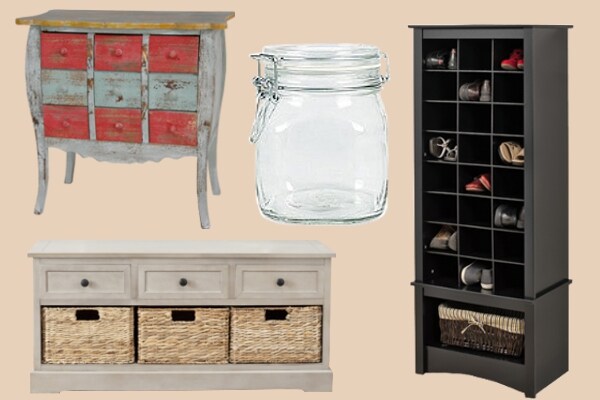 Obviously, this shoe cubbie is step one of my plan. The sleek look means I can keep it outside of my closet, and I won't have to worry about it taking away from the style of my room. And since I'm at it, I may as well go all the way and reorganize my entire closet with a closet system to help me keep track of the rest of my wardrobe.
I also love this nine-drawer medicine cabinet; it will look great in any room and is ideal to keep your knickknacks and other small items together and out of the way. You can add some jewelry organizers to the drawers and have the perfect place to store all of your accessories.
But what about the entryways? Especially in winter, entryways can be overrun with things like wet shoes, coats, bags, and various other winter clothing. Keep this three-drawer storage unit just inside the door, and you'll have the perfect place to put those salt-covered shoes hidden away until you are ready to go outside. Next step, place this hanging shelf above the storage unit to keep your coats and scarves organized and stored.
If you have a hobby that requires a lot of small parts, like crafting or sewing, this 42-drawer storage compartment is your answer. Just hang it in your workroom, and then use a label maker to label the contents of each bin. Another idea is to keep your smaller items in something like canning jars and paint the tops with chalkboard paint. Label the top of each jar in chalk, and then you can reuse the jars and change the labels as you see fit. If your hobby requires some bigger items, like skeins of yarn or scrapbooking books, try this storage box -- perfect to keep your knitting supplies or scrapbooking pages in their place.
What about you? What are your organizing goals for this year?
Posted by Emily Harrison