Red, White and Safety
Posted at Jul. 1, 2011 at 4:15 PM

As millions of Americans take to the streets this weekend to participate in the patriotic act of firework-lighting, each person can do their part to make the weekend a fun one with a bare minimum of trips to the emergency room.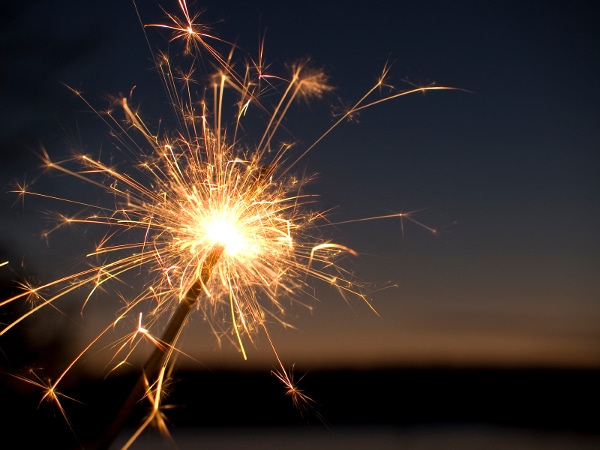 So, where will you be holding your little fireworks extravaganza this weekend? A driveway or the street in front of your house is always a popular spot. Be sure that all the cars are well out of range of your biggest fireworks and that there are no pools of oil, gas or anything else that's combustible. If the grass in front of your house is brown and dry, keep the fireworks away from it. Even when the grass is green, a little presoak with water can help extinguish any errant sparks quickly.
Before the fun begins, gather your supplies. A long-reach lighter doesn't just keep your hands away from a recently-lit fuse, but it also keeps you from having to bend over to reach the next fountain that you're lighting -- definitely a win-win. Of course, it's always wise to have a fire extinguisher on hand. Eye protection is key for keeping stray embers away from your eyes, and ear plugs protect your hearing. A bucket of water is handy for putting out smoldering fountains or for soaking dud fireworks, just to make sure you don't get any surprises.
When you're working with the smaller fireworks that you light and then throw, such as flashers, whistlers and the like, the trick is to not burn your hands. If you have one with a fuse that seems too short, err on the side of caution and dispose of it properly. If you're looking to combine safety with fashion, heat-resistant Kevlar gloves are both functional and -- I think we can all agree -- awesome.
Parents, the 4th of July is a reasonable time to bite the bullet and let your kids have some fun with the fireworks. Still, be willing to decide what's safe for them. Not every kid has the dexterity to keep the burning end of a sparkler out of their eye, much less the good judgment to get their face away from a fountain that's just been lit.
Kids, if you see anyone trying to put fireworks near people's pets or any other animals, don't be afraid to tell the first grown-up you see about it. Do your part to make sure that everyone and everything come away from the 4th of July weekend unscathed.
Finally, and this should probably go without saying, but keep it legal on the 4th of July weekend. That's one of the surest paths to having a good time while avoiding incident.
So, what's your plan for Independence Day? Barbeque and fireworks? Or perhaps fireworks, then barbeque?
Posted by Steve Brown