Raising an Olympian: A Mother's Perspective
Posted at Aug. 6, 2012 at 1:36 PM

Sherilee Rowley Olson is the mother of Utah steeplechase Olympian Lindsey Olson Anderson. Here, she shares her perspective on what it's like to be the mother of an Olympian.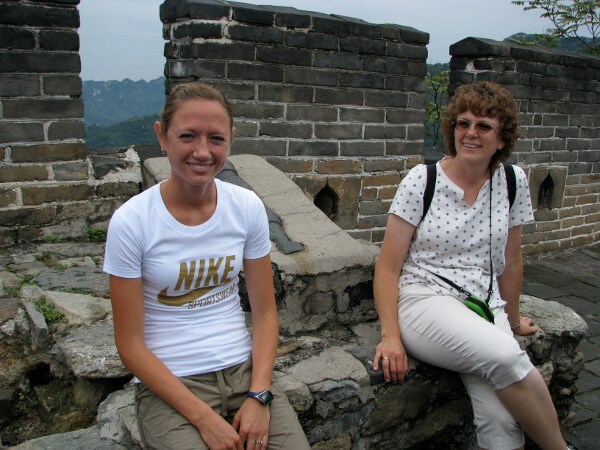 Lindsey Olson Anderson and her mom, Sherilee Olson, sit along the Great Wall of China in Beijing in 2008.
When I was asked to write about what it means to be a mother of an Olympian, I started to think about a lot of different things. The excitement in winning, disappointment in losing, long hours spent training, commitment, new running shoes, teammates, coaches, stinky steeple shoes hanging out the hotel windows, and many miles travelled to show support all came to mind.
When Lindsey ran across the finish line at the 2008 Olympic Trials placing 2nd in the 3,000-meter steeplechase, the smile on her face is something I will never forget. The hours of hard work and training had paid off in that one moment, and it showed on her face.
As the memories of different races and moments in Lindsey's running history have played out in my mind, I stop at some of the difficult places and ponder what it is that kept Lindsey keep going when the going got tough. I realize that it is the qualities Lindsey has worked to instill in herself that has made her the athlete she is today. She has learned how to work hard, even at the expense of missing out on something fun. I can't remember a family vacation where Lindsey didn't get up early to get in her run. If her training schedule said to run 5 miles and she got back at 4.8 miles, she would run around the driveway for the other .2 miles. She is honest and has integrity in all aspects of her life. That clearly shows through in her training and running ethics. She wouldn't dream of using performance enhancing drugs. If she couldn't win a race on her own hard work, then so be it. She is a great example to athletes everywhere.
So, what is it like to be the mother of an Olympian? For me, it has been a wonderful ride. It's been exciting and fun to see Lindsey use her talents and skills to accomplish great things in the athletic world and build others up to become all that they can be.
Posted by Sherilee Rowley Olson
This blog is a personal blog that does not accept any form of cash advertising, sponsorship, or paid topic insertions. However, the blogger may accept nominal compensation, such as a gift card, but doing so will never influence the content or posts. The blog represents the author's honest opinions and experiences. Any product claim or representation should be verified with the manufacturer or provider.