Prepare for the Apocalypse
Posted at Dec. 20, 2012 at 10:44 AM

The end is nigh … at least, according to some theories. The truth is none of us really know what will happen this Friday, but we here at Overstock.com want to make sure you are prepared for anything, be it alien invasion, zombie apocalypse or plague of locusts.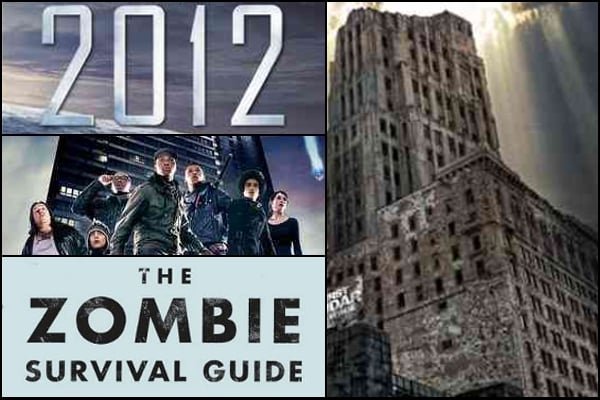 In terms of learning about what we may or may not expect, the movie "2012" seems to be a no-brainer. Written specifically for the December 21st Apocalypse theories, it's a great movie to have on hand to watch this Friday, regardless of what is happening outside our homes.
And if the apocalypse turns out to be something ... unnatural? Like, perhaps, the recently deceased returning to our world in the form of mindless monsters that are actually quite hungry? Luckily, there are plenty of resources out there to help us study up on what to do if there is a zombie uprising. This Zombie Survival Guide is a good read now while we are still undead-free, and will be invaluable once Z-day hits. I also recommend watching both "Shaun of the Dead" and "Zombieland" for tips and tricks on getting through the zombie horde. But what if the worst happens and you do become infected? Stay calm; we still have you covered. This Zombies for Zombies Book will walk you through the transition period and have you stumbling about and eating brains like a pro in no time.
But what if aliens attack? Zombies and vampires have had the limelight for a while now, and we haven't really discussed alien invasions. Luckily the British film "Attack the Block" has filled in the gap and is a great way to familiarize yourself with ways in which to protect yourself from other-worldly threats.
Finally, I would like to recommend this set of champagne flutes. Because when the calendar hits 12/21/12 and the worst really does happen, what better way to welcome the end than with a tip of the hat and a toast with your loved ones? And if we do pull through, well then, even more reason to have champagne.
And for those of us who manage to see December 22nd, this 2013 calendar is a must-have. In the meantime, friends; stay safe, stay happy, and I'll see you on the other side.
What do you think of the 2012 apocalypse prophecies? Are you planning any end of the world preparations or parties?
Posted by Emily Harrison