Popular on Pinterest: Overstock.com Joins In
Posted at Jan. 9, 2012 at 5:23 PM

If you're not already familiar with the website Pinterest, here's the short story: it's an online pin-board where you can virtually pin images that you like. You can also follow your friends and family (and even strangers with fantastic taste) and re-pin the things you want to buy, make or just look at.
What's so great about Pinterest is that it has become one of the Internet's biggest trend-makers. Whatever is popular on Pinterest today will be tomorrow's next big thing. I've even heard of people throwing Pinterest theme parties where everything from the food and decorations to the outfit and hairstyle you sport comes directly from your online pinboards. I have to admit that I have made more than one purchase based on a Pinterest find myself.
Here at Overstock.com, we have our own Pinterest page, but some of our customers have been busy pinning and re-pinning their own great finds from our site. There's a lot out there, but here are some of our most popular products that are making the rounds.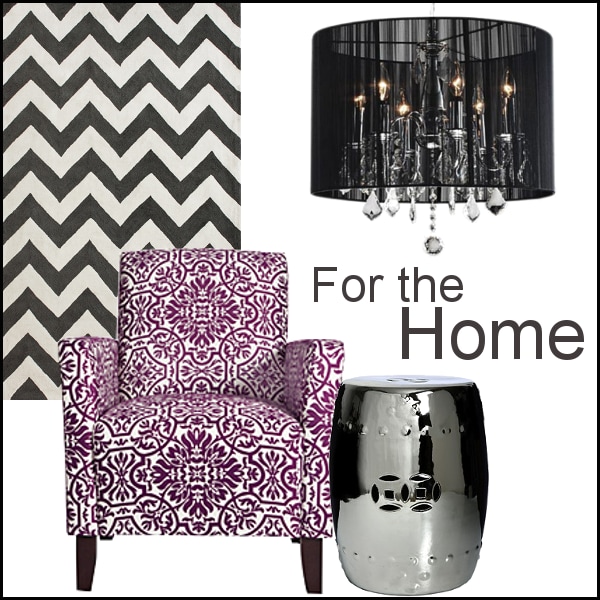 This crystal chandelier is one of our top-sellers, so it's no surprise that it's extremely popular on Pinterest, too. Shaded chandeliers are one of the year's biggest home decor trends.
Another hot item on both Overstock.com and Pinterest is this purple damask chair from Angelo:HOME. Angelo Surmelis' designs are so popular because they strike the perfect balance between classic style and modern whimsy.
Thanks to Missoni, chevrons are in big demand in everything from boots to curtains. This simple grey and white chevron rug would make a trendy statement in a living room, bedroom or modern dining room.
Chrome isn't anything new, but we haven't always had it in furniture. That's why this pretty little chrome stool has been such a hit. It may be small in stature, but that doesn't mean it won't get noticed in your home.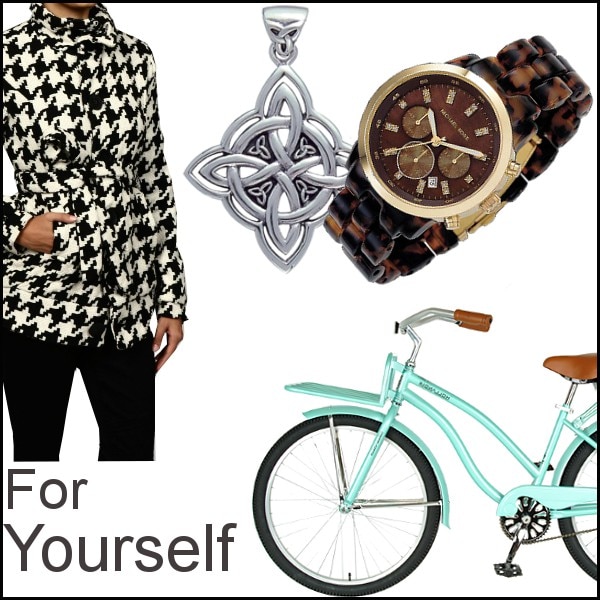 Pinterest is the place to find and share fashion. Several people have pinned and re-pinned this houndstooth coat to their Pinterest pages. The pattern is a classic, and black and white is definitely trendy.
Watches have made a huge comeback this past year, so it's no surprise some of our most frequently pinned items are watches. I love this tortoiseshell Michael Kors watch that our customers have been pinning.
Pinterest is also the place to find that one thing you're looking for but can never seem to find at the store, like this Celtic Trinity necklace that's getting re-pinned all over the place.
What's my favorite pin from Overstock.com? This beautiful mint green bike; it's going straight to the top of my wish list and maybe, just maybe, someone will buy it for me in time for summer.
Are you a Pinterest user? If so, have you pinned any of your favorite items from Overstock.com? Follow us on Pinterest to see what products we like best.
Posted by Andrea Sparks