Plan a Summertime Picnic
Posted at Jul. 17, 2012 at 1:53 PM

It doesn't matter if your ideal summer plans include biking up the canyon, going for a swim in the neighborhood pool, or finding a spot of shade in which to enjoy your favorite book, one thing remains the same: This time of year, everyone's thoughts turn to heading outside. Right now, we all want to get out and enjoy the warmer weather, the bright sunshine, the green grass. … And what better way to do all of that than with a summertime picnic?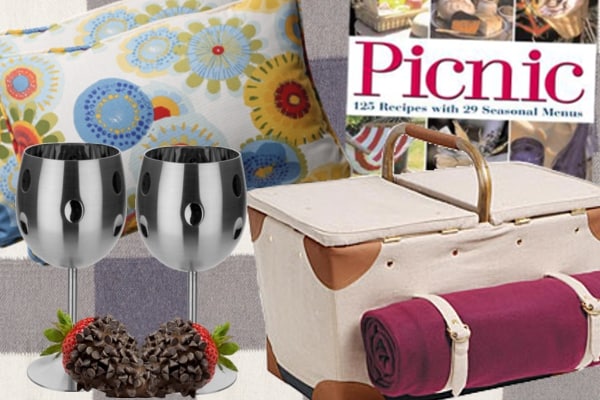 Whether you are looking for a noon-time lunch or a delicious dinner at dusk, a family outing or a romantic rendezvous, we have everything you need for luxurious al fresco dining. This picnic basket is the perfect place to start; with service for two, a corkscrew, a cheese plate, and a blanket, it includes everything you need for a lovely picnic at your favorite spot. It is absolutely the perfect addition to any summer outing.
Make your picnic a little bit more comfortable with one or two of these recliner seats. They have high-density foam cushioning and six different adjustable positions to ensure your full comfort. They also come in different color options, so you can mix and match to create a lovely outdoor picnic seat set. If you're looking to add the ultimate decadence to your picnic, try these decorative toss pillows. They have a fun abstract floral pattern and are the perfect touch of extra softness.
Stainless steel wine glasses are ideal for outside use. They are more durable than the average glass-made wine glass and they look pretty stylish, too. If you aren't a fan of wine, use them to serve an appetizer, like a small fruit salad, or a dessert, like a delicate mousse. Either way, these glasses are going to add an air of chic sophistication to your excursion.
When it comes to the menu, picnic favorites (and for good reason) are sandwiches, salads, cheeses, and olives; try a cheese/olive plate everyone can eat as an appetizer. Another great choice for summertime eats is fresh fruit. Try fruit skewers when you picnic: They are easier to handle than a bowl of fruit and there is less cleanup afterward. Make it a special event by bringing along a bottle of wine or champagne. If you are more concerned about beating the heat, try a chilled bottle of sparkling water. For more menu ideas, check out this recipe book; it is full of great picnic ideas and themed menus.
Personally, I can't wait to get into the mountains and make s'mores over a fire or maybe simply sit on my back patio to watch the sun set while sipping some red wine. Where are your favorite picnic getaways?
Posted by Emily Harrison