Plan Your Perfect Wedding
Posted at Jun. 15, 2013 at 11:18 AM

Your wedding day is called "the big day" for a reason. There's so much to plan and so many details that go into making your day the perfect day.
We're here to help you plan the wedding of your dreams with some summery wedding inspirations. Check out these picks and visit our wedding page for more inspiration and budget-friendly products to help you plan your whole wedding, from the dress to the ring, decor, and more.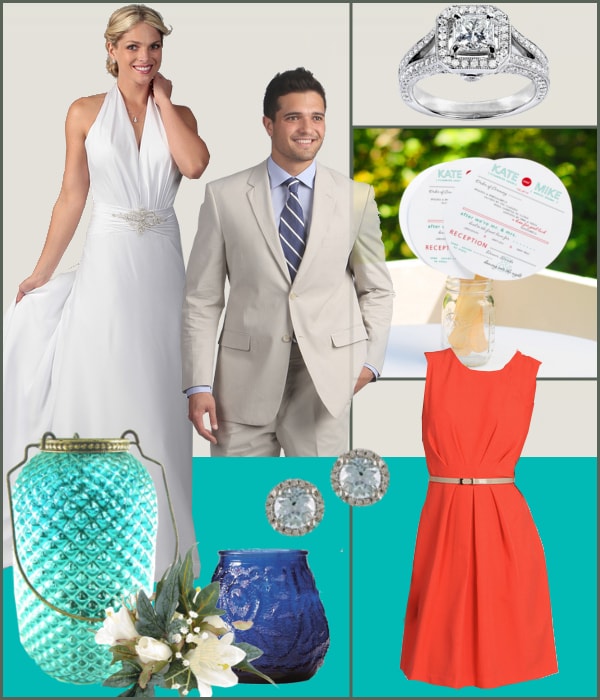 This bright, simple look is perfect for a summertime wedding. The bride's gown is a modern take on the 1930's look that's so popular right now and is cool and breezy with a simple halter design. For the groom, a light tan suit is equally trendy and cool in the summer heat. Dress your bridesmaids in a simple, yet bright dress for a pop of color. This basic pleated dress comes in four colors, including the coral-orange shown here. Plus, it's classic enough that the bridesmaids can wear it after the wedding, too!
Halo rings have a classic style that's gaining a lot of popularity again. This 1 1/3ct diamond halo ring features a princess-cut center diamond and a whopping 142 side diamonds. Pair it with halo aquamarine and diamond earrings to add just a touch of color to your wedding day jewels.
Doing things DIY is a not only an easy way to save money on your wedding, but it's also super popular and makes your wedding as one-of-a-kind as you are. Design your own centerpieces using candles and flowers in your colors. These aqua blue lanterns look gorgeous glowing on a table or hanging from overhead branches at an outdoor reception, and these DIY programs double as fans your guests can use at warm-weather affairs.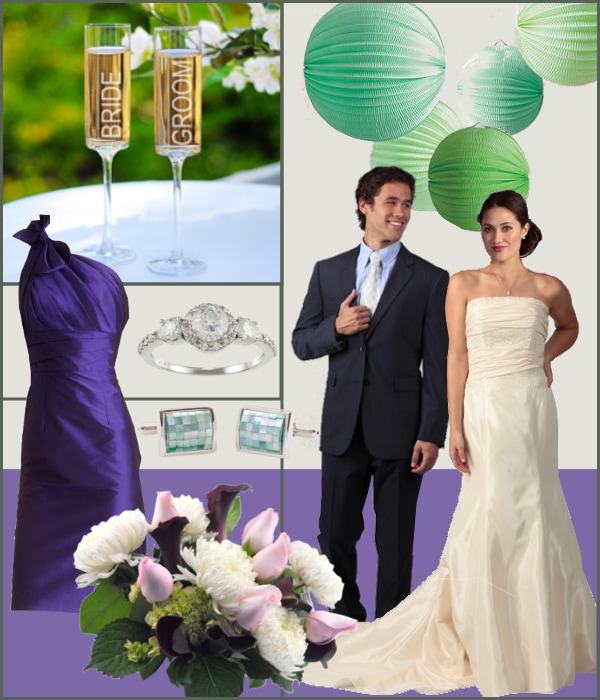 If your style is more classic romance, this second wedding inspiration is for you. The beaded strapless gown is a timeless style, cool and collected for summer, and the golden ivory color flatters every skin tone. Put your man in a classic black or navy suit for the occasion, but pair it with a colorful shirt or tie to give it a lighter look for summer. For your bridesmaids, the ruched style of this one-shoulder taffeta gown is universally flattering and plays on classic styles in a more modern design.
This 1 1/4ct diamond ring merges several classic styles into one gorgeous design. Combining the three-stone look with a haloed center stone and individually-set diamonds in the band, this ring is sure to make a big impression. The groom could use a little bling, too. Outfit him with some elegant mother-of-pearl cuff links and, of course, a wedding band of his own.
As far as decor goes, flowers are always a beautiful choice, like this arrangement combining roses, calla lilies, and large chrysanthemums in shades of purple and white. Pretty paper lanterns overhead can be hung here and there, or used to create a faux ceiling and give your event another dimension of elegance. Toast your union with some elegant champagne flutes just for the bride and groom.
Are you getting married this summer? Tell us about your wedding plan. What is your inspiration?
Posted by Andrea Sparks